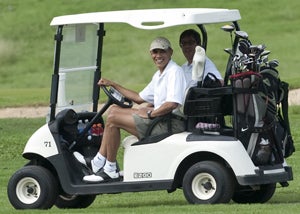 President Obama plays 100th round of golf, draws fire from critics
(CBS News) CHICAGO -- There's something about golf that makes it a compelling pastime for American presidents.


President Obama spent about 4 hours on Father's Day playing a round of golf at the Beverly Country Club with two old friends and an aide. It was his 100th round of golf since taking office.


By the number of times he plays, it's clear Mr. Obama enjoys golf, though only on a few occasions has he spoken publicly about the game.


In naming Jim Yong Kim to be his nominee to head the World Bank last March, Mr. Obama joked with mock envy about Kim's prowess on the links.


"I just found out he's a five handicap in golf. I'm a little resentful about that last item."


Men who aspire to and win the presidency are usually overachievers who conquer every goal they set, but they find golf addictively resistant to their skills.


"It's a game that I keep on thinking I should be good at, and somehow the ball goes this way and that way and never goes straight," said Mr. Obama in a Russian media interview in 2009. But on another occasion, he admitted he's "terrible" at golf, but is drawn to the game just the same.

"It's the only time that for six hours, I'm outside," said the president in a CBS News interview with Harry Smith. He said its one of the few times as president "where you almost feel normal" in the sense that he feels outside the security bubble that envelopes him at all times.


"It feels as if...you're out of the container," he said.


But never is the game of golf more controversial than when it's played by an American president. It infuriates critics who demand to know why he's not working on the nation's problems. It makes his supporters aggressively defensive about his right to have a few hours of recreation.


In reporting his 100th round in on Twitter today, I was inundated by a fury of tweets condemning or defending the president for his activity and denouncing me for reporting the count.


It's just a number reflecting one of his many activities as president. It's like his number of vetoes (2), pardons (22), foreign trips (23), addresses to Congress (6), bills signed (499) or flights on Marine One (663).


Opponents see rounds of golf as an opportunity to charge a president is a slacker, not focused on the responsibilities of his office. Supporters cheer his ability to take a few hours to refresh and revitalize. They accuse me of giving his critics ammunition to use against him.

I encountered a similar reaction during the presidency of George W. Bush when I reported on the number of his trips to his Texas ranch (77 visits/spanning all or part of 490 days). His opponents said he should be at the White House working while supporters abused me for keeping track of such matters.


Bush played 24 rounds of golf during the first 2 » years of his presidency, but then, six months into the war in Iraq, decided to stop. "I think playing golf during a war just sends the wrong signal," he said in an interview in 2008 with Yahoo and Politico.com.


During President Bill Clinton's 18 days of summer vacation in 1995 that took him to Wyoming, Hawaii and California, he logged over 71 hours playing 273 holes of golf.


When for the first time he broke 80 during a round of golf in San Diego, he couldn't help but trumpet his achievement to reporters.


"I was hot. I was smoking 'em," said Clinton of scoring 79 at the par-72 course on Coronado Island.


We don't ever hear about Mr. Obama's scores on the golf course. And only rarely does the White House permit the press to get a photograph of the president on the links. During the Clinton presidency, such photo ops were routine.


Different times, different presidents, different rules.
Thanks for reading CBS NEWS.
Create your free account or log in
for more features.