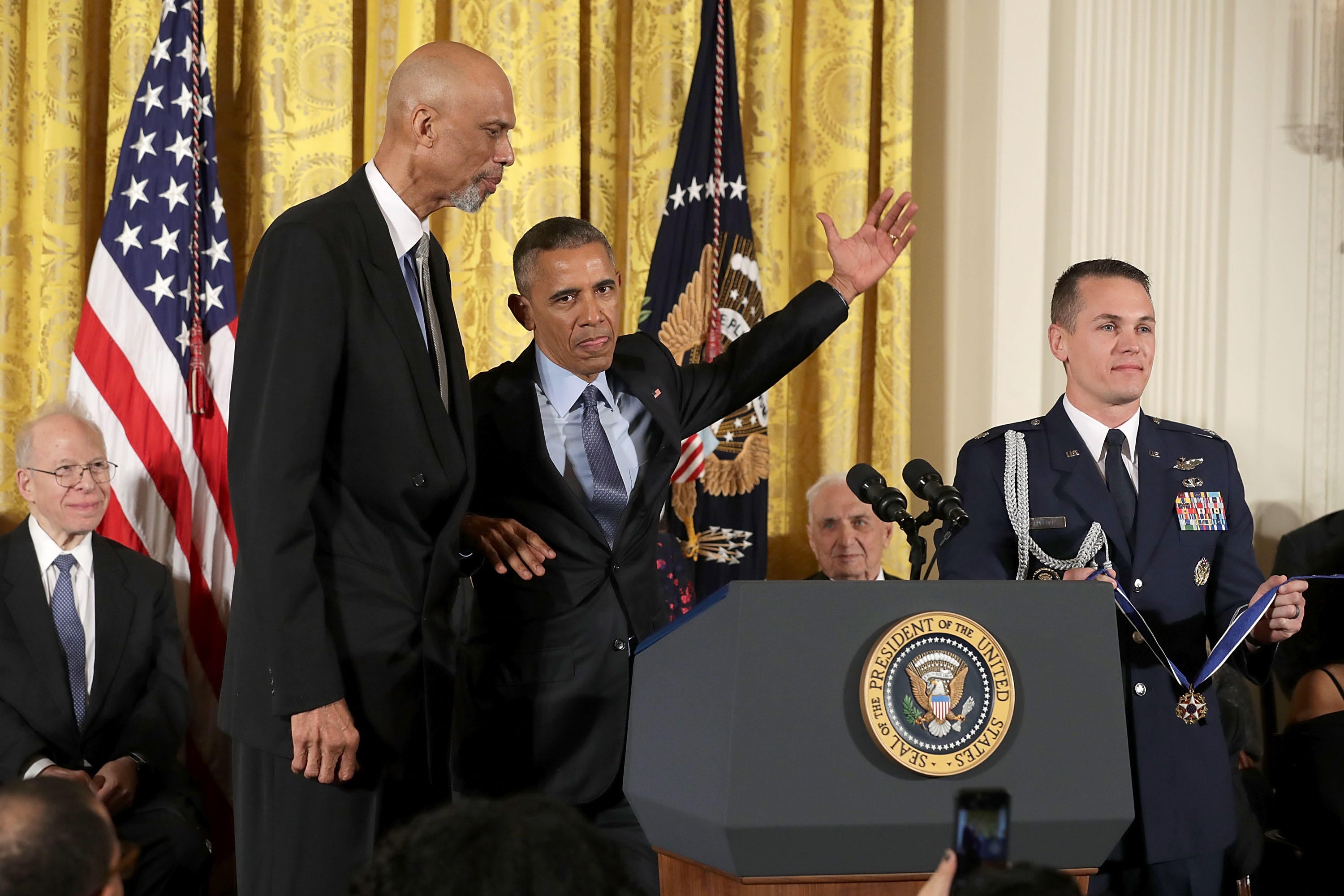 President Obama awards 21 recipients with the Presidential Medal of Freedom
Hosting his last Presidential Medal of Freedom ceremony Tuesday at the White House, President Barack Obama described this year's class as "particularly impressive," citing the diversity and variety of talent exhibited throughout the 21 recipients.
"We've got innovators and artists, public servants, rabble rousers, athletes, renowned character actors, like the guy from Space Jam," President Obama said of Michael Jordan to a laughing crowd. "We pay tribute to those distinguished individuals with our nation's highest civilian honor, the Presidential Medal of Freedom."
The awards recognize especially meritorious contributions to the security or U.S. interests, world peace, cultural or other significant public or private endeavors.
"Everybody on this stage has touched me in a very powerful, personal way, in ways that they probably couldn't imagine," Obama said in the East Room of the White House.
The president then went on to list the distinguished accomplishments of the honorees, striking a noticeable sense of candor and joviality. He highlighted the irony of a young Maya Lin, whose "B+" college design project would become the blueprint for the Vietnam Veterans' Memorial on the National Mall. Criticism swarmed Lin, then 21-years-old, when it was revealed that the largely unpopular design belonged to a female Asian American.
In an interview with CBS News' Jan Crawford, Lin said it was the array of her experiences that helped shape her into a pioneer of architecture and design.
"We have to really urge that we accept people of all races, creeds and gender," she said. "I think [the medal recipients] all helped contribute in some way to building this America we live in, but also how diverse we are."
One recipient, comedian Ellen DeGeneres, had to wait outside the White House for a little while -- she forgot her ID.
But she eventually made it in -- apparently in time for the Medal of Freedom recipients' mannequin challenge.
There were two basketball players on the list -- one, his hometown star Michael Jordan, and the other Kareem Abdul-Jabbar.
"Here's how great Kareem Abdul-Jabbar was," the president declared. "Nineteen-sixty-seven. He had spent a year dominating college basketball. The NCAA bans 'the dunk'. They didn't say it was about Kareem, but it was about Kareem. When a sport changes its rules to make it harder just for you, you are really good."
Abdul-Jabbar told CBS News that it was his racial and religious identity, not his athleticism, that played a prominent role in his life. His greatest inspiration came from great American athletes who encountered similar obstacles and fought for what they believed in--names like Jackie Robinson and Muhammad Ali.
"They stood up to give more in-depth meaning to the statement that all men are created equal," he said. "We don't have a complete understanding of that yet, so we have more work to do."
President Obama, according to the Washington Post, has awarded more Presidential Medals of Freedom more than any other American president--nearly 114. Among other 2016 recipients included Robert De Niro, architect Frank Gehry, scientist Margaret Hamilton, "Saturday Night Live" creator Lorne Michaels, Robert Redford, the first chairman of the FCC, Newt Minow, Bill and Melinda Gates, Diana Ross, Bruce Springsteen, inventor Richard Garwin, and Vin Scully.
CBS News' Jan Crawford, Maggie Dore and Jillian Hughes contributed to this report.
Thanks for reading CBS NEWS.
Create your free account or log in
for more features.