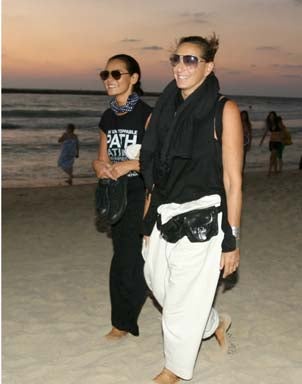 It was the worst kind of crime in the best of neighborhoods. In the dark of night, a mother and her two children were stabbed in their own home.
Darin and Darlie Routier's two young sons were attacked in the middle of the night. Darlie was badly wounded. But the police said her story just didn't add up. In fact, they believed that the attacks were a staged event.
Correspondent Bill Lagattuta reports on this still controversial case that last aired in July 2002.
---
Darlie and her husband Darin, both in their 20s, were living the American Dream. They had a nice house in the suburbs and three children.

Their home stood at the end of Eagle Drive in Rowlett, Texas, an upscale suburb 20 miles east of downtown Dallas, the kind of place where children were safe and free to roam.

The Routiers seemed to be perfectly happy until a shocking crime devastated their lives and shook the entire city of Dallas.

On the night of June 5, 1996, Darlie joined Darin and the boys in the family room to watch TV. Around 10:30 p.m., Darin took the couple's third son, seven-month-old Drake, upstairs to sleep. Devon and Damon snuggled into bedding on the floor next to their mother.

"She said she was gonna sleep down there because the baby had kind of kept her up the night before," says Darin.

Then, just before 2:30 a.m., the unimaginable happened.

"The next thing I remember was Damon, and he was pushing my shoulder and he was saying, 'Mommy, mommy.' I sat up," remembers Darlie. "At first, I just saw a blur of a man, going out my utility room."

Darlie says she started to walk into the kitchen and turned on the lights. Then she saw blood on the front of her nightgown.

"I got about halfway across the kitchen and I saw a knife laying on the utility room floor. It was just a natural instinct to go and pick it up," recalls Darlie.

"I came back and I set the knife down on the counter and the first thing I saw was Devon laying across the room. He was up on his back. His eyes were open. And then, I just started screaming."

Darin says he heard Darlie scream and came running down the stairs. They immediately called 911, and within three minutes, police arrived.

They looked for a suspect in the house, and found none. In the garage, they discovered that the window screen had been cut. Officers quickly searched the house and grounds. Satisfied the intruder had fled, they led paramedics to the grisly scene.

Devon, the oldest, was already dead. Damon, 5, died soon after being rushed to the hospital.

"It haunts me every day," says Darin. "When you lose your children, it's like everyday you wake up and you're living in this nightmare that just will not end."
---
Darlie, however, was also injured. She had a gash on her neck - all the way from one side of her neck to the other - that missed her carotid artery by millimeters. She also had two stab wounds on her right forearm, and bruises that covered her arms from wrist to elbow.

Darlie says she has difficulty recalling what happened that terrifying night, but assumes that "I struggled with this man."

"I believe she was probably fighting and was unconscious after the fight," says Darin, who believes that his wife was traumatized after the attack.

Minutes after the Routiers were rushed to the hospital, police sealed off their house. Crime scene consultant Jim Cron, who has investigated more than 4,000 murders, arrived just before 6 a.m. that morning. However, he soon became suspicious.

Starting with the probable point of entry, a slashed garage window screen, Cron began retracing the killer's steps: "The screen cut was inconsistent with most cuts by any burglar. It was a t-shaped cut which made your opening to step through the narrow part."

Entering the house, the intruder would have seen jewelry on the kitchen counter. "As he progressed through and didn't pick up any jewelry, there were two children laying on the floor and one adult on the couch. Why kill the kids first?"

Cron then questioned the murder weapon, an eight-inch butcher knife, that came from the Routier kitchen: "Murderers don't enter a place and then look for a weapon."

And finally, the 911 call didn't seem quite right. Darlie's sons were bleeding to death at her feet, yet she seemed overly concerned about having touched the knife, ruining it for fingerprints.

"One thing crime scene stagers do is tell you that you can't get any evidence, that something happened that ruined the evidence," says Cron. "She was explaining why her prints would be on the knife and maybe not an intruder's. So I would say within about 30 minutes, I felt like something wasn't right."
---
Rowlett Det. Jimmy Patterson dreads having to question parents who have lost their children. But he was startled when he spoke to Darlie after she was out of surgery: "She didn't ask about her children, so I was a little surprised by that. But I just thought, maybe it's just that she already knew."

Something else seemed odd. Hours after fighting for her life with a man who Darlie said murdered her sons, Patterson says that she could not describe his face: "If they're face to face and they can't describe this face, then there's a possibility that somebody's not telling you the truth."

Some feared a psychotic killer was on the loose. In fact, several residents on Eagle Drive reported seeing a mysterious black sedan driving slowly past the Routier house the night of the murders.

But, according to Rowlett crime scene investigator Lt. David Nabors, blood evidence was key: "On the edge of the couch where she claims she sustained some of her injuries, there was no blood evidence to indicate that she sustained any wounds while laying on the couch."

After fighting off the attack, Darlie said she chased the intruder into the utility room.

"She had bloody footprints in the kitchen area but not through the kitchen into the utility room where she said she walked," says Cron.

That night, Nabors used a chemical called Luminol to reveal traces of blood not visible to the naked eye. In the kitchen, the Luminol revealed that there was a lot of blood in the sink.

The detectives made a chilling discovery. "I've never seen anything like it in an 18-year career," says Nabors. "It indicated a cleanup. Blood in the sink and around the sink, and it was cleaned up and it was washed up."
---
Could it be possible that Darlie Routier butchered her sons, and then, while standing over the sink, slit her own throat?

For nearly a week, police questioned Darin and Darlie separately three times. And according to Det. Patterson, Darlie's story changed three times.

"The difference now is that she's changed the position of where the intruder was," says Patterson. "There are some things that can change in a story, but I think you always know exactly where the perpetrator is - if there was a perpetrator."

The investigation continued to turn against Darlie. She claimed that the suspect went out the garage and exited the backyard. But police found no evidence to indicate that anyone had climbed over a six-foot high backyard fence, or fled through its gate which was closed and difficult to open.

Detectives, however, did find one clue that would support the intruder theory. A bloody sock, which DNA tests would later prove belonged to the boys, was found in an alley 75 yards from the house.

To Darlie, this discovery proved an intruder murdered her sons and then escaped down the alley. But to Cron, the bloody sock was just another red flag, and it confirmed his belief that the attacks had been staged. In fact, detectives also believed Darlie had overturned a vacuum cleaner and broken a wineglass to indicate that a struggle had taken place.

"There was not one thing at this entire crime scene that said Darlie Routier did it," says Cron. "It's the totality of everything. All the evidence says she did it."

Investigators were also puzzled by the Routiers' behavior. Just eight days after the crime, a local news crew videotaped Darlie and her family at the boys' grave, celebrating what would have been Devon's seventh birthday.

"Now here's a mother who's supposedly been the victim of a violent crime," recalls Greg Davis, Dallas Country assistant district attorney who remembers the impact that video made on him. "She's just lost two children, and yet she's out literally dancing on their graves."

Eleven days after Devon and Damon Routier were brutally slain, the Rowlett Police Department arrested Darlie Routier. She was charged with capital murder stemming from the stabbing death of her sons.

Is Darlie Routier a loving mother or a cold-blooded murderer?

Find out in Part II.
Thanks for reading CBS NEWS.
Create your free account or log in
for more features.