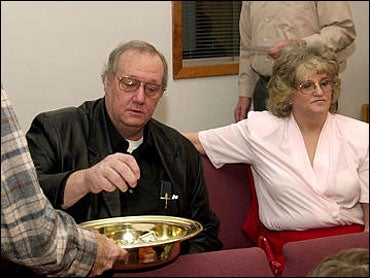 Powerball Winner A Man Of His Word
At the beginning of Sunday's service at the Tabernacle of Praise, Senior Pastor C.T. Mathews asked his parishioners for donations to the church's food pantry.
Afterward, one member of his congregation - record Powerball lottery winner Andrew "Jack" Whittaker - said he was making good on a promise to go way beyond boxes of macaroni and cheese.
Whittaker said that later in the day he would give Mathews a $334,000 check, the first installment on the church's share - the traditional 10 percent tithe - of Whittaker's $170 million gross winnings.
"My first priority is helping West Virginia," Whittaker in the vestibule of the modest church along U.S. 60.
Whittaker held the only winning ticket in Wednesday's record $314.9 million Powerball drawing. He chose to take a one-time payment of $170 million instead of the full amount over 30 years. After taxes, he will receive $113.4 million, but he said he would tithe a full $17 million to three Church of God pastors.
The churches' money will be divided between Mathews, who leads Whittaker's parish in Hurricane; Bishop Cecil Welch, who leads a parish in Hinton near where Whittaker grew up; and Gerald Abreu, pastor for 12 years in Hurricane and now in Torrance, Calif.
Whittaker said it will be up to the clergymen to decide how they use the money.
"That's a blessing to have that kind of backing," Mathews said with a beaming smile of his church's share. "I'd like to get down and set down and think about it."
Whittaker estimated that since claiming the prize he had fielded around 2,000 calls from people looking for money. Only four of the callers seemed in true need, he said; he asked them to send letters explaining their problems.
All the other requests were from people who hoped to use his cash to "put them on a pedestal," Whittaker said.
Whittaker has said he'll give much of the money to his family. He is president of three construction companies and was already a millionaire before winning Powerball.
Will he be retiring?
Maybe not.
His plans for Monday were to be back at his office, at the usual time.
Thanks for reading CBS NEWS.
Create your free account or log in
for more features.