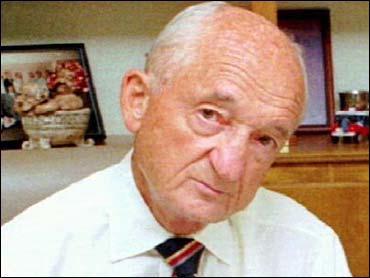 Poultry Maven Frank Perdue Dies
Frank Perdue, who hawked his chickens for more than two decades using the slogan, "It takes a tough man to make a tender chicken," while transforming a backyard egg business into one of the nation's largest food companies, has died.
He died Thursday after a brief illness, the company said. He was 84.
At the time of his death, Perdue was chairman of the executive committee of the board of directors of Perdue Farms Inc., headquartered in Salisbury.
Perdue, who built Perdue Farms Inc. into one the nation's largest poultry processing business, turned the reins over to his son, Jim Perdue, in 1991. Jim Perdue became chairman while his father became chairman of the company's executive committee.
In 1971, Perdue became his company's television pitchman, and the first to advertise chickens by brand. His tough, folksy TV persona helped boost sales from $56 million in 1970 to more than $1.2 billion by 1991.
The elder Perdue turned over the spokesman role to his son in 1994, the company said.
Perdue's father, Arthur W. Perdue, started the family business in 1920, raising chickens for eggs. Perdue and his father switched the business from eggs to chickens in the 1940s and broke into retail sales in 1968.
In a 1991 interview, Perdue described his father as a stern man who was so thrifty that he saved leather from old shoes to make hinges for the doors to the chicken houses.
An only child of older parents, Perdue was a shy boy who spent much of his time working on the family egg farm. His dream was to play professional baseball, but he said he "gathered more splinters than hits" on the Salisbury State Teachers College team. After graduation in 1939 he returned to the farm in Salisbury.
His love for the game, however, later prompted him to invest in a minor league franchise in his native Salisbury.
In building his poultry business, Perdue was the consummate entrepreneur and workaholic, who would put in 18 hours a day and get by on three or four hours' sleep. He had a cot in his office and often spent the night there, even though his home was 50 yards away.
"Years after turning over to his son, Jim, the reins of what has become a multi-billion-dollar international food company, Frank continued to visit the company's plants, and its poultry producers and grain farmers, and, during harvest, was often at the company's grain elevators," said the company's Web site.
Perdue Farms' expansion in the 1970s was rapid, but it also sowed the seeds of worker discontent. The company opened new plants in rural, often poor areas of the South, where labor was cheap and government regulations lax.
Inevitably, union activism sprung up, which Perdue sought to suppress.
In 1986, Perdue admitted to a presidential commission that he had twice unsuccessfully sought help from reputed New York crime boss Paul Castellano to put down union activities, actions he later said he regretted deeply.
In the late 1980s, reports of repetitive motion injuries rose rapidly in the industry among workers who performed the same handling, sorting and cutting tasks all day.
The company paid $40,000 in fines to North Carolina in 1989 after a report found 36 percent of workers in two plants had symptoms of wrist trauma known as carpal tunnel syndrome. In 1991, the company agreed to establish a four-year program to reduce injuries, including job rotations, rest and exercise periods and automation equipment.
Under Jim Perdue's leadership, the company has been establishing full service health care centers in its plants.
Perdue began facing pickets at his public appearances from animal rights activists after his appointment in January 1991 to the Board of Regents of the University of Maryland system.
People for the Ethical Treatment of Animals claimed farmers raising chickens for Perdue kept them in cramped cages and their beaks had to be clipped to prevent them from pecking each other to death.
The company insisted its chickens roamed freely in well-ventilated coops and said their beaks were trimmed because chickens naturally go after each other.
Associates said Perdue never spent much time worrying about his critics, but he was never comfortable with his fame.
For years, he refused to advertise in the Baltimore and Washington areas to lower his profile at home.
Perdue served on the board of directors of the National Broiler Council in Washington and Delmarva Poultry Industry Inc., in Georgetown, Del. — both trade organizations for the poultry industry.
His involvement in local civic activities was highlighted by his endowment of Salisbury State University to establish the Perdue School of Business.
Perdue, is survived by his third wife, Mitzi Ayala Perdue; four children, Sandra Spedden of Cambridge, Md., Anne Oliviero of Cape Elizabeth, Maine, Beverly Nida of Midlothian, Va., and Jim Perdue of Salisbury, Md.; two stepchildren Jose Ayala and Carlos Ayala; and 12 grandchildren.
Thanks for reading CBS NEWS.
Create your free account or log in
for more features.