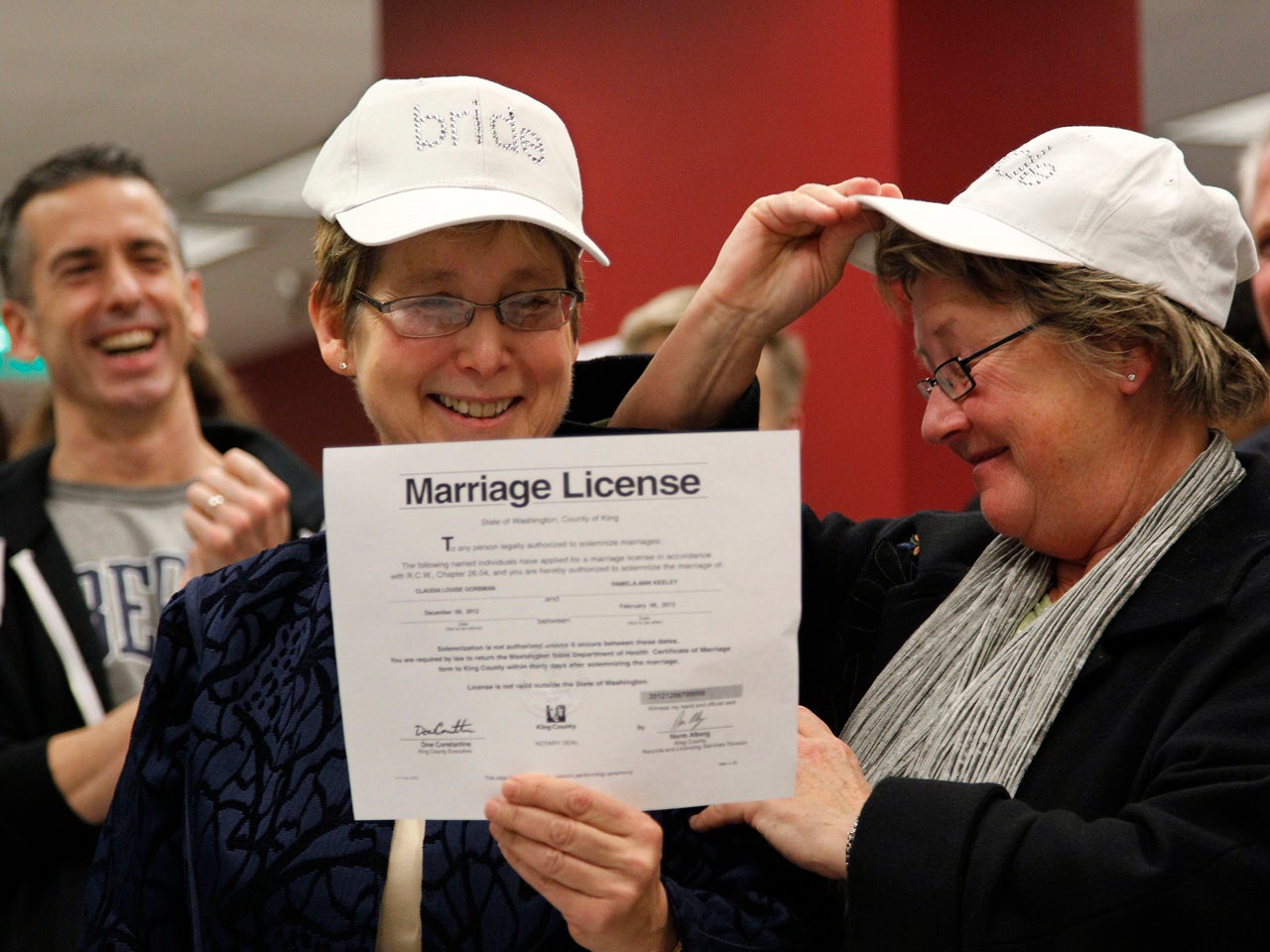 Pot possession, same-sex marriage officially legal in Washington state
SEATTLE Marijuana possession became legal in Washington state Thursday, as did same-sex marriage.
Voters in Washington and Colorado last month made those the first states to decriminalize and regulate the recreational use of marijuana. Washington's law, which took effect at 12:01 a.m. PST, allows adults to have up to an ounce of pot, but bans public use of marijuana, which is punishable by a fine, just like drinking in public.
Nevertheless, some people planned to gather early Thursday to smoke in public beneath Seattle's Space Needle. Others planned a midnight party outside the Seattle headquarters of Hempfest, the 21-year-old festival that attracts tens of thousands of pot fans every summer.
CBS Seattle affiliate KIRO-TV showed people smoking pot on city streets, and same-sex couples waiting in line for and getting marriage licenses, many toasting with champagne.
"This is a big day because all our lives, we've been living under the iron curtain of prohibition," said Hempfest director Vivian McPeak. "The whole world sees that prohibition just took a body blow."
In another sweeping change for Washington, Gov. Chris Gregoire on Wednesday signed into law a measure legalizing same-sex marriage. The state joins several others that allow gay and lesbian couples to wed.
That law also takes effect Thursday, when gay and lesbian couples can start picking up their wedding certificates and licenses at county auditors' offices. The offices in King County, the state's largest and home to Seattle, and Thurston County, home to the state capital of Olympia, opened the earliest they could, at 12:01 a.m. Thursday, to start issuing marriage licenses.
Because the state has a three-day waiting period, the earliest that weddings can take place is Sunday.
The Seattle Police Department provided this public marijuana use enforcement guidance to its officers via email Wednesday night: "Until further notice, officers shall not take any enforcement action, other than to issue a verbal warning, for a violation of Initiative 502."
Thanks to a 2003 law, marijuana enforcement remains the department's lowest priority. Even before I-502 passed on Election Day, Nov. 6, police rarely busted people at Hempfest, despite widespread pot use, and the city attorney here doesn't prosecute people for having small amounts of marijuana.
Officers will be advising people to take their weed inside, police spokesman Jonah Spangenthal-Lee wrote on the SPD Blotter. "The police department believes that, under state law, you may responsibly get baked, order some pizzas and enjoy a 'Lord of the Rings' marathon in the privacy of your own home, if you want to."
Washington's new law decriminalizes possession of up to an ounce for those over 21, but for now, selling marijuana remains illegal. I-502 gives the state a year to come up with a system of state-licensed growers, processors and retail stores, with the marijuana taxed 25 percent at each stage. Analysts have estimated that a legal pot market could bring Washington hundreds of millions of dollars a year in new tax revenue for schools, health care and basic government functions.
But marijuana remains illegal under federal law. That means federal agents can still arrest people for it, and it's banned from federal properties, including military bases and national parks.
The Justice Department has not said whether it will sue to try to block the regulatory schemes in Washington and Colorado from taking effect.
"The department's responsibility to enforce the Controlled Substances Act remains unchanged," said a statement issued Wednesday by the Seattle U.S. attorney's office. "Neither states nor the executive branch can nullify a statute passed by Congress" -- a non-issue, since the measures passed in Washington and Colorado don't "nullify" federal law, which federal agents remain free to enforce.
The legal question is whether the establishment of a regulated marijuana market would "frustrate the purpose" of the federal pot prohibition, and many constitutional law scholars say it very likely would.
That leaves the political question of whether the administration wants to try to block the regulatory system, even though it would remain legal to possess up to an ounce of marijuana.
Colorado's measure, as far as decriminalizing possession goes, is set to take effect by Jan. 5. That state's regulatory scheme is due to be up and running by October 2013.
Thanks for reading CBS NEWS.
Create your free account or log in
for more features.