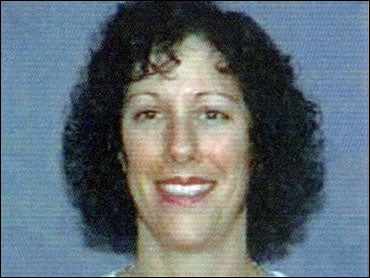 Postal Shooter's Bizarre Behavior
Jennifer San Marco's reputation for bizarre behavior had resulted in her leaving the Postal Service in June 2003 after six years. She was granted early retirement on a medical disability because of psychological problems, the U.S. Postal Service said.
But, no one suspected the ex-postal worker would go on to commit the nation's bloodiest shooting at a postal installation in nearly 20 years.
San Marco is also linked to the killing of a former neighbor.
The body of Beverly Graham, 54, was found in her condominium a day after authorities say Jennifer San Marco opened fire inside the mail sorting center where she once worked. Another woman wounded in the rampage died Wednesday, bringing the death toll to eight, including San Marco.
"The shell casings found match those found at the postal distribution center," Santa Barbara County Sheriff Jim Anderson told reporters.
He said Graham's neighbors told authorities they heard the sound of gunfire between 7:15 p.m. and 8:15 p.m. Monday night. Beginning at 9 p.m., authorities said, San Marco began shooting six postal employees and committed suicide at the Santa Barbara Processing and Distribution Center.
"She went through all the requisite screenings. There were no prior indications" of problems, said Keith Blackman, a media consultant to the Postal Service.
And in the city of Milan, New Mexico, where San Marco was a regular presence at municipal offices, village Manager Carlos Montoya told the Los Angeles Times, "We felt she was unbalanced." "Now, violent? I guess it crossed my mind. But just that she would slash a window or damage property or something," Montoya said.
Before becoming a postal worker, San Marco, 44, worked as a Santa Barbara police dispatcher in the mid-1990s and passed an extensive background check and psychological exam. She left after a few months, not unusual for a stressful job with a high turnover rate, police Lt. Paul McCaffrey told the Santa Barbara News-Press. The job did not include weapons training.
Acquaintances said San Marco, who was white, sometimes talked to herself and spewed racist comments.
Former plant worker Jeff Tabala recalled that San Marco seemed particularly hostile to Asians while working for the Postal Service. He said all of the dead were minorities: Three were black, one was Chinese-American, one was Hispanic and one was Filipino.
It is unclear why San Marco killed her victims, but the U.S. Postal Inspector says that "chances are" she knew and chose her victims, CBS News affiliate KCBS reports. Santa Barbara County Sheriff Jim Anderson said it wasn't clear if the killings were racially motivated.
It is clear the shooter had a long history of mental problems, officials said. She had been placed on a medical leave from her postal job for psychological problems.
In 2003, Tabala said, he saw sheriff's deputies pull San Marco out from under a mail-sorting machine and wheel her away in handcuffs on a mail cart after a disturbance.
She returned several months later but "people started coming to me and saying, 'She's acting erratically,'" Tabala said. "She was screaming. She was saying a lot of racist comments. It was pretty ugly."
San Marco was escorted out of the building by management and never returned, Tabala said.
"She seemed to be having conversations and there wasn't anyone around her. She'd be just jabbering away." Tabala said.
Graham's boyfriend, Eddie Blomfield, said San Marco would often go outside singing loudly, which led to arguments between the women. Graham's brother Les Graham Jr. said his sister had complained about a woman who "used to come out and rant and rave in front of her building."
Authorities in New Mexico, where San Marco moved in 2004, also described her increasingly bizarre behavior after she lost her job. Police were contacted about San Marco at least twice after she was accused of harassing an office worker and appearing naked at a gas station. She was dressed when officers arrived.

A deputy clerk for the city of Milan, N.M., said San Marco applied for a business license in 2004 for a publication called "The Racist Press" that she said she planned to launch.
"We weren't sure what she was going to do next," said Terri Gallegos, deputy clerk for the city of Milan, New Mexico, where San Marco applied for a business license in 2004 for a publication called "The Racist Press" that she said she planned to launch. Another time she said she wanted to register a cat food business.
During one meeting, Gallegos said, San Marco carried on a conversation with herself "like she was arguing with someone but there was no one there."
Last March, office workers called authorities after the 44-year-old woman made what Gallegos described as a rude allegation. Other times, Gallegos said, San Marco would come in and simply stare at one employee in particular.
In June, police talked to her after someone at a gas station called to complain of nudity, Police Chief Marty Vigil said. San Marco was dressed when officers arrived.
U.S. Postal Inspector Randy DeGasperin told reporters Tuesday that San Marco left the mail facility on a medical leave in 2003 after her co-workers expressed concerns she might hurt herself.
"She was not making any threats or anything of that nature," DeGasperin said. "It was more for her safety."
Authorities said it was unclear whether San Marco targeted specific employees when she arrived at the postal center about 9 p.m. Monday.
"According to witnesses from the scene, she had a 9mm pistol and reloaded at least once during her rampage," said Santa Barbara County Sheriff James Anderson.
Killed were Ze Fairchild, 37, and Maleka Higgins, 28, both of Santa Barbara; Nicola Grant, 42, and Guadalupe Swartz, 52, both of Lompoc; and Dexter Shannon, 57, of Oxnard. Charlotte Colton, 44, of Santa Barbara, died Wednesday after being hospitalized in critical condition.
Higgins had just returned from maternity leave about a month ago and leaves behind a baby girl and her husband.
"She was a talker. There was not a moment she was quiet," said colleague and friend Lexi Bushnell told the Santa Barbara News-Press. "She loved to lighten things up."
Swartz was emerging from a dark period after losing her husband, Donald, three years ago to cancer, according to friend Darlene Skura.
"She was becoming more active, starting to get on with her life," Skura told the Los Angeles Times in Wednesday's editions.
Grant's neighbors said it was not uncommon to see the married mother of two playing basketball with her children.
"She was such a joy," said friend and neighbor Leslie Brown. "When you talked to her, she just glowed."
Police said San Marco entered the sprawling Santa Barbara Processing and Distribution Center by driving through a gate behind another car. She gained entry to the building by taking an employee's identification badge at gunpoint. That worker was not hurt.
Only about 80 of the approximately 300 people who work at the mail-sorting center were on hand when San Marco arrived. Authorities said many of them fled to a fire station across the street when the shooting began.
"I was dumping mail on a belt when the gunshots suddenly (went) 'Boom! Boom! Boom! Boom!" said postal worker Alger Busante, 56, of Santa Barbara.
It was the deadliest shooting at any workplace since 2003, when 48-year-old Doug Williams gunned down 14 co-workers, killing six, at a Lockheed Martin aircraft parts plant in Meridian, Miss., before turning the gun on himself.
Thanks for reading CBS NEWS.
Create your free account or log in
for more features.