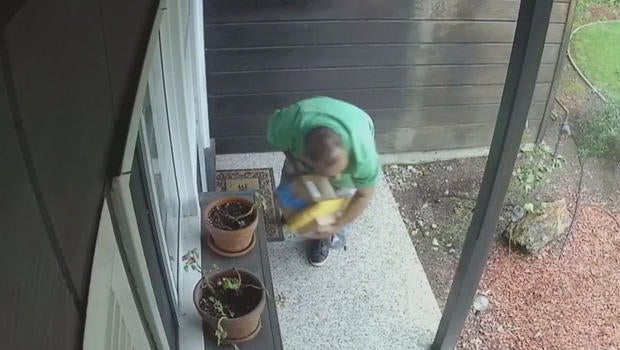 Police deliver bait packages to catch "porch pirates"
Some police departments are trying new methods to catch brazen criminals known as "porch pirates" -- thieves who steal packages left on doorsteps.
Reports show at least 23 million Americans have fallen victim to the crime.
Police are now turning to technology for help, and doing their own deliveries, using bait packages with GPS trackers inside to find and arrest thieves.
In Campbell, California, homeowner Terry Bohlan's security cameras caught a man approaching his porch before apparently making off with his delivery. "It's one of those things in life you just don't want you to go through," Bohlan told CBS News correspondent Mireya Villarreal.
That motivated him to work with his local police department, who now uses his porch to drop off bait packages hoping to lure criminals.
Inside a regular shipping box, officers pack a common delivery item along with a GPS tracking device (the exact details of which they want to keep under wraps, so criminals don't know what to look for).
"We found that a lot of times these thieves are opening up the boxes before they even leave to make sure it's something that they want," said Captain Gary Berg.
Brazen and picky.
The programs have been a success in several cities across the country. In Southern California, Arcadia police say more than 100 suspected thieves have taken the bait.
But the tactic also raised concerns after a stolen bait package led to a high-speed chase, and officers swarmed a movie theater to make an arrest.
While experts say these operations are legal, some say they should be regulated by court order or warrant.
"Citizens should absolutely be concerned about tracking technologies, and law enforcement's unfettered access to tracking technologies," said University of Maryland School of Law professor David Gray, author of "The Fourth Amendment in the Age of Surveillance" (Cambridge University Press).
Another concern: Some departments deliberately putting higher-priced items in the bait packages, which could result in a felony conviction.
"Bumping up the value of what's in the boxes could raise some concerns from the point of view of fairness and due process," said Gray.
When asked about concerns of entrapment, Captain Berg responded, "This is about us identifying a trend that's happening, not only in Campbell but throughout the country, and it's really a way for us to work with our community."
It's a sentiment shared by many homeowners.
"I am all for the program," said Terry Bohlan. "You should feel safe and comfortable, not only in your home, but in your neighborhood."
To avoid being a victim, police say you should have packages delivered to a location where someone can receive them in person, like a workplace or a neighbor's house.
They also suggest installing surveillance cameras, such as a ring security camera embedded in a doorbell, to deter thieves altogether.
Thanks for reading CBS NEWS.
Create your free account or log in
for more features.