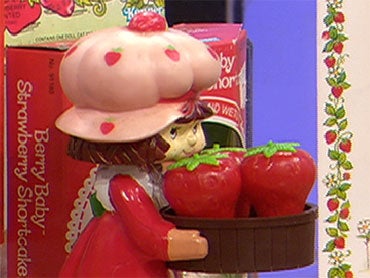 In "The Early Show"'s weeklong "Time Machine" series, the anchors discussed several products Monday that made their debut or were big hits in 1979: the Sony Walkman, the Burton snowboard, the McDonald's Happy Meal, leg warmers and Strawberry Shortcake.
Blast to the Past, 1979, with "The Early Show"
Relics of '79!
Reflections on 1979
"Dallas" Reunited
1979 Memorable Ads
"Devil Went Down to Georgia
The following product descriptions were prepared at least in part using information provided by the manufacturers.
MCDONALD'S HAPPY MEAL:
McDonald's introduced the first national Happy Meal in June 1979 with a circus wagon train theme. The toys were offered inside decorative boxes and included one of the following: a McDoodler stencil, puzzle lock, McWrist Wallet, ID bracelet, spinning top and McDonaldland character erasers. The menu items included a regular hamburger or cheeseburger, fries, a separately packaged soft drink, and a McDonaldland cookies sampler.
Since the introduction of the first national McDonald's Happy Meal program in 1979, Happy Meal has featured movies and comics, high-tech electronic games, hottest cartoon characters, and ever-changing toy trends. They've featured the trendiest dolls from Barbie as well as the highly demanded cars and trucks like Hot Wheels. There have been space aliens named Gill Face and Veined Cranium, and handsome heroes such as Captain Kirk, G.I. Joe, and, of course, Ronald McDonald. Happy Meals have even included E.T. posters, Golden Books and Sonic The Hedgehog.
A Happy Meal cost $1.00 in 1979.
SONY WALKMAN:
The Sony Walkman was designed in 1978 and introduced to the world in 1979. The original Walkman introduced a change in music listening habits, allowing people to carry music with them. The Walkman virtually invented the concept of "personal electronics." The first Walkman (also branded as the Stowaway, the Soundabout, and the Freestyle before the current name stuck) featured a cassette player and the world's first lightweight headphones. A Walkman cost $200.00 in 1979. Considering the average monthly rent in 1979 was $280.00, that's a significant amount of money. Despite their initial high price, the Walkman has proved to be a very popular device: there have been more than 330 million Walkmans sold worldwide.
Nowadays, Walkmen (and even Discmen) are a rarity. Most of us store our music on MP3 players, which are of course much smaller and more compact. But even with the popularity of the iPod, Sony has always remained a part of the personal music player industry.
NEW SONY WALKMAN MODELS:
Sony W Series Walkman MP3 player (headphone-style walkman):
Available for about $60
Cord-free design
Space for approximately 400-500 songs, depending on file sizes.
Sony S Series Walkman video MP3 player (purple one)
Available now - 8GB Version: $109, 16 GB Version $129
Features built-in stereo speakers that deliver sound for listening without headphones. Bright 2.4" QVGA color LCD screen, with support for multiple high-quality video formats.
Sony X Series Walkman video MP3 player (black one - not in a case)
Available now - 16GB Version: $299, 32 GB Version $399
Sony's flagship walkman model. 3" wide OLED touch screen display. Touch panel operation with hybrid button system.
BURTON SNOWBOARD:
This product was founded by Jake Burton Carpenter in 1977, and was one of the first snowboard companies in the world. Although snowboarding did not become a well-recognized sport until the early 1990s, Burton began manufacturing snowboards and bindings in 1977, when the company's founder started making his own boards in a borrowed woodworking shop in Stratton, Vermont. The company, however, was struggling to get off the ground during its first two years. After his disappointing first attempt at selling his boards, Carpenter went to Europe and spent the summer of 1978, testing his boards on the glaciers in Austria. When the winter season neared, Carpenter returned to the United States and steeled himself for another go at selling his boards. This time he was more prepared, and spent endless weeks traveling around the country attending trade shows. Compared to his first season of selling, Carpenter's 1978 -- 79 season was a success, thanks in large part to more thorough market research and the establishment of a mail-order department, whose telephone rang in Carpenter's bedroom. By the end of the 1979 -- 80 season, Carpenter had sold 700 boards, more than doubling his total during the previous season. From these modest origins, Burton developed into a flourishing enterprise with offices in Europe and Japan that served customers in 27 countries. Recognized as an industry pioneer, Burton controlled roughly 40 percent of the U.S. snowboarding market during the late 1990s, more than any other company in the world.
1979 Model: The Burton Backhill
The Burton Backhill took the toy element out of snowboarding and helped make it a sport. It came in Regular and Goofy models that were light weight, had tool-free binding adjustments and twin fins to help carve in diverse conditions. The Burton Backhill had both top and bottom graphics. It came with a rope to help keep the nose up in powder and helped to carve and a safety run-away leash.
2009 Model: The Method
A key feature to call out on the Method is the Channel, one of Burton's additions to their snowboard line.
If you were handed the keys to Shangri La, what would you build? This was the question Burton asked their R&D team and the Method was the answer. With every resource and no restriction, the result is a paradigm shift in high-performance. Using materials in entirely new ways, finely woven carbon strands, titanium edges, and strategically placed S2 glass help lighten the load while amplifying precision.
STRAWBERRY SHORTCAKE:
For the past 30 years, Strawberry Shortcake has been a favorite for children.
She began in the late '70s, when an art director at American Greetings was flipping through a stack of greeting cards and noticed artwork of a spunky little girl with red hair and suddenly thought about creating a fantasy character that lives in a magical world hidden deep within a strawberry patch.
Strawberry Shortcake appeared on greeting cards for the first time in 1979, but in 1980 Strawberry Shortcake officially launched with her first television special, "The World of Strawberry Shortcake," which aired to rave reviews and a sensation was born.
Thanks for reading CBS NEWS.
Create your free account or log in
for more features.