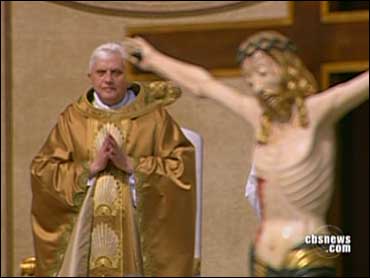 Pope Under Fire Over Holocaust Doubts
Pope Benedict's controversial decision to reinstate four excommunicated bishops threatened relations between the Vatican and Jewish communities. And, as CBS News correspondent Allen Pizzey reports, it continues to draw worldwide attention.
The view from his apartment window may provide a panorama over St. Peter's Square, but Pope Benedict XVI has been having trouble seeing the wider world. A decision to revoke the excommunications of four bishops, including one who denied the Holocaust, angered Jewish groups and perplexed Vatican watchers.
"There was a clear record here that anyone paying attention should have been aware of," says John Allen of the National Catholic Reporter.
In an interview, the bishop said he believed only 300,000 Jews died in World War II - and not as part of a deliberate policy.
"I believe that the historical evidence, the historical evidence is strongly, is hugely against six million Jews having been deliberately gassed in gas chambers as a deliberate policy of Adolf Hitler," Bishop Richard Williamson said.
Vatican officials said the pope was trying to heal a rift in the church, because the bishop was part of a breakaway catholic group.
"When this step was taken to bring these four excommunicated bishops back into fold he wasn't even considering their particular opinions on historical matters," says Father Thomas Williams, a Vatican spokesman. "It was simply looking back to this 20 years of separation."
The episode had echoes of a speech Benedict made in Germany in 2006 that offended Muslims, which he managed to overcome by visiting a mosque in Turkey. During his papacy he has worked to improve Catholic-Jewish relations.
At his weekly audience Benedict said he felt "full and indisputable solidarity" with Jews and spoke about how moved he had been by a visit to the Nazi death camp at Auschwitz, but that did not explain the gaffe.
"The great irony of course is that this act which has been presented by the Vatican as a service to unity has in fact created tremendous new divisions, both within the Catholic Church, and also in terms of the relationship between Catholicism and the Jewish community," says The Catholic Reporter's Allen.
Under Pope John Paul II the wounds of the troubled history of Catholics and Jews were being slowly healed.
Pope Benedict's explanation and evident contrition have been more or less accepted, but that doesn't explain why the Vatican is so prone to missteps that hurt its image in the world, reports Pizzey.
By Allen Pizzey
Thanks for reading CBS NEWS.
Create your free account or log in
for more features.