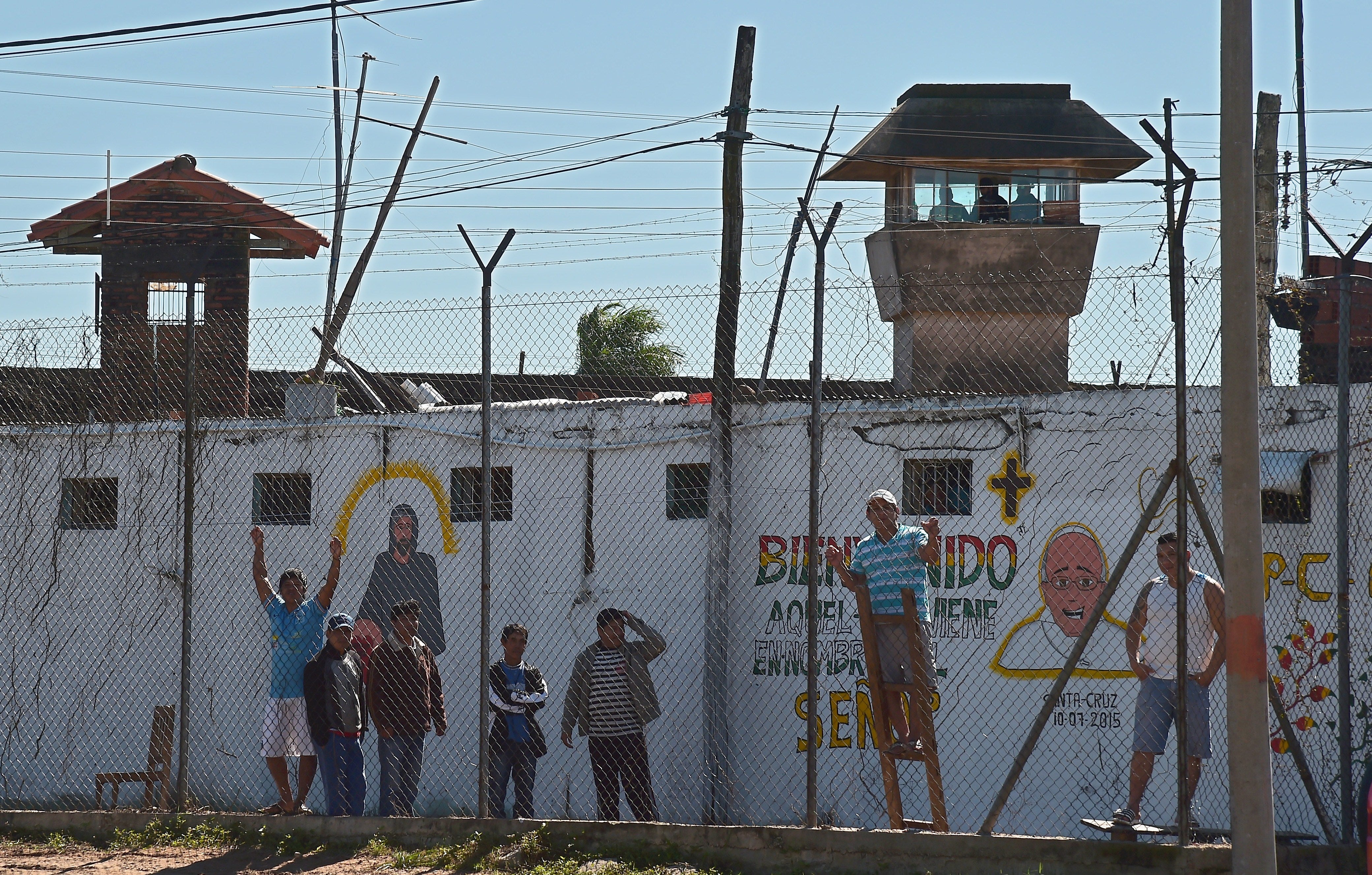 Pope Francis visits notorious prison in Bolivia
Continuing a tradition he began while still a cardinal, Pope Francis visited a notorious prison on Friday morning, his last stop in Bolivia before boarding a plane for Paraguay, the third nation in his nine day pilgrimage to South America.
Palmasola detention center in Santa Cruz is one Bolivia's most crowded. It was built to house 800 inmates but is currently holding about 5,000 men and women, most of them awaiting trial. It is also one of its most violent; in 2011, a fight between rival gangs resulted in 30 dead, including an infant living there with his mother.
The Pope greeted the prisoners warmly upon arrival, mingling with them and kissing them and their children, who are allowed to live with them. He listened as three prisoners told their moving stories about prison life. "The fact that we committed a crime does not mean they should leave us like this, totally abandoned," said one woman, who wept as she spoke.
The Pope told the prisoners, "I could not leave Bolivia without seeing you." While acknowledging the inmates' difficulties -- overcrowding, delayed justice, violence, a lack of training -- the Pope encouraged them not to despair, but to maintain their dignity and to help each other. "When Jesus becomes part of our lives, we can no longer remain imprisoned by our past. Instead, we begin to look to the present. We see it differently, with a different kind of hope."
Pope Francis specifically requested to visit Palmasola, and the stop at the notorious jail seemed a fitting end to his visit to the poorest country in South America, where he has championed the rights of the poor and marginalized at every occasion. In Palmasola, he appealed to institutions to work quickly to improve the prisoners' conditions.
After the prison visit, the Pope flew to Asuncion, Paraguay, the last stop of the trip. There, a festive welcome ceremony with indigenous song and dance awaited him. Despite the intermittent rain, large crowds lined the streets to catch a glimpse of him as he drove into Asuncion in his pope mobile.
Later in the afternoon, he addressed the Paraguyan president Horacio Cartes Jara and dignitaries at the presidential palace. In his speech there, the Pope once again called for a just economy that excludes no one, that "never again be children without access to schooling, families without homes, workers without dignified employment, small farmers without land to cultivate." He called for an end to violence, corruption and drug trafficking.
While in Paraguay, the Pope will hold two open air masses, visit a pediatric hospital and tour one of the country's poorest slums before heading back to the Vatican on Sunday.
Thanks for reading CBS NEWS.
Create your free account or log in
for more features.