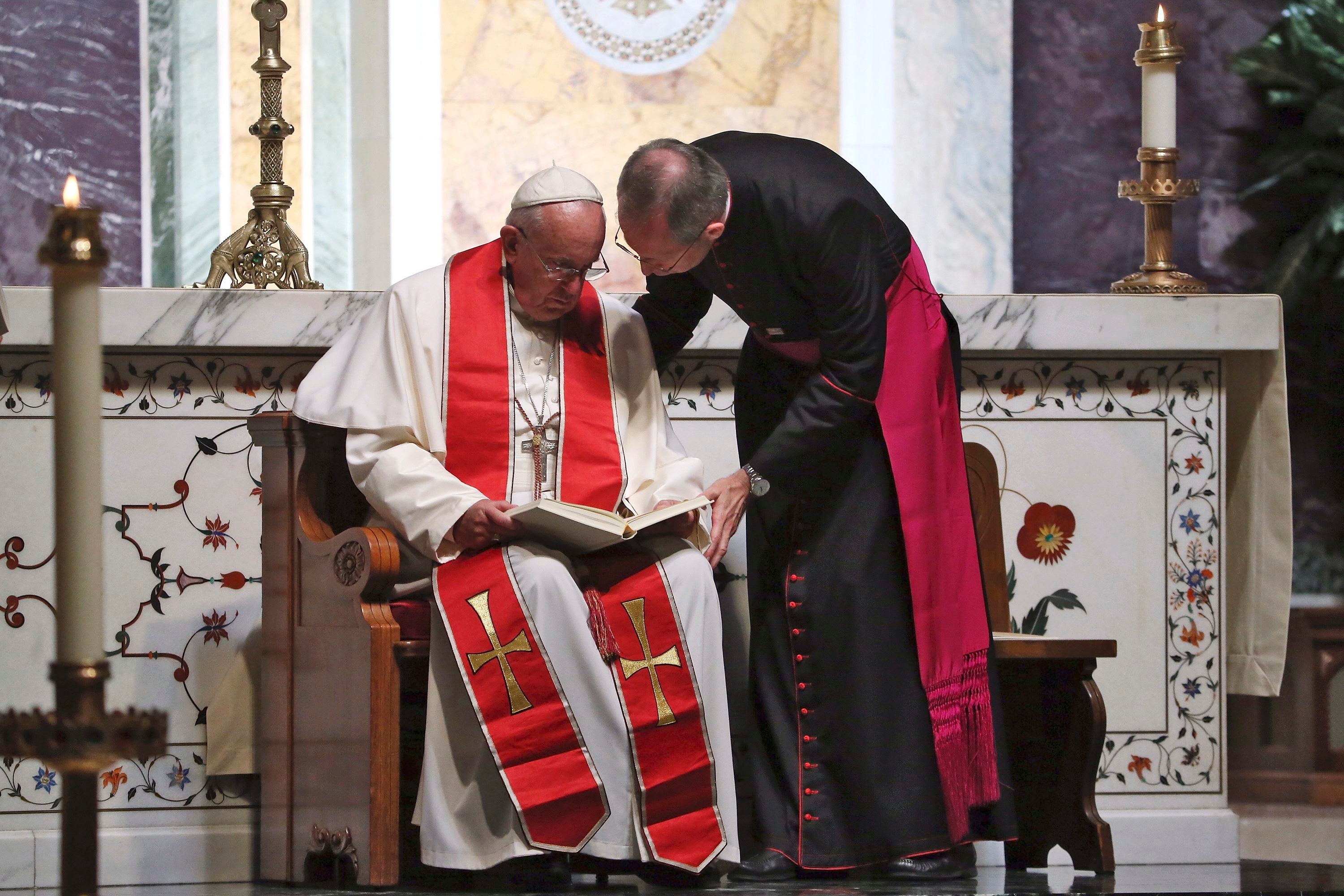 Pope Francis: "Do not be afraid to welcome" immigrants
In a single sentence, Pope Francis has shown how he transcends the ideological polarities of U.S. politics.
In his address to bishops during a church service at St. Matthews's Cathedral, the pope spoke out against abortion, an issue close to the heart of Republicans, and against environmental devastation, a surefire applause line for Democrats. He spoke on behalf of immigrants, too, and pushed a few other hot buttons. All in one sentence.
Pope Francis said: "The innocent victim of abortion, children who die of hunger or from bombings, immigrants who drown in the search for a better tomorrow, the elderly or the sick who are considered a burden, the victims of terrorism, wars, violence and drug trafficking, the environment devastated by man's predatory relationship with nature - at stake in all of this is the gift of God, of which we are noble stewards but not masters."
Of immigrants, he told Catholic bishops, "Do not be afraid to welcome them... I am certain that, as so often in the past, these people will enrich America and its church."
Immigration was an issue many Catholics hoped the pope would address while in Washington, where a partisan fight over what to do with undocumented immigrants has reached a tipping point.
One of these devout followers, 51-year-old Maria Lira made the journey to D.C. from a detention center in York, Pennsylvania to see the pontiff on his public parade route. She traveled with the 100 Women 100 Miles pilgrimage, aiming to draw attention to the plight of undocumented immigrants and their families in the United States.
"We want the Pope to be our voice when he goes to talk to the president and Congress," Lira, who is originally from Nuevo Laredo, Mexico, told CBS News. "We are tired of seeing the abuse and deportation of immigrants."
Such controversial positions from the pope will be placed in front of Congress on Thursday when Francis addresses lawmakers.
Earlier in the day, Francis made another appeal for environmental preservation on the White House's South Lawn, where he was greeted by President Obama, government officials, and thousands of others.
"As Christians... we wish to commit ourselves to the conscious and responsible care of our common home," the pope said in English.
"Climate change is a problem which can no longer be left to a future generation," he added. "When it comes to the care of our common home, we are living at a critical moment of history. We still have time to make the changes needed to bring about a sustainable and integral development, for we know that things can change."
Pope Francis also praised U.S. bishops for their response to the clergy sex abuse crisis.
Speaking before the bishops Wednesday at a worship service in Washington, Francis lauded them for what he called their "generous commitment to bring healing to victims." He praised them for having courage and acting, as he saw it, "without fear of self-criticism."
The clergy sex abuse scandal erupted in the U.S. in 2002 and turned into the biggest crisis in the history of the American church.
Under enormous public pressure, the U.S. Conference of Catholic Bishops pledged to oust any guilty clergy from church work and enact safeguards for children.
However, the scandal persists, and victims say the bishops still haven't fully accounted for sheltering abusers. This year, three bishops resigned in crises over their failures to protect children.
Thanks for reading CBS NEWS.
Create your free account or log in
for more features.