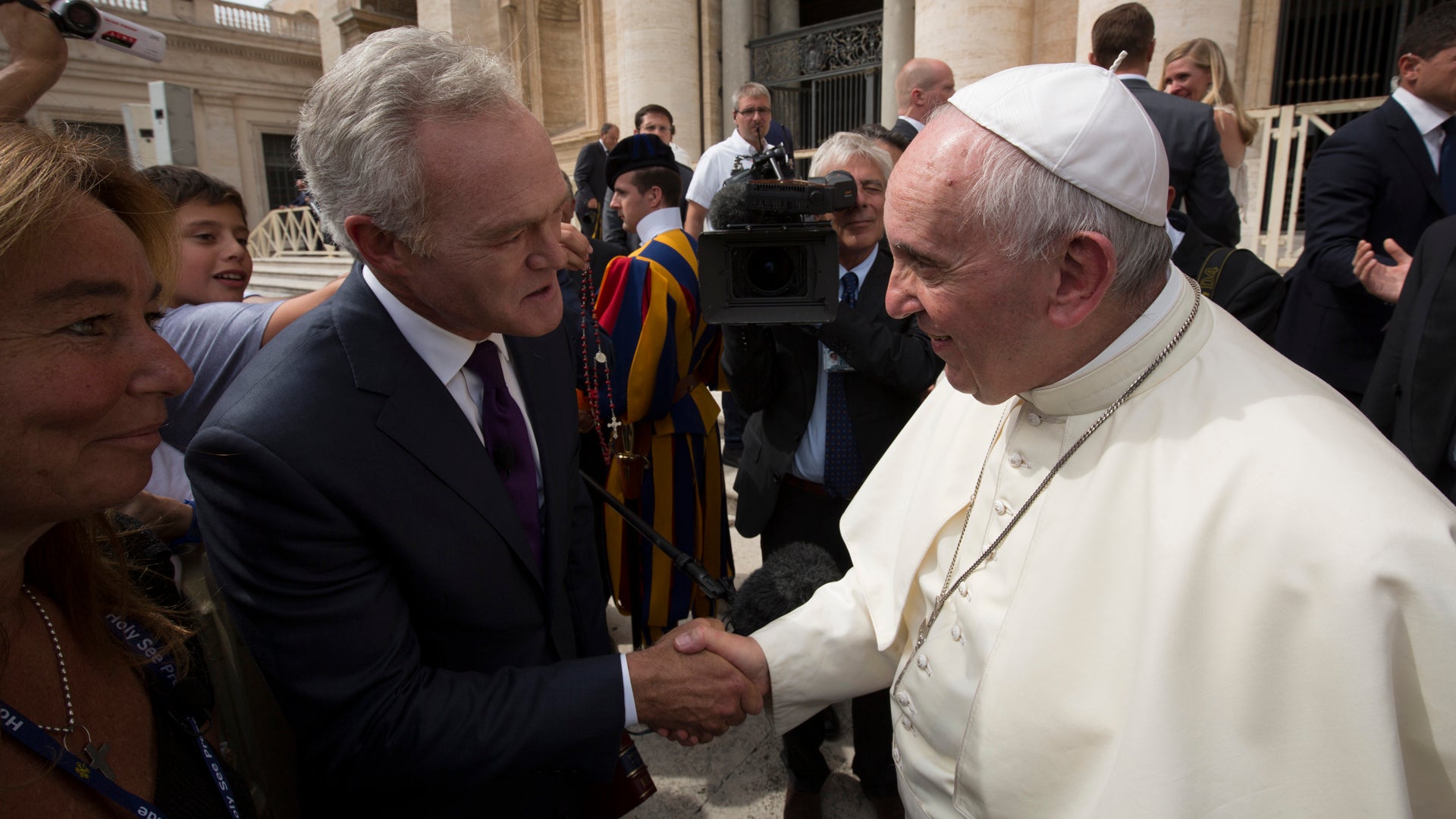 The following transcript is from "Pope Francis" which aired on September 20, 2015. Scott Pelley is the correspondent. Nicole Young, producer.
As a young man, Jorge Bergoglio was a bouncer at a nightclub, ejecting undesirables. Sixty years later he's still minding the door, but now, as Pope Francis, he has thrown the Catholic Church open to all, especially the dispossessed, the disbelieving, the wayward and the wicked. Recently, he announced a welcoming path back to the Church for those who've been through divorce and abortion. And he's declared 2016, "the year of mercy." What can we expect when the pope comes to visit? Well we got a preview at a spectacle, that's held every Wednesday in Rome called the General Audience. This month, the Vatican invited us to have a word with Pope Francis, and witness the moving experience coming this week to the United States.
At first light, Wednesdays, St. Peter's Square prepares for the man that no one saw coming. The first pope from the New World, who had pulled in behind the first papal resignation in 600 years, grabbed his hat, this past week, and went back to work before a crowd of 30,000 or more, his 103rd General Audience. So far, 15 million have met Francis in Rome. But don't ask them what to expect because God only knows.
Ken Hackett: Do they have a good idea? No! He's a pope of surprises. He is so spontaneous and it makes people feel wonderful.
Few Americans know the new pope like Ken Hackett, U.S. ambassador to the Holy See, Latin for "Holy Seat."
Ken Hackett: First of all, they're going to see a pastor, and if they don't know what a pastor is, they're going to learn quickly. Because he's genuine. He's intelligent. He moves from the heart. He's somebody who is not afraid. He is about the people who are in need and suffering and going through turmoil in their lives. He is trying to be there with them.
And he will be in the U.S. for the first time in his life -- Washington, New York, Philadelphia.
Ken Hackett: It is such a special moment for so many people, and we're going to see that in the United States in all three cities.
Those special moments arise because the pope understands what is not obvious. The General Audience is not about the pope. It's about thousands of burdens, dreams, hopes and regrets hauled into the square, to be lifted by a 78-year-old man.
David Yoder: I have never photographed anything like that before where you had so much raw emotion just laid out in front of you.
The emotion is captured by National Geographic's David Yoder.
David Yoder: It's like they don't have any walls when they meet this guy. It's like finding a long lost relative is what I see. Some of them are euphoric.
Scott Pelley: Any moments that surprised you, any time you thought to yourself "Did I just see that?"
David Yoder: All the time.
Yoder worked six months, shooting 68,000 images for the magazine and a new book on life at the Vatican.
Scott Pelley: What's happening with this man?
David Yoder: Well, Pope Francis had just blessed him, had just laid his hand on his forehead and he's just overcome. He is completely broken down emotionally. The experience was so powerful for him.
Scott Pelley: What do you see in the pope's face?
David Yoder: I'm sure that he really enjoys it. I think he pushes it up to the point to where he exhausts himself sometimes. He's a very sincere person when it comes to meeting people. He'll fluctuate between serious and laughing. It's really been interesting to watch.
Monsignor Guillermo Karcher: It's his style of life. The style of living each moment. But he has this way, maybe a little Latino, a bit South American.
Monsignor Guillermo Karcher is a fellow Argentinean, who is the strong right arm for the man he's known 23 years. Ask Karcher about the best moment and he remembers the first Mass in the square.
Monsignor Guillermo Karcher: He was in the Popemobile and he hit it and said we must stop and he got off to bless and embrace a quadriplegic. And I remember that the following day I asked him how he had realized that in the middle of that huge crowd there was someone with such need to receive a caress and a blessing? And he said, "I perceive it." And I can assure you that morning I took a step backward because I realized I'm truly in front of someone who is special.
Special for his humility because Francis forsakes what most people desire, he has the power to give them what they need. He turned down the Apostolic Palace where popes roomed with Michelangelo and moved into a Vatican hotel. His room 201 is more Sherwin-Williams than Rafael.
He ditched the papal limousine and the traditional red slippers for a blue Ford Focus and clunky orthopedic shoes. And he works like a man who's running out of time.
Monsignor Guillermo Karcher: He gets up at 4:30 in the morning. From 5:00 to 7:00 he prepares his interior life, with prayer and reflection, his daily homilies.
Scott Pelley: He gets up at 4:30 in the morning?
Monsignor Guillermo Karcher: Yes. He's very regular like that. Very disciplined.
Scott Pelley: And the day ends for him when?
Monsignor Guillermo Karcher: 10:00, 10:30 in the in the evening.
Karcher told us he brings the pope the news on a tablet, glass not stone. And Francis prefers the phone to email.
Monsignor Guillermo Karcher: Many times he surprises people... maybe he knows of someone who is suffering or very sick and he calls them. Many times they cut him off because they don't believe him. He says, "I'm Francis," and they don't believe it's the pope.
Scott Pelley: Has he called you?
Ignazio Marino: Oh yes, a few times.
Scott Pelley: He says, "Hello, this is Pope Francis, how are you doing Mr. Mayor?"
Ignazio Marino: Yes.
Before Ignazio Marino became mayor of Rome he was a transplant surgeon in Pennsylvania. He'll be with the pope in Philadelphia.
Scott Pelley: What do you talk about?
Ignazio Marino: Well, most of the time we talk about the city.
Scott Pelley: Was the pope offering his assistance to you, was he calling and saying Mr. Mayor how can we help?
Ignazio Marino: Oh he does, he does all the time.
The pope wanted to help the homeless who also caught the eye of National Geographic's David Yoder. Francis set up a clinic for the destitute and showers inside the Vatican.
Wednesday mornings, cleanliness is next to godliness in the 350-year old-square. The piazza is a sundial, pinned at the center by an obelisk that was more than 1,000 years old when Jesus was born. On that scale, General Audiences practically began yesterday, it was in 1929, when the Vatican became a country of its own.
Everyone can come to the audience. And hours before the ten o'clock start, the determined hustle for front row seats like competitors at a sale after Thanksgiving. They find Francis selfless in the age of the selfie.
Scott Pelley: Are ushers trying to keep people back from the pope so that they don't throw their arm around them?
Augusto Pellegrini: If everyone wanted a selfie with the Pope, the audience would last all day. It's the pope who decides whether to grant a selfie not.
Augusto Pellegrini is dean of the papal ushers who corral the crowd and grab the gifts which Francis hands off left and right.
Scott Pelley: You know, I suspect, like with any new boss, the pope might have given you some advice on how to do your job.
Augusto Pellegrini: He wants the people who are around him not to tie him to protocol so that he may be free to move. He wants as many children as possible. At the beginning we thought maybe the pope was tired but no, no, he kissed them, caressed them, and so we learned never to assume that the pope is tired, and so to allow a lot of freedom.
But freedom is exactly what worries the man who stands at the right fender of the father. Urs Breitenmoser is a sergeant in the 500-year-old Swiss Guard--the pope's bodyguards.
Urs Breitenmoser: We cannot be like a wall around him so as he is a pastor, he loves to be a pastor, he needs the contact with people. It is very personal, very human and for us its an awesome experience.
The guard is the oldest and smallest army on Earth. A force of 110, all Swiss, all Catholic, all pledged to give their lives. There are guards that you can't miss. And, guards that you can't see, the ones in plain clothes with automatic weapons.
Scott Pelley: In the United States, the secret service often says to the president's staff, look we know you want to do that but we can't do that. Do you ever say that to the pope?
Urs Breitenmoser: Well, no, we tried at the beginning, we tried. But he said he always has the last word and we were discussing about security and safety problems. He's not interested in the risk he is going to have.
About the risk, Francis said, "The Lord has put me here, he'll just have to take care of me." But as Francis made it around to us we found that he takes care of himself pretty well. Bulletproof against questions in our prearranged meeting.
Scott Pelley: What is your goal for America?
"To meet people," he told us, "just to meet with them."
Scott Pelley: What can the faithful expect from the Year of Mercy?
"The mercy of God is so great it will surprise us all."
Scott Pelley: Will you speak of immigration and the dispossessed in America?
"I shall talk about what the Holy Spirit will inspire me to say."
Since Francis kept his plans under his hat we asked those close to his mind.
Scott Pelley: The pope has had harsh words for capitalism. America is the capitalist capital of the world. And I wonder what the pope makes of America on the eve of his trip?
Monsignor Guillermo Karcher: He thinks it is a great country, that it has a great government and that it is important for the balance of the world.
Scott Pelley: Mr. Ambassador, what do you think the pope will talk about when he comes to the United States?
Ken Hackett: Well, he will obviously talk about the things that he cares very much about: poverty, people being excluded, falling through the cracks, people who are suffering in-- in-- because of economic situations. He'll talk about persecution of Christians and other minorities in the Middle East. I mean, it is, these days, very tangible and palpable as we see the migrants coming in, how they're suffering. He'll talk about those kind of things. He just finished his encyclical on climate change and no doubt he will speak to that.
Scott Pelley: You're expecting a lot of frankness?
Ken Hackett: He has been nothing but frank in the two years that I've been here with him.
Scott Pelley: Should the American people expect more candor than diplomacy?
Ignazio Marino: Oh! He is absolutely 100 percent candor, I would say, close to zero percent diplomacy.
Francis is frank in many languages but English isn't one of them. We're told that he's been studying and as we reached out with a parting gift, we were surprised to hear the one request made by a pilgrim before his first trip to the United States.
Pope Francis: Pray for me.
Pray for me.
Pope Francis: I need it.
I need it.
Pope Francis: God bless you.
Thanks for reading CBS NEWS.
Create your free account or log in
for more features.