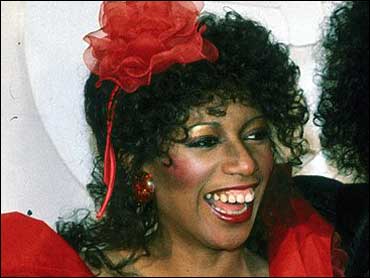 Pop Diva June Pointer Dead At 52
June Pointer, the youngest of the singing Pointer Sisters known for the 1970s and 1980s hits "I'm So Excited," "Fire," and "Slow Hand," has died.
The Pointer family says June, who was 52, died of cancer Tuesday at the Santa Monica University of California, Los Angeles, Medical Center. She had been hospitalized since late February; the type of cancer has not been disclosed.
The family says June died "in the arms of her sisters, Ruth and Anita and her brothers, Aaron and Fritz, by her side... Although her sister, Bonnie, was unable to be present, she was with her in spirit."
Fans have been expressing their shock and sorrow in a tribute site on the web.
"Your music touched my life in a profound manner," wrote Ross Wood, of Oklahoma City.
"June sure knew how to electrify us. On stage, she lit up like an X-mas tree with her sassy style," wrote another fan, Marcia Mackie of Charlotte, N.C. "We will miss you, sister June, but how blessed we were to have you even if the time was short."
The Pointer Sisters began as a quartet in the early 1970s with sisters Ruth, Anita, Bonnie and June. The group became a trio when Bonnie embarked on a solo career.
The group's hits also included "He's So Shy," "Automatic" and "Jump (For My Love)."
The sisters, along with their two older brothers, grew up singing in the choir of an Oakland church where their parents were ministers.
Bonnie and June formed a singing duo and began performing in clubs around the San Francisco Bay area. Anita and Ruth later joined the group and together, they sang backup for Taj Mahal, Boz Scaggs and Elvin Bishop, among others.
Their first, self-titled album, "The Pointer Sisters," debuted in 1973 and the song "Yes We Can Can" became their first hit. They followed up with the album "That's A Plenty," which featured an eclectic mix of musical styles ranging from jazz to country and pop. They won the first of their three Grammy awards in 1974 for best country vocal performance by a group for the song "Fairytale."
Bonnie left the group in 1977, and the sisters recorded several more albums, scoring several hit songs that became identified as the soundtrack of the 1980s.
The successful 1984 album "Break Out" earned two Grammy awards for the songs "Automatic" and "Jump (For My Love)." The album's other hit song, "Neutron Dance," was prominently featured in the movie "Beverly Hills Cop."
June recorded two solo albums, and later left the trio.
Anita and Ruth still perform under the group's name. Ruth's daughter, Issa Pointer, is the trio's newest member.
Two years ago, June Pointer was charged with felony cocaine possession and misdemeanor possession of a smoking device. She was ordered to a rehabilitation facility.
Thanks for reading CBS NEWS.
Create your free account or log in
for more features.