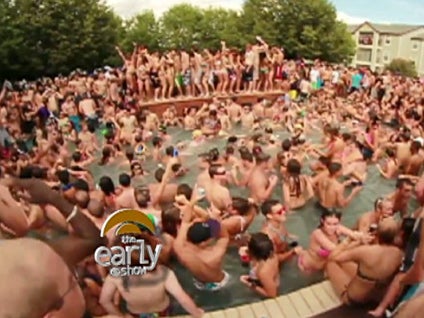 Pool party gone-wild: Thousands show up
FORT COLLINS, Colo. -- A college pool party got out of hand over the weekend when thousands of people showed up after the invite was posted on Facebook.
It was, reports Rick Sallinger of CBS station KCNC-TV in Denver, a welcome-back-to-school pool party, an annual tradition in an apartment complex just blocks from the Colorado State University campus.
The party was supposed to be a small affair for residents of the complex, but word quickly spread via the Facebook post, and nearly 4,000 people accepted the invitation.
"There were 25-hundred people who said they were attending," CSU student Katherine Fleischman told KCNC, "and I don't think 25-hundred people live here, so it was pretty crazy."
CBSDenver.com: Building manager warns there won't be another mega-party
"Just the amount of people in the party," said CSU student Tyler Picciano, "like, the actual pool: How could they fit that many people in there?"
Party-goers posted it all on YouTube.
"It was packed," says Fleischman. "Way too many people in there."
"This one big guy got into it with a security guard," says CSU student Patrick Milligan, "and one guy's face was all busted up. He was bleeding from his nose. It definitely got out of control."
Four people were arrested, and nearly a dozen were taken away by ambulance.
Dean of Students Judy Donovan asserts, "Our students were potentially at risk, based on decision making on the part of the apartment complex."
It's not the first party overpowered by social media. In Germany, 1,500 guests descended on a teen's Sweet 16 after she posted a public Facebook invite.
Last year, riot police had to shut down an off-campus party ignited by social media near James Madison University in Harrisonburg, Va.
And the Colorado bash likely won't be the last of this sort -- when inviting friends is just a click away.
The apartment management issued a statement pointing out that alcohol was not provided.
And while it looks like students certainly had a good time, police are still investigating whether the party, which took them nearly two hours to disperse, violated the city's nuisance ordinance.
KCNC-TV in Denver has this report:
Thanks for reading CBS NEWS.
Create your free account or log in
for more features.