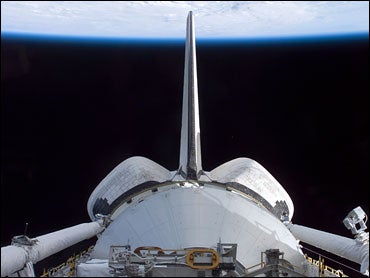 Poll: Public Up In Air On Shuttle
As the crew of Space Shuttle Discovery prepared for a history-making repair of its spacecraft – fixing the exterior of a shuttle while in orbit - Americans have become more concerned about the costs and risks of the Shuttle program. While a majority still thinks the Space Shuttle is worth continuing, the program receives its lowest level of support in this poll since CBS News started asking about it in 1986. In addition, the public gives the National Aeronautics and Space Agency (NASA) its lowest job rating to date. It should be noted that this poll was conducted before the repair of Discovery took place.
59% thinks the Space Shuttle is worth continuing despite the costs and risks involved; 36% say it is not. In February 2003, shortly after the Columbia Shuttle disaster, 75% supported the shuttle program, as did eight in 10 after the Challenger explosion in 1986.
IS THE SPACE SHUTTLE PROGRAM WORTH CONTINUING?
Now
Yes

59%
No

36%
2/2003
Yes

75%
No

19%
8/1999
Yes

72%
No

22%
1/1986
Yes

80%
No

14%
The number who says the Shuttle program is worth continuing has dropped among nearly all demographic groups since 2003. Support for the Space Shuttle has dropped 19 points among women and 13 points among men. Fewer than half – 46% - of Americans age 65 and over think the Space Shuttle should continue. Back in 2003, seven in 10 seniors favored continuing the program. Politically, support for the Shuttle program has dropped similarly among Democrats and Republicans.
SPACE SHUTTLE WORTH CONTINUING -- Demographic Groups
Now
Republicans

60%
Democrats

59%
Independents

57%
2/2003
Republicans

78%
Democrats

73%
Independents

73%
After the launch of Space Shuttle Discovery a week ago, NASA grounded the entire Shuttle fleet because of falling debris. Today, 55% of Americans say NASA is doing an excellent or good job but four in ten think it is doing only a fair or poor job. These are the lowest ratings NASA has received in the history of the CBS News Poll. In 1999, 70% said NASA was doing an excellent or good job - among its highest ratings.
NASA'S JOB RATING
Now
Excellent/good

55%
Fair/poor

40%
8/1999
Excellent/good

70%
Fair/poor

23%
7/1997
Excellent/good

69%
Fair/poor

25%
6/1994
Excellent/good

63%
Fair/poor

30%
12/1993
Excellent/good

57%
Fair/poor

34%
Younger Americans are less critical of the U.S. space agency than their older counterparts. 62% of those under age 30 say NASA is doing a good job, compared to just 45% of those ages 65 and over. Democrats and Republicans hold similar views of NASA.
Views of whether the Shuttle program should continue are strongly tied to ratings of NASA. 76% of those who think NASA is doing a good job support the continuation of the Space Shuttle program. But among Americans who say NASA is doing a bad job, 59% do not think the Space Shuttle worth continuing.
For detailed information on how CBS News conducts public opinion surveys, click here.
This poll was conducted among a nationwide random sample of 1,222 adults, interviewed by telephone July 29-August 2, 2005. The error due to sampling could be plus or minus three percentage points for results based on all adults. Error for subgroups is higher.

Thanks for reading CBS NEWS.
Create your free account or log in
for more features.