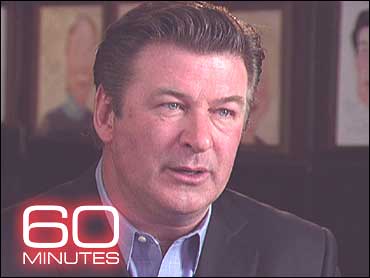 Political Office In Alec Baldwin's Future?
This story was first published on May 11, 2008. It was updated on Dec. 16, 2009.
The actor activist Alec Baldwin is hard to miss these days: he's one of the mainstays of the television show "30 Rock," will soon host the Academy Awards along with Steve Martin, and is starring in a new movie with Meryl Streep opening Christmas Day.
As 60 Minutes correspondent Morley Safer first reported last year, Baldwin is an old-fashioned trouper, moving with ease from dark drama to slapstick buffoonery. Off the set he is an incurable political junkie; to the right wing he is the embodiment of liberalism run amok.
Full Segment: Alec Baldwin
Web Extra: Outtakes
Web Extra: On Venice Beach
Web Extra: Jack Donaghy
Web Extra: The Actor Activist
But Baldwin is no shrinking violet - he can be a vicious attack dog, and in fact it is his mouth that most often gets him into trouble.
Love him or hate him, Baldwin is just about the freest spirit you'll find on the stage, or anywhere else.
Pretty early on, Baldwin made a conscious decision that he did not want to be a movie star. "Well, you have to want it more than anything else. And I didn't want it more than anything else," he explains.
Baldwin's star rose in the 1980's with memorable turns in "Married to the Mob" and "Working Girl." And by 1990, true mega-stardom seemed ensured when he starred as "Jack Ryan," the hero of "The Hunt for Red October," the first in a series of Tom Clancy thrillers.
But when Paramount wanted him for "Patriot Games" he said no, and instead chose Broadway and "A Streetcar Named Desire." Hollywood was not amused.
"They kind of look at you like, "We don't ask just anybody to do this, you know?' And when you don't do it, they are appalled. They think you're a moron. And they went and got somebody else to do the movie," Baldwin says.
Instead, Harrison Ford ended up playing "Jack Ryan."
Harrison Ford as Jack Ryan became a multi-billion dollar franchise, and the smart money thought Baldwin had blown it. But he claims he has no regrets.
"You said many of those action movies could be done by your doorman," correspondent Morley Safer says.
"Did I say that?" Baldwin asks.
"Yeah, you did," Safer replies.
"How rude of you to bring that up, Morley," Baldwin says.
His decision to play Broadway brought him a reputation as talented but cantankerous. Things got worse when he starred with Kim Basinger in "The Marrying Man." They actually got married, and both the movie and the marriage were certified turkeys.
Nevertheless, he managed to become one of the more interesting actors of his generation.
In good movies and bad, his scenes have been memorable, like the evil surgeon in "Malice," or his chilling performance as a sales manager in "Glengarry Glen Ross."
But it isn't just that cold blooded menace that defines Baldwin, the actor. He has brought down the house on a dozen stints on "Saturday Night Live," where his slap-stick send-ups of everyone from Robert De Niro to Tony Bennett to a perverted scout master have become cult classics.
And yet it's his off-screen performances that can get in the way of a truly gifted man, and often it's his liberal politics that make him red meat for his critics.
"They hate liberals who can throw a punch," Baldwin tells Safer.
Asked who "they" are, Baldwin says, "They, yeah, this…they. The vast right wing conspiracy that's after me."
Liberal politics has always been his passion. He grew up in a working class family on Long Island, N.Y. He has an impressive grasp of the issues, and spends a huge amount of his time and money supporting causes he believes in, like animal rights, the environment, and the arts.
But his bare-knuckled approach to political discourse, paired with a total inability to keep his mouth shut has made him a favorite target of the tabloids. He was dubbed "the Bloviator," and was shown no mercy when his marriage unraveled.
"You described your ex-wife's lawyer as a 300-pound homunculus with a face like a clenched fist," Safer says.
"I was being kind, Morley. I was being kind," Baldwin jokes.
"It's up there in the pantheon of abusive remarks, correct?" Safer asks.
"Yeah. Well, I think that people who treat someone the way I was treated during that case, you respond to them, I don't view that as abusive," Baldwin says.
He says his divorce from Basinger was devastating, and the custody fight over their daughter was brutal. It all took a physical toll on Baldwin.
"I didn't care how I looked, I didn't care if I took care of myself or those things. I just couldn't be bothered," Baldwin says.
But the ravages of time and indifference have some positive side effects: he's become sought after to play characters who are not leads, but who add a certain authenticity, like his role as a casino boss in "The Cooler."
The Cooler got him an Oscar nomination and led to more scene-stealing roles in films like "The Aviator" and "The Departed," both directed by Martin Scorsese.
"He has an extraordinary ability to listen to the other actor. It's all going on in his face and in his eyes, and his extraordinary consummate timing, whether it's dramatic or comic actually," Scorsese explains. "I can't wait to work with him again. He's a damn good actor, who is dependable, and who can really give you the goods."
His latest "goods" is a romantic confection called "It's Complicated" with fellow scene-stealers Meryl Streep and Steve Martin. The transition from heart throb to member of the Paunch Corps has been almost seamless.
"Whenever I see a film of mine when I was young, I see someone who was far more vulnerable than I am now. Audiences want that. You know, Johnny Depp seems like somebody that needs to be taken care of. You know? Women wanna reach out and they braid his hair or something. And when you convey to audiences a sense that you don't need to be taken care of, there's a whole other set of parts you're gonna play," Baldwin says.
"You also become a better actor or a more interesting actor?" Safer asks.
"You have a shorter schedule on the film, that's the film, that's for sure. I mean, you're in and out of there in four weeks," Baldwin says.
And it's his willingness to try anything that actress and writer Tina Fey was after when casting her television comedy "30 Rock."
"Having worked at Saturday Night Live, you see a lot of actors come through. A lot of movie stars. Academy Award winners who cannot do what he does," Fey says.
"The first season, especially, doing this show with him, he made us all look better, and while we were learning from him, he was carrying us," Fey says of Baldwin on 30 Rock.
That show has earned him critical raves and awards. But for all his recent success, he says that his multi-year custody battle had driven him to the edge of despair, and rage. When he left an abusive voicemail message for his young daughter, it was leaked to the media, and replayed incessantly on the Internet.
"I don't give a damn that you're 12 years old or eleven years or that you're a child or that your mother is a thoughtless pain in the ass. …You have humiliated me for the last time," he said on the message.
Asked how he could do something like that, Baldwin says, "You get so frustrated. And you realize, number one, and it's wrong, it's totally wrong, that I was really speaking to somebody else when I left that message. I mean I was pissed, I mean, I was putting up with this for six years."
"But you weren't talking to another person. You were talking to your daughter, to a kid. And you said, 'You thoughtless little pig.' I mean, I find it hard to utter the words," Safer remarks.
"Did you ever lose your temper with your kids?" Baldwin asks.
"Yeah, but nothing like that," Safer says.
"If you're asking me do I feel bad about leaving that message, I think that goes without saying. At the same time, I'm pretty overwhelmed by the sanctimoniousness of people who say that, I mean, I got so many phone calls from people," Baldwin says.
"Well…," Safer says.
"Wait a second though. I got so many phone calls from people who seem as learned and sober and together as you are, who all said to me, 'Man, I'm glad they didn't tape some of the things I said to my kids,'" Baldwin says.
"As appalling as what you said may be, even more appalling was that it was released by someone," Safer points out.
"That tells you what I'm dealing with," Baldwin says. "But you know, listen, you use words like 'appalled' and you have, if I may say so, a pretty judgmental tone of me. But I think that as truly sorry as I am that that happened, to me it only illustrates how difficult this process has become for many, many people."
He wrote a book about divorce and parental alienation and says he has repaired his relationship with his daughter, and maintains that acting is not his life.
"There's other things I wanna do. I mean, in a matter of weeks, I'm gonna be 50. And I have other things," Baldwin says.
"You're a young man," Safer remarks.
"By '60 Minutes' correspondent terms, I am a young man. I mean, I'm getting pretty close to the 'Law & Order' judge phase of my career, you know," Baldwin says, banging on the table. "'Aright, order. Everyone, order. Continue, counselor.'"
And at 51, he says he still hasn't given up his childhood dream of being a politician. "There's no age limit on running for office, to a degree. Something I might do, one day," Baldwin says.
"If you think being an actor puts you under public scrutiny…," Safer says.
"If you go through the things I've gone through in the media, like this thing with my daughter, there's only one thing that comes to mind initially that is how my daughter must have felt to have this played out in public. The second thing I realize is, you can pretty much bet everything you own that I would never leave another voicemail message for my daughter that wasn't just like something out of a Rogers and Hammerstein score. 'How are you today, my little darling,'" Baldwin says. "You know, whatever. I mean you really, really manage…you know what I mean? You learn. You learn."
Produced by Deirdre Naphin and Katy Textor
Thanks for reading CBS NEWS.
Create your free account or log in
for more features.