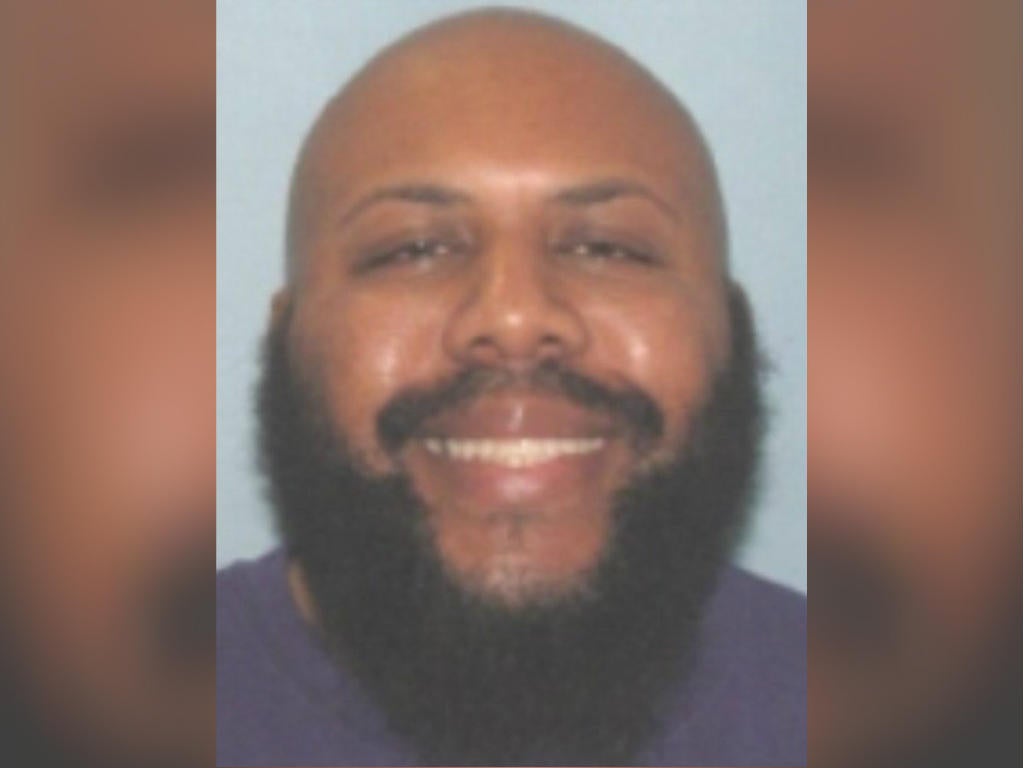 Police expand manhunt for Facebook video murder suspect Steve Stephens
CLEVELAND -- An Ohio man claimed to be angry at a woman when, authorities said, he shot and killed an elderly passerby Sunday afternoon, then posted video of the murder on Facebook. Police urged the suspect to turn himself in. He remained at large early Monday, and police widened their manhunt.
Law enforcement officials identified the suspect as Steve Stephens, and Cleveland Police Chief Calvin Williams said officers were searching for him in the Cleveland area and beyond.
The victim was identified as 74-year-old Robert Godwin Sr.
Police said Stephens should be considered armed and dangerous.
Late Sunday, police issued an aggravated murder warrant for him and said in a statement that he may have traveled out of state. Residents of Pennsylvania, New York, Indiana and Michigan, in particular, were asked to be on the alert and told not to approach Stephens if they spot him.
Police were searching for a white Ford Fusion that belongs to the suspect. Williams said the car was recently purchased and the plates could have been switched. Police announced the car had an Ohio temporary tag E363630.
The FBI is assisting in the investigation.
In a statement Sunday night, Facebook said the suspect did go live on the social media site at one point during the day, but not during the killing. Police earlier Sunday had said that Stephens had broadcast it on Facebook Live.
In the video, which appeared shaky, Stephens got out of his car and randomly targeted Godwin, who was holding a shopping bag. Stephens said the name of a woman, whom Godwin didn't seem to recognize.
"She's the reason that this is about to happen to you," Stephens told Godwin before pointing a gun at him. Godwin can be seen shielding his face with the shopping bag.
Cleveland Mayor Frank Jackson publicly urged Stephens to turn himself in to police and not to "do any more harm to anybody."
"Any problems he is having, we can have a conversation," Jackson said.
In a separate video, Stephens claimed to have killed more than a dozen other people. Williams said police have not verified any other shootings or deaths.
"There are no more victims that we know are tied to him," he said.
The chief also said investigators have been talking with family members and friends of Stephens, who is employed at Beech Brook, a behavioral health agency headquartered in Pepper Pike, near Cleveland.
"We are shocked and horrified and we don't know anything more about it," agency spokeswoman Nancy Kortemeyer told CBS Cleveland affiliate WOIO-TV. "We hope and pray that he is arrested as soon as possible and we hope and pray for a resolution quickly."
It was not immediately known what Stephens does for the agency. Its website says it will serve more than 18,000 children and families this year.
Joy Lane, Stephens' longtime partner, broke her silence on the shooting in a text message to CBS News.
"We had been in a relationship for several years. I am sorry that all of this has happened. My heart & prayers goes out to the family members of the victim(s). Steve really is a nice guy... he is generous with everyone he knows. He was kind and loving to me and my children. This is a very difficult time for me and my family Please respect our privacy at this time."
A man who spoke with WOIO said the victim was his father.
"He was a good guy. He would give you the shirt off his back," he said. "I'm not just saying that for these cameras. … This man, right here, was a good man and I hate that he's gone."
WOIO obtained photos of Godwin Sr. from his family. They had Easter dinner together shortly before he was slain.
The video of the killing was up on Facebook for about three hours before it was removed. Stephens' Facebook page also has been removed.
"This is a horrific crime and we do not allow this kind of content on Facebook," said a spokesperson for Facebook. "We work hard to keep a safe environment on Facebook, and are in touch with law enforcement in emergencies when there are direct threats to physical safety."
Thanks for reading CBS NEWS.
Create your free account or log in
for more features.