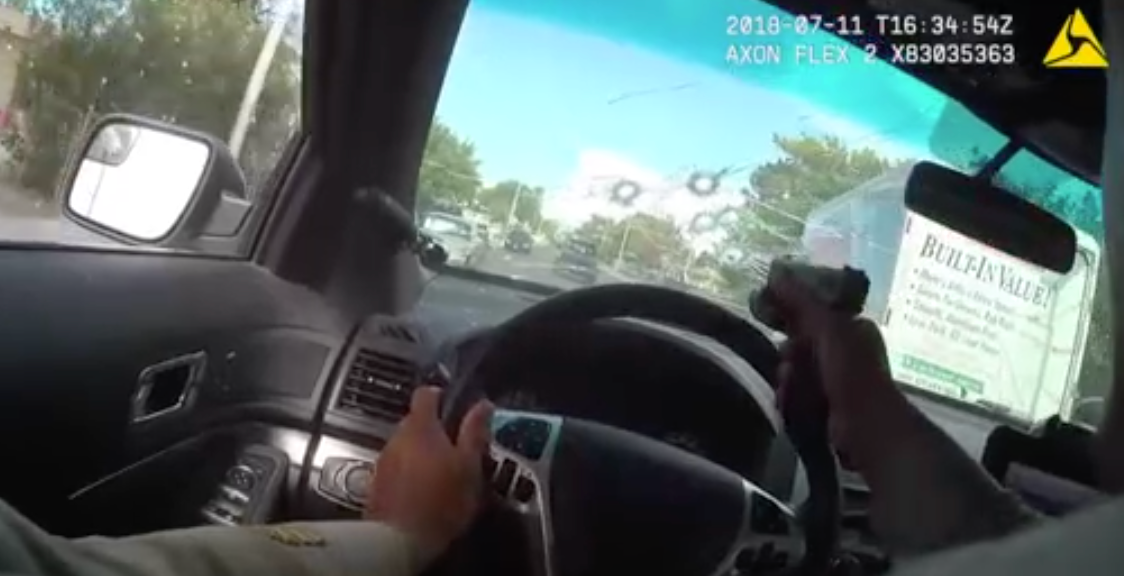 Police officer shoots through his cruiser's windshield during high-speed pursuit
A Las Vegas Metropolitan Police officer's body camera captured the deadly high-speed chase of two murder suspects, during which the officer opened fire through the windshield of his police cruiser.
The officer-involved shooting occurred on July 11, CBS affiliate KLAS reports. The officers involved were identified as William Umana and Paul Solomon. The officers were investigating a shooting at a car wash earlier that morning in which a man was shot multiple times; he later died.
Police say the officers spotted the suspects in a stolen black SUV about two hours later, and a high-speed chase ensued. During the pursuit, the two suspects fired nearly three dozen rounds out of their vehicle at the officers, police said. The suspects even drove into oncoming traffic during their efforts to get away.
The body camera footage shows the officers following close behind, swerving through traffic and speeding after the black SUV. Officer Umana, who has been with Metro Police for 17 years, calls for backup on his radio. "Shots fired, shots fired," he is heard saying. He then began shooting at the SUV through his car's windshield.
The glass did not shatter; instead, the bullets made precise holes in the windshield. Umana fired a total of 31 rounds during the shootout, and the suspects fired 34, Metro Police said.
"It's not something that we train for, but we're prepared," Assistant Sheriff Tim Kelly said at a news conference Monday. "As you can see, the officer trained his weapon, once he got behind it, and fired in a clear pattern through his window to try to stop that threat."
One of the suspects was hit and the SUV is seen drifting off the road, toward a building. Umana's body camera shows him getting out of his car, gun in hand, still firing as he walks toward the SUV, which had rolled to a stop.
One suspect, identified as Fidel Miranda, 22, was still inside. He was taken to the hospital where he died. The other suspect, identified as 30-year Rene Nunez, fled the SUV. He was caught and booked into the Clark County Detention Center. Both suspects have extensive criminal records, Metro Police said.
The charges Nunez faces include open murder with a deadly weapon, assault with a deadly weapon, discharging a firearm from a moving vehicle, and prohibited person with a firearm, KLAS reports.
Police released Umana's body camera footage at a news conference Monday, where they also discussed more details of the shocking chase and shooting.
Assistant Sheriff Kelly praised the officers for their "bravery, professionalism, heroics."
"The officer could have backed off, but he didn't," Kelly said. "The video paints a clear picture of that."
Thanks for reading CBS NEWS.
Create your free account or log in
for more features.