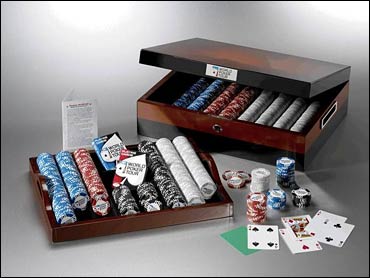 This report by Ken Adams is part of a series for CBSNews.com chronicling his run at the 2005 World Series of Poker in Las Vegas.
---
I have this friend named Matt Matros who plays poker for a living. Matt graduated from Yale about five years ago with a Bachelor of Science degree in math, and moved to Northern Virginia to take a job with MicroStrategy.

While in residence at Yale he played a fair amount of dorm poker, and took weekend trips with his buddies on occasion to nearby Foxwoods to play in the big poker room there. When he moved to the DC area he was having trouble finding a place to play poker. He read in Card Player magazine that one of the regular contributors to the magazine, Nolan Dalla, lived in D.C. He e-mailed Nolan asking if he could suggest a poker game Matt could play in, and Nolan (who was a regular in my monthly game) asked me if it would be okay to bring along a new player.

Nolan knew that I too was a Yalie, and figured that would be enough of a recommendation to invite Matt. I concurred, and Matt became a regular in the game.

Fast forward five years. MicroStrategy blew up after the revelations about financial wrongdoing by the company, and Matt moved back to New York to get a graduate degree in creative writing at Sarah Lawrence.

He supported himself by playing Internet poker and playing at Foxwoods on the weekends. He won a number of online tournaments, and the week after getting his degree last year, he won over $700,000 finishing third in the World Poker Tour championship event in Las Vegas.

Six months ago Matt published his first book, "The Making of a Poker Player," an autobiographical treatment of his experiences along the way from recreational poker in college to the WPT championship final table. It's well written, and a nice gift for your poker-enthusiast nieces and nephews.

In one chapter he describes his first experience playing at my house, where he met Russell Rosenblum who became his poker mentor. (Russell made the final table of the World Series championship in 2002, and joined Matt at the final table of the WPT championship last year where Russell finished 5th and Matt finished 3rd.)

Be patient, I am getting to the point. . .

Matt arrived at the World Series last Tuesday while I was competing in the $2,000 No Limit Hold'Em event. We were planning to have dinner together so he could coach me through the rest of the evening session, but of course I got knocked out just before the dinner break.

You might enjoy reading Matt's WSOP June 29 blog on his Web site. As you will see, his first day was quite different from my experiences of the past week as reported to you. I played more than 20 satellites along with 3 tournaments, and never hit a rush of cards like Matt got in his first satellite. Must be nice.

Matt continued his good run in the $3,000 Limit Hold'Em event with more
than 1,000 players (limit hold'em is Matt's best game). When play was
suspended at 3:15 am after the first day, he was in second place (in
terms of chip count) with 25 players remaining.

After forty-five minutes on the second day, Matt was 4th in chips. Three hours later he was eliminated in 9th place.

Matt lost most of his chips in two hands. Both times he had the best hand until the river, and his opponent got lucky. In one, they both flopped top pair. Matt had the better kicker, but his opponent hit his kicker on the river to make two pair. In the other hand, Matt's opponent called with a flush draw, and caught his flush card on the river to overtake Matt's hand.

In his final hand, he got all his chips in with the best hand (ace-queen) and got outdrawn by a bigger stack who called with jack-ten.

He won $22,410. I am sure he is very disappointed, but in a few days will be justifiably proud to have made his first WSOP final table at age 28, in his second year as a tournament pro.

In retrospect, I feel guilty about how I envied Matt's initial good fortune in the first satellite he played last week. The indignities inflicted on him by the poker gods at the final table were at least as cruel as the one I suffered just before the dinner break in the tournament I played last Tuesday. He was one of the chip leaders heading into the final stretch. Then three times in critical pots he had the best hand and was outdrawn on the river, killing his best chance so far for a World Series title and bracelet.

So who am I to complain? Even for players as talented and successful as Matt Matros, the poker gods are fickle indeed.
Thanks for reading CBS NEWS.
Create your free account or log in
for more features.