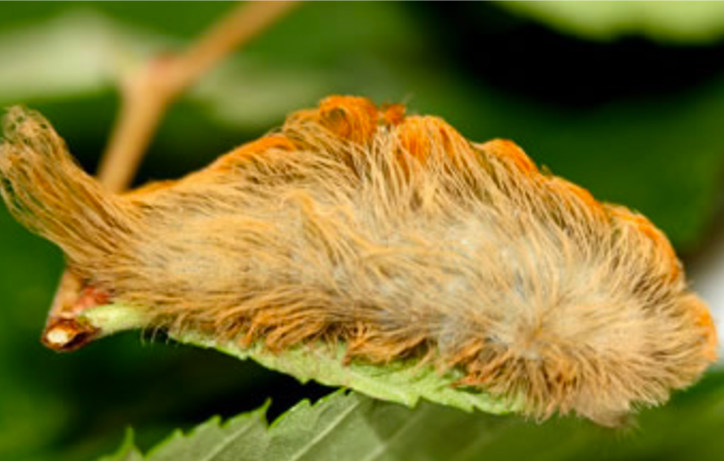 Mom hears "blood curdling" scream, finds boy stung by poisonous caterpillar
When it comes to this fuzzy caterpillar, you can look, but you sure don't want to touch.
Poisonous caterpillars, known as puss caterpillars, are once again popping up in Florida, and officials are warning residents not to be fooled by the creature's soft and furry appearance.
It's the most venomous caterpillar in the U.S. and even a simple brush with the insect can cause "excruciating pain," according to National Geographic. The caterpillars' fur hides toxic spines that stick to your skin.
One mom in Plant City, Florida, learned that lesson the hard way last week when her 5-year-old son accidentally stepped on one as he played outside.
"He started screaming, screaming and screaming," Staggs told CBS News. "He screamed, 'Get them off me!'"
At first, Angela Staggs thought her son walked on a pile of ants. She carried him to the bathroom and examined his foot over a bathtub, but there were no bites.
"He started to hyperventilate from screaming, and I was trying to figure out if he got into stinging nettles, but this scream was blood curdling," Staggs wrote in a Facebook post Thursday that has gone viral with more than 1,200 shares. "Then it clicked..."
Staggs yelled for her dad to go to the front porch and try to find the insect.
He quickly ran back, shouting, "There's a fuzzy looking thing out there, but I don't think it's a caterpillar."
But Staggs knew exactly what it was. She had heard about the poisonous puss caterpillar before. Her sister-in-law was stung by the same caterpillar around the same time last year.
"When my dad said a 'fuzzy-looking thing' my heart dropped," Staggs said. "I knew exactly what it was before I even got out there."
The mom found a quarter-sized caterpillar crawling on the steps of her front porch. Quickly, she grabbed a Ziplock bag, scooped the bug inside — careful not to touch it — and rushed her son to the emergency room.
"Mommy, am I going to die?" the little boy asked, tears streaming down his face.
"That's how bad it was," Staggs explained. "By then his foot was turning red on the bottom of his toes and the pain was radiating to the top of his foot."
After showing the emergency doctor the fuzzy creature, the 5-year-old was taken to a triage room, where he was given Benadryl and a narcotic painkiller. He was monitored for three hours before being released.
"The doctor compared the pain to your skin being on fire. It's as if you are being burned," Staggs added. "We tell our kids to stay watch out for snakes, stay away from piles of wood, but who thinks to say watch out for this caterpillar?"
University of Florida entomologist Don Hall says a caterpillar sting feels similar to a bee sting — only worse.
"The pain immediately and rapidly gets worse after being stung, and can even make your bones hurt," Hall told National Geographic in a 2014 interview. "How bad the sting hurts depends on where you get stung and how many spines are embedded in your skin. People who have been stung on the hand say the pain can radiate up to their shoulder and last for up to 12 hours."
Fortunately, Staggs said her son felt better after taking pain medication, Benedryl and a strong antibiotic prescribed by their doctor.
"I just wanted to put this out there to warn everyone that these things are out now, and you would never expect it to be a caterpillar," she added.
In Florida, there are two generations of puss caterpillars a year, one in spring and the other in fall. Last year, the Florida Poison Centers got 393 calls about people stung by caterpillars, JoAnn Chambers-Emerson, an educator at the Florida Poison Information Center in Tampa, told CBS News.
The caterpillars are most often found on oak and citrus trees. But as Staggs discovered, these "crazy critters" can be just about anywhere.
If you believe you have been stung by a puss caterpillar, don't panic. The Poison Center of Tampa has some recommended steps to take.
"Place Scotch tape over the affected area and strip off repeatedly to remove spines. Apply ice packs to reduce the stinging sensation, and follow with a paste of baking soda and water," the poison control center wrote in a statement online. "If the victim has a history of hay fever, asthma or allergy, or if allergic reactions develop, contact a physician immediately."
Thanks for reading CBS NEWS.
Create your free account or log in
for more features.