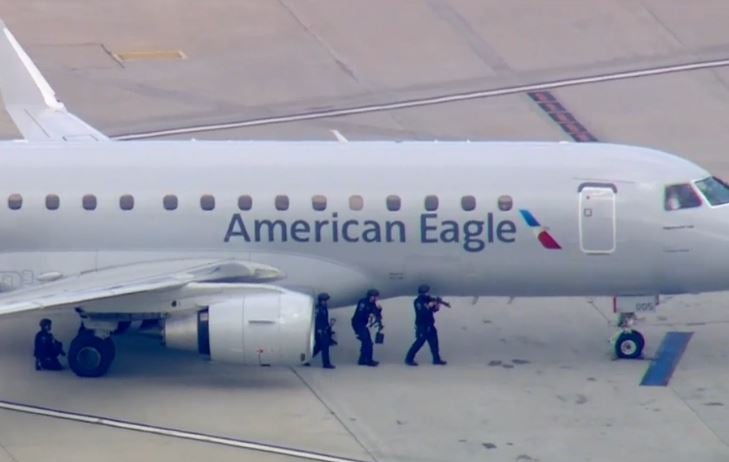 Plane scare leads to SWAT-like intervention at LAX
LOS ANGELES - A threat against a smaller American Eagle jet inbound from Houston led to a large security response on Monday.
American Airlines said officials screened a jet at Los Angeles International Airport as a precaution after a "non-credible" threat was received about the flight. Passengers were escorted from the twin-engine regional jet more than an hour after it landed without incident Tuesday morning.
Airport police Officer Rob Pedregon said earlier the Transportation Security Administration received a phone call Tuesday about a possible threat to Compass Air Flight 5931. The plane was marked as American Eagle.
The American Eagle plane was moved to a remote part of Los Angeles International Airport after landing at 8:43 a.m. local time from Houston. The plane was initially kept on the runway with all passengers on board.
A black armored car full of black-clad law enforcement personnel approached the plane cautiously, taking a circuitous route before parking back from the rear of the plane. Officers with automatic weapons and a dog then approach the plane in formation. It is not clear what law enforcement agency initially responded.
Airports around the world have been on high alert since the Brussels attacks, where terrorists targeted the ticketing area of the major airport there, killing dozens.
Thanks for reading CBS NEWS.
Create your free account or log in
for more features.