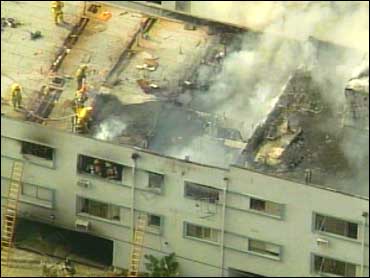 Plane Crash Site: Two More Dead
Two more bodies were found Saturday in an apartment building where a plane crashed, bringing the number of people killed to four, coroner's officials said.
It was not known if the bodies were those of passengers in the plane or residents of the apartment building, said coroner's investigator Mario Sainz. The search for more possible victims continued.
Authorities previously said the pilot and one resident were killed. The identities of the victims have not been released.
Police also searched for clues to what caused the small private plane to nose-dive Friday afternoon into the apartment building near West Hollywood's trendy Melrose Avenue, setting the building ablaze.
Police initially sent in counterterrorism, hazardous materials and bomb squad units, but after a preliminary investigation determined the crash was an accident and turned it over to the National Transportation Safety Board, said Assistant Police Chief Jim McDonnell.
"This was not a terrorist incident," said Councilman Jack Weiss, whose district includes the area of the crash site.
California authorities notified the Homeland Security Department about the crash, and the agency was working with state and local officials to monitor the situation, spokeswoman Rachael Sunbarger said.
FBI agents were sent to the crash site but only as a precaution, FBI spokeswoman Cheryl Mimura said.
NTSB investigator Tealeye Cornejo said no flight recorder was found in the wreckage and that investigators had not determined who owns the plane.
Seven others were injured in the crash, including photographer and waiter Casey Cunningham, 25, who was stabilized but in critical condition, with 18 percent of his upper body, face, neck and hands sustaining second- and third-degree burns. His 5½-months-pregnant wife, Andrea, was not at home at the time.
Another man jumped and hurt his back. He pleaded with rescuers to save his pet potbellied pig, Harley, from the fire. The pig survived.
The crash, shortly after 4 p.m., rocked what is known as the Fairfax district, located blocks from CBS TV studios, just south of West Hollywood.
First to reach many of the wounded were neighbors from the community, which is home to a large orthodox Jewish population, as well as many young actors.
A Jewish, volunteer paramedic team attended the injured.
Out of work thespians also rushed to help.
"I was sleeping, and there was impact," said 33-year-old actor and fitness trainer Jeff Harris, who lived in an apartment building next door to the demolished 14-unit complex. Harris cut his feet on shards of blown-out windows as he raced out of his apartment to help the injured.
The crash was caught on tape by a Japanese television crew doing a story on hip Melrose Avenue.
The Paus family, Charles, Pauline, and baby Arianna, were at their home on the corner where the couple had lived for six years.
"It was a plane noise getting louder and louder then, boom!" said Charles Paus, a Spanish professor at University of Southern California. "We ran out immediately and when we tried calling 911 the line was busy."
Actress Cynthia Cervini wasn't home at the time of the crash.
When she returned to her nearby apartment, there were nearly a dozen calls asking if she were OK, including one from her mother in Chicago, who saw the incident on news television.
"We're close knit here. Everyone pretty much knows everybody," Cervini said. "So we're all hoping that everyone's all right."
The Red Cross said 30 people had signed in at an emergency shelter at Fairfax High School, about a block from the crash site, but not all were tenants of the damaged building.
Overnight, firefighters kept watch for potential flare-ups.
The plane was believed to be a six-seat aircraft that took off from Santa Monica Airport about 10 miles away, said Federal Aviation Administration spokesman Donn Walker. A single, turbocharged engine Beechcraft Bonanza BE-36 departed Santa Monica at 3:45 p.m. and had been in contact with the tower but did not indicate problems, Cornejo said.

Thanks for reading CBS NEWS.
Create your free account or log in
for more features.