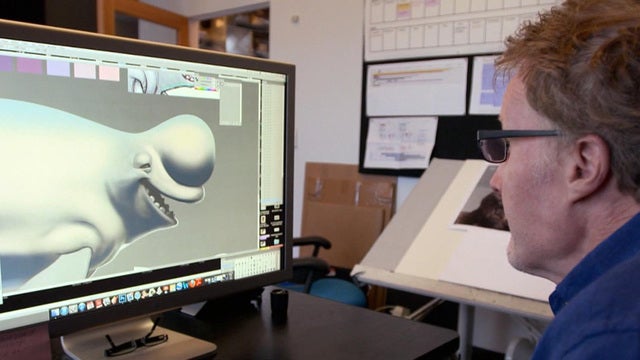 A look at Pixar's real life inspiration for "Finding Dory"
For many visitors to California's Monterey Bay Aquarium, the underwater view of the kelp forest is a highlight, but perhaps no one has ever studied the wonders of that kelp in the same detail as Steve Pilcher.
"You put the bits of leaves and bubbles on that surface, you've got this beautiful ceiling for our characters," Pilcher said.
Moviegoers will see that on the screen in the movie "Finding Dory." Pilcher, a production designer at Pixar, used the aquarium as inspiration for the movie's animated world, reports CBS News correspondent John Blackstone.
The sequel to blockbuster hit "Finding Nemo" picks up about a year after the blue tang's successful mission to help Marlin the clownfish find his abducted son, Nemo. This time, it's Dory -- voiced by Ellen DeGeneres -- hoping to find her long-lost parents.
Acting on a faint memory, the forgetful Dory and her friends find their way from the Great Barrier Reef to the California coast. One of their friends gets taken into a fish hospital in the movie, one that looks a lot like the Monterey Bay Aquarium.
Pilcher, who visited the aquarium years ago with his children, made nearly a dozen research trips to Monterey to study blue tang, clownfish and the giant pacific octopus who became the model for the cantankerous mollusk Hank. It took animators six months just to get the first shot of Hank right.
But known for its meticulous attention to detail, Pixar was interested in a lot more than the animals. Pilcher and his team inspected nearly every inch of the facility, from the faded colors of the tanks to how the light reflects in the water of a kelp forest.
"This is a movie about talking fish! Why does it have to be accurate in that way?" Blackstone asked.
"It has to be believable. It has to be an environment where people just buy it," Pilcher said. "You want them to focus on the characters but feel like they're in the environment without questioning it."
Jon Hoech oversees all live exhibits at Monterey Bay. He helped Pixar make the movie as accurate as possible, aside from the talking animals.
While Hoech said the aquarium works to ensure people that they do not anthropomorphize -- giving human traits to the animals -- he said he is not worried about the film because they share common goals.
"And that is to educate people about the ocean environment and just as importantly, connect them with the ocean environment," Hoech said. "And I think when you take a fun, comedic, entertaining movie like 'Finding Dory,' it does help to do that."
Thanks for reading CBS NEWS.
Create your free account or log in
for more features.