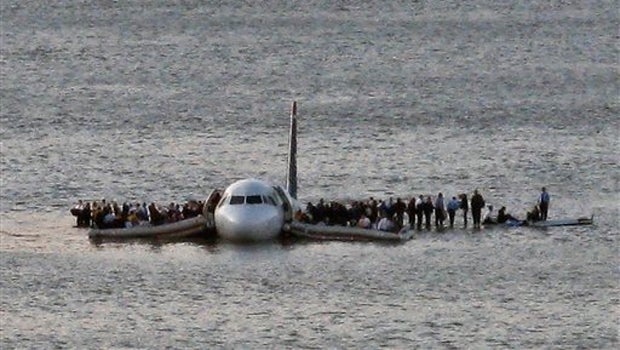 Pilot Pulls Off "A Miracle On The Hudson"
The pilot who guided a crippled US Airways jetliner safely into the Hudson River - saving all 155 people aboard - became an instant hero Thursday, with accolades from the mayor and governor and a fan club online.
The pilot of Flight 1549 was Chesley B. "Sully" Sullenberger III, 57, of Danville, Calif., an official familiar with the accident told The Associated Press. Sullenberger is a former fighter pilot who runs a safety consulting firm in addition to flying commercial aircraft.
Sullenberger, who has flown for US Airways since 1980, flew F-4 fighter jets with the Air Force in the 1970s. He then served on a board that investigated aircraft accidents and participated later in several National Transportation Safety Board investigations.
Passenger David Sanderson told CBS Evening News anchor Katie Couric the pilots deserve all the credit for saving the passengers.
"When I was watching how it was coming down, there was no way he could have landed on the ground," Sanderson said from his New Jersey hospital bed. "He did the right thing, so I give him all the credit. It was pretty much controlled chaos on the plane."
CBS News correspondent Bob Orr said the incident "has all the earmarks of being a real heroic job by the pilots."
"You have to understand you have compromised engines, or no engines, no altitude, no speed and no room," he said "If you look at the Hudson River, down on a boat, it looks pretty wide. When you're in the air and you see it, it's a very closed area and you have hit that ribbon of water."
When he's not flying planes, Sullenberger is president of Safety Reliability Methods, a California firm that uses "the ultra-safe world of commercial aviation" as a base for safety consulting in other fields, according to the firm's Web site.
Sullenberger's mailbox at the firm was full on Thursday. A group of fans sprang up on Facebook within hours of the emergency landing.
"OMG, I am terrified of flying but I would be happy to be a passenger on one of your aircraft!!" Melanie Wills in Bristol wrote on the wall of "Fans of Sully Sullenberger." "You have saved a lot of people's lives and are a true hero!!"
The pilot "did a masterful job of landing the plane in the river and then making sure that everybody got out," Mayor Michael Bloomberg said. "He walked the plane twice after everybody else was off, and tried to verify that there was nobody else on board, and he assures us there was not."
"He was the last one up the aisle and he made sure that there was nobody behind him."
Gov. David Paterson pronounced it a "miracle on the Hudson."
Sullenberger's co-pilot was Jeff Skiles, 49, of Oregon, Wis., a 23-year US Airways veteran.
"He was OK," said his wife, Barbara. "He was relieved that everybody got off."
She said she and her husband couldn't remember an accident as serious as this in his career.
Thanks for reading CBS NEWS.
Create your free account or log in
for more features.