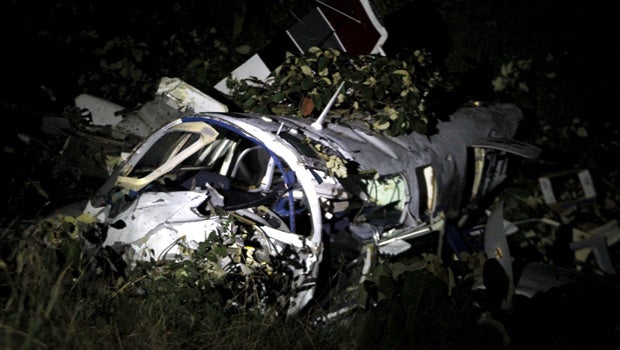 ​Pilot on Tom Cruise film dies in Colombia air crash
BOGOTA, Colombia - A small plane assigned to the crew of a movie starring Tom Cruise crashed in the Colombian Andes on Friday, killing two people, including a Los Angeles-based film pilot, and seriously injuring a third, the country's civilian aviation authority said.
An official with the aviation agency, who spoke to The Associated Press on condition of anonymity because he was not authorized to discuss the matter, said Cruise was not on the aircraft.
The official said an American, Alan Purwin, was killed along with a Colombian, Carlos Berl. A third person aboard, Jimmy Lee Garland, a pilot from Georgia, was rushed to a hospital in Medellin, where he was in intensive care.
The official said the twin-engine plane ran into bad weather late Friday afternoon after taking off from the colonial town of Santa Fe de Antioquia for a short flight to Medellin. No emergency was reported to air traffic controllers.
The Piper Aerostar-600, with tail number N164HH, appears to be the same aircraft that Cruise, a trained pilot, was photographed exiting the cockpit from upon his arrival in Medellin on Aug. 20 to start work on his new film.
Called "Mena," the film stars Cruise as American pilot Barry Seal, a drug runner recruited by the CIA to try and capture the late cocaine kingpin Pablo Escobar. Seal was shot and killed in 1986 in Baton Rouge, Louisiana, allegedly by assassins sent by Escobar's Medellin cartel.
Cruise's spokeswoman, Amanda Lundberg, had no comment on Friday's accident.
In a statement, a spokesperson for Universal Pictures said, "On behalf of the production, our hearts and prayers go out to the crew members and their families at this difficult time."
Purwin was founder and president of the Los Angeles-based Helinet Technologies, a company providing aerial surveillance technology to law enforcement. On the company's website, he's described as "one of the top film pilots of his generation" with a list of credits from television and major Hollywood movies such as "Transformers," ''Pearl Harbor," and "Pirates of the Caribbean."
He sat at the controls of a helicopter for the first time at age 16 and two years later took his first flying job crop dusting in Indiana, according to Helinet's website.
"Alan's enduring passion for film and flying has created aerial footage loved by millions around the world," according to an online bio on the website of Shotover, an aerial cinematography subsidiary of Helinet.
In his last tweet sent Wednesday, Purwin expresses joy at landing on a dirt runway between the towering jungled mountains surrounding Santa Fe de Antioquia.
Helinet Vice President Jack Snyder declined to comment when contacted by the AP.
Garland, the sole survivor, is a flight instructor and manager of a regional airport in Georgia's Cherokee County, near Atlanta.
Thanks for reading CBS NEWS.
Create your free account or log in
for more features.