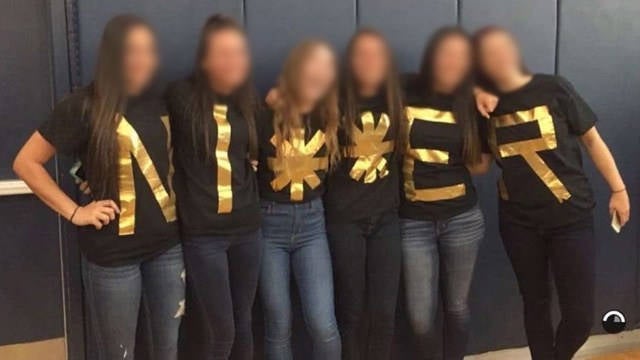 Photo of Phoenix high school students spelling out racial slur sparks outrage
PHOENIX -- Some members of the NAACP protested outside a suburban Phoenix school Monday after a photo of students spelling out a racial slur with T-shirts showed up on social media last week.
The photo showed six smiling Desert Vista High School senior girls with their arms around each other, wearing black shirts with letters or asterisks written on them in gold tape.
Since the photo went viral Friday, an online petition has started calling for students involved to be expelled and the principal be fired.
One of the girls spoke to reporters outside the school Monday afternoon, saying she is not a racist and is "incredibly sorry" and asked for people to forgive her.
The Rev. Jarrett Maupin and other Phoenix-area civil rights activists met with Tempe Union High School District officials over the photo.
The district officials declined to discuss possible punishment for the students.
"We have an opportunity as a community to face this together and address it and to say there's no place whatsoever for any type of racial slur or racial prejudice in our community and in our state and in our nation," Dr. Kenneth Baca, superintendent of Tempe Union, said at a news conference.
"We are outraged, we are saddened, but most importantly, we want to ensure that this never happens again," Baca added. "It's a learning process about what a word can do to a community."
Dr. Anna Battle, assistant superintendent of district operations for the school district, said the offensive photo resulted from a game of "human Scrabble" after seniors gathered for a panoramic photo with the message "Best You've Seen Class of 2016" with an asterisk between each word.
The district tells CBS affiliate KPHO the picture was intended to be shared with one of the students' boyfriends, who is African American. It was sent on an app called Snapchat.
A student posted the photo on Snapchat, and then: "Uh, oh too late," Battle said. "Social media takes it and goes."
Battle said the students were "exceptionally remorseful."
One of the girls in the picture apologized during that rally, reports KPHO.
"I have come here to say that I am incredibly, incredibly sorry, said Rachel who was wearing the letter "R" T-shirt in the photo. "I have love for everyone in my heart. I am not a racist and I'm asking everyone for forgiveness."
Alyssa Stiggers, president of school's Black Student Union, said her group was starting a campaign called "spread the word to end the n-word."
"Something that used to stop my grandparents in their tracks is now being used in regular conversation," Stiggers said. "Someone needs to put their foot down and say it's not OK to say that."
Thanks for reading CBS NEWS.
Create your free account or log in
for more features.