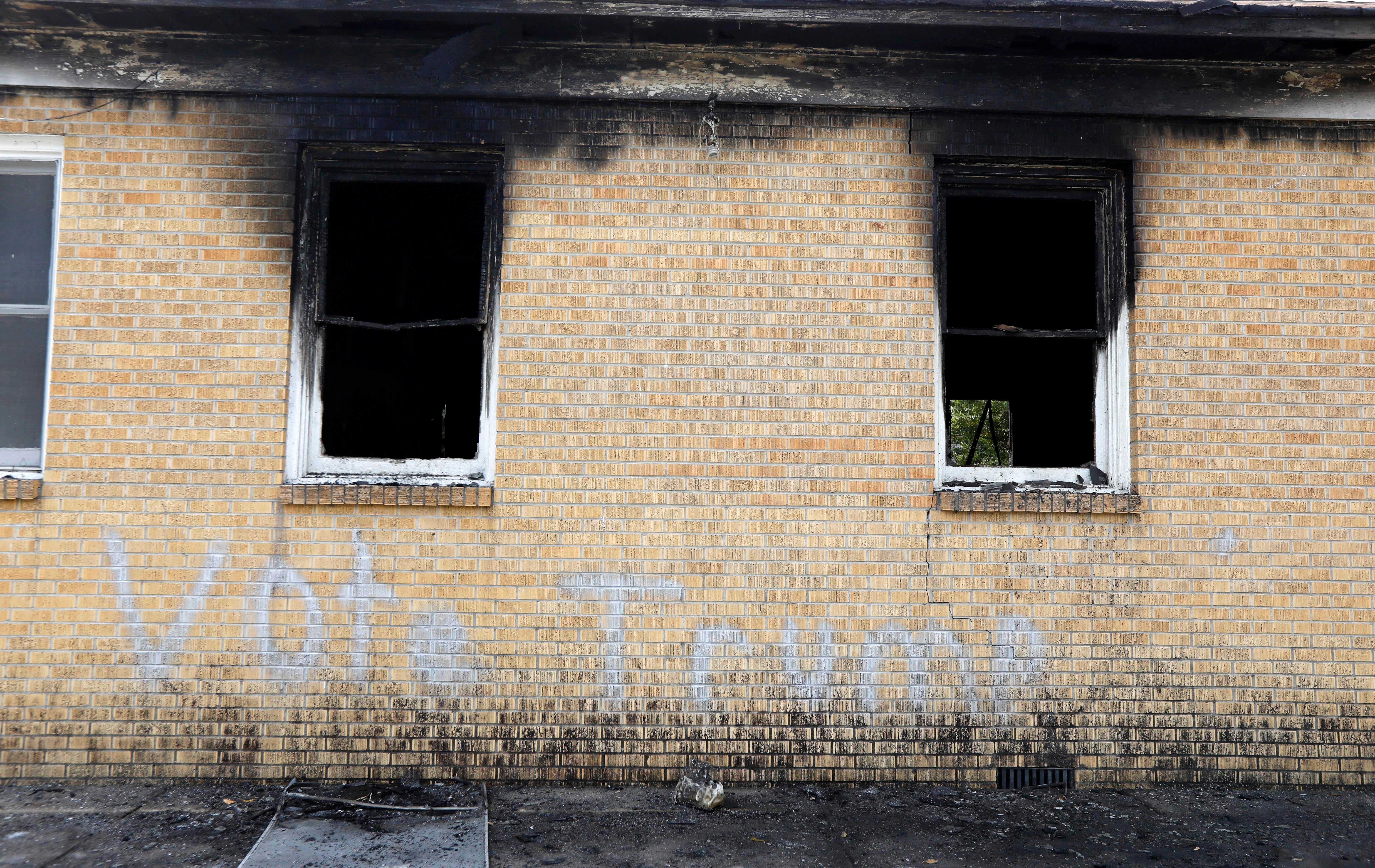 Person of interest questioned in black church fire in Mississippi
JACKSON, Miss. -- A police chief in the Mississippi Delta says a "person of interest" is talking to investigators about the torching of an African-American church that was spray-painted with the words "Vote Trump."
Greenville Police Chief Delando Wilson said the man voluntarily went to the police department, without an attorney, and spoke to detectives Wednesday and Thursday. Wilson stopped short of calling him a suspect and would not release his name, saying Thursday, "We just want to ensure the integrity of the investigation."
Hopewell Missionary Baptist Church was about 80 percent destroyed in the fire set intentionally Tuesday night, Greenville Fire Chief Ruben Brown Sr. said.
Investigators found evidence of arson and sent samples of an accelerant to the state crime lab for testing, Brown said. He said there were no signs that any explosive device had been used.
Gov. Phil Bryant, a Republican who has been campaigning for GOP presidential nominee Donald Trump, said Wednesday that "anyone who burns a place of worship will answer to almighty God" and "should also answer to man's law."
Bryant remarked to CBS Jackson, Mississippi affiliate WJTV, "It's bad enough for any type of structure to burned, but a church, is beyond my ability to comprehend. Who, how had any faith or any belief in God, or had ever been in a church, experienced the wonder of being in a church or worshiping, then, could set it on fire."
Greenville is a Mississippi River port city of about 32,100 people, and about 78 percent of its residents are African-American.
The FBI is conducting a civil rights investigation and spokesman Brett Carr has said it's too early to determine whether the incident can be considered a hate crime.
U.S. Rep. Bennie Thompson, whose district includes Greenville, is the top Democrat on the House Homeland Security Committee. He told The Associated Press Thursday that a member of his staff spoke to the head of the Department of Homeland Security's intelligence and analysis division about the church fire. Thompson said the department has jurisdiction to investigate cases that might be considered "domestic terrorism."
"If there is something like the Ku Klux Klan or the Aryan Nation ... we look at that as domestic terrorism," Thompson said.
The Hopewell congregation is 111 years old and uses a building that has been expanded but still included part of its original structure, Brown said.
The pulpit and pews were burned, and soot stained the beige brick around some windows. Water from hoses and heat from the fire also damaged the church's kitchen and the pastor's study.
Pastor Carilyn Hudson promised that the congregation of about 200 members will rebuild. A GoFundMe page, where online donations can be made to pay for repairs to the church, raised about $188,000 by Thursday evening, organizers said.
An $11,000 reward was offered for information leading to the arrest and conviction of whoever set the fire.
Greenville Mayor Errick Simmons said a racial reconciliation service that had been planned long before the fire will be held in the city Sunday. He said a diverse group of people took part in an ecumenical prayer service in response to the fire Wednesday night by the Mississippi River waterfront, about four miles from the church. It ended with people hugging and singing, "This Little Light of Mine."
"Everyone left there peacefully," Simmons said.
Thanks for reading CBS NEWS.
Create your free account or log in
for more features.