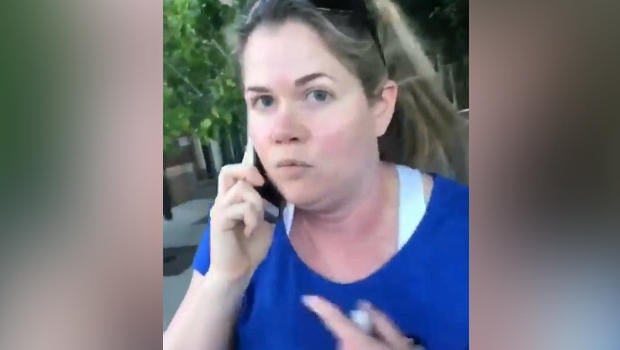 Outcry after woman calls police on little girl selling water
Jordan Rodgers, 8, was selling bottled water on a San Francisco sidewalk for about 15 minutes when she was confronted by Alison Ettel for not having a permit.
"She asked me where's my permit? And I didn't know what a permit was," Jordan told CBS News.
There has been a growing backlash online against Ettel, who is white, who allegedly called police on the little girl, who is black, since Jordan's mother, Erin Austin, intervened and recorded the interaction on video.
Why call the police, Ettel was asked? "Um, illegally selling water without a permit," she replied.
Austin says she is not sure if race was a factor for the woman who reported it, but said that woman was filled with hate for calling the police on such a young girl.
DeMarco Morgan reports Jordan was selling water because she wanted to go on her first-ever trip to Disneyland.
"Recently I lost my job and we were planning a trip to Disneyland before that happened," Austin said. "And so it kind of sidelined us a little bit. And my daughter just wanted to help."
In this latest instance of black people being reported to authorities for seemingly normal things, Ettel – now nicknamed by critics "Permit Patty" – has drawn comparisons to Jennifer Schulte. In April, Schulte (mocked online as "Barbecue Becky") called the police on a group of black people having a barbecue in a park.
Last month a Yale grad student called police on a classmate for napping in a common area.
And two months ago, two men were detained for using a Starbucks bathroom and sitting at a table for several minutes without ordering.
Ettel told the Huffington Post that she acted because Rodgers and her mother were screaming, but that after watching the video she feels "horrible and heart-wrenched." She also said, "I completely regret that I handled that so poorly. It was completely stress-related, and I should have never confronted her. That was a mistake, a complete mistake."
Austin denies screaming, and says the situation should have never escalated to calling the police.
"Let kids be kids," Austin said. "If they're not hurting anybody, who cares?"
Austin's daughter says she does plan to keep on selling water.
As for the trip to Disneyland, musician Jonathan Brannon saw the story and has already paid for Rodgers and three of her family members to go whenever they'd like.
Thanks for reading CBS NEWS.
Create your free account or log in
for more features.