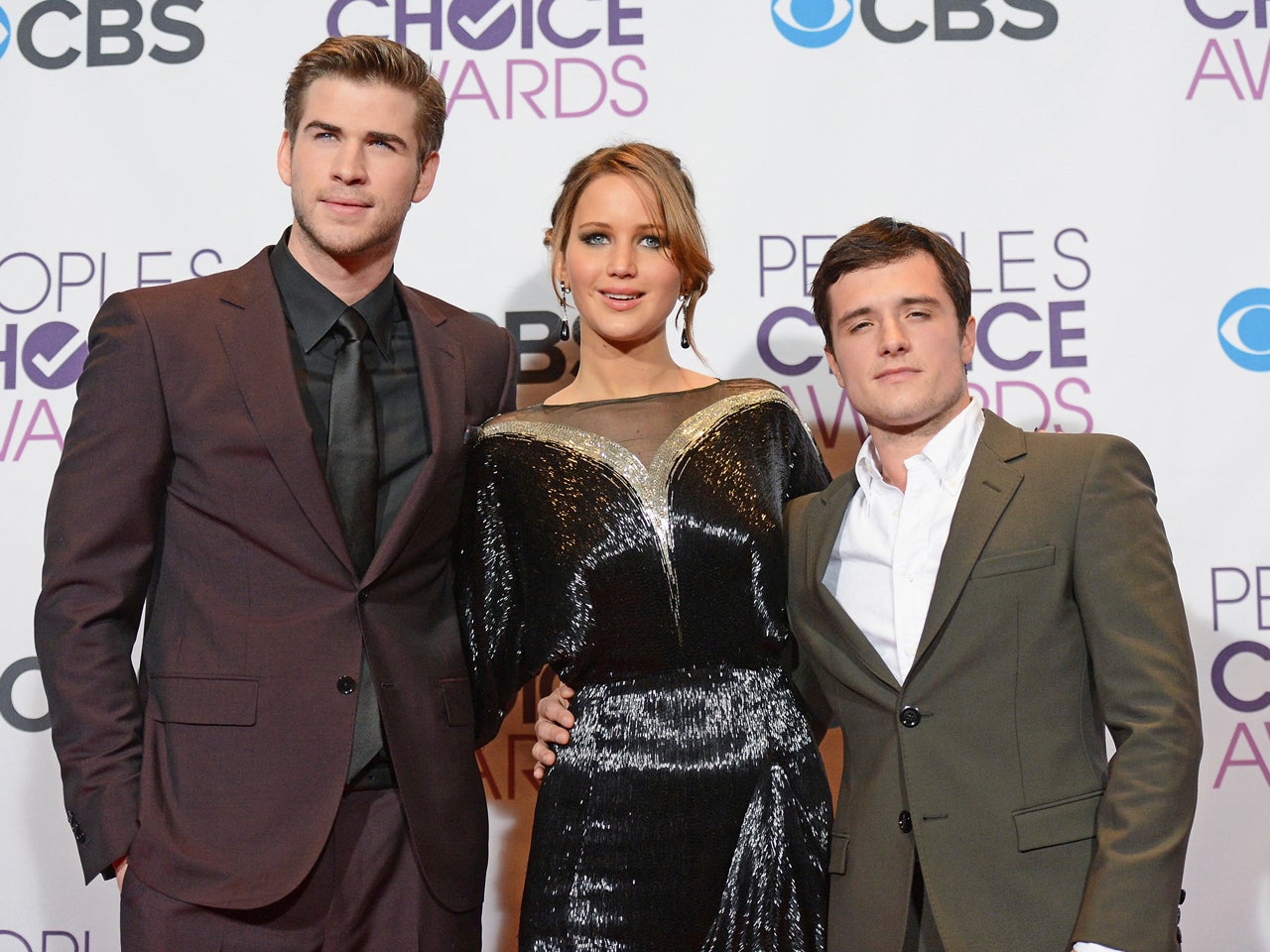 People's Choice Awards 2013: "The Hunger Games" victorious with five awards
Updated 11:17 p.m. ET
"The Hunger Games" devoured the competition at the People's Choice Awards on Wednesday, emerging the top victor with five trophies.
The blockbuster was named favorite movie, action movie and movie franchise and stars Jennifer Lawrence, Josh Hutcherson and Liam Hemsworth had fans' favorite on-screen chemistry. Lawrence also won favorite movie actress and "face of heroism."
"Thank you for loving movies as much as I do," Lawrence, who is likely to receive an Oscar nomination Thursday morning for "Silver Linings Playbook," said as she accepted the favorite actress award.
Katy Perry won three awards at the Wednesday night ceremony in Los Angeles, where fans select the winners in categories spanning music, movies and television. She was the fans' favorite female artist and pop artist. Her video for "Part of Me" also won.
"The Big Bang Theory" won for favorite network TV comedy at the fan-voted awards ceremony. Other TV honors went to "Supernatural" (sci-fi/fantasy), "Castle" (crime drama), "The New Normal" (new comedy) and "Grey's Anatomy" (network drama).
Taylor Swift, clad in an white gown with a plunging neckline, was presented with the award for favorite country music artist.
"Thank you for caring about this album and for caring about me," she said.
Other awards went to Robert Downey Jr. for favorite movie actor, Emma Watson for favorite dramatic movie actress and The Wanted for favorite breakout artist. Ellen Pompeo and Nathan Fillion also won favorite dramatic TV actress and actor, Adam Sandler and Jennifer Aniston won favorite comedic movie actor and actress and Maroon 5 took the award for favorite band.
"Glee" stars Lea Michele and Chris Colfer won back-to-back awards for comedic TV actress and actor. Both thanked the show's fans, with Colfer adding, "it is so flattering to be exploited in your fan fiction."
Ellen DeGeneres took home her 13th award for favorite daytime TV host. "It's 2013, this is my 13th People's Choice Award," she said as she accepted the honor. "It is exactly as the Mayans predicted. So far, they got one right."
Sandra Bullock became the first recipient of the favorite humanitarian award. The Oscar-winner received the honor for her philanthropic efforts, including her commitment to Warren Easton High School in New Orleans following Hurricane Katrina.
"I'm not at all being modest when I say I'm not doing anything compared to what they do on a daily basis," Bullock, 48, told the crowd during the Los Angeles ceremony, which was broadcast on CBS.
"The Big Bang Theory" star Kaley Cuoco hosted the People's Choice Awards for the second consecutive year. The show opened with a montage of Cuoco in scenes from hit 2012 movies like "The Hunger Games" and "The Twilight Saga: Breaking Dawn - Part 2" before battling zombies dancing to "Gangnam Style." She then arrived on stage and told viewers that more than 475 million votes were cast by fans for the night's winners.
The ceremony also featured performances by Alicia Keys, Jason Aldean and Christina Aguilera, who was presented with the people's voice award.
Thanks for reading CBS NEWS.
Create your free account or log in
for more features.