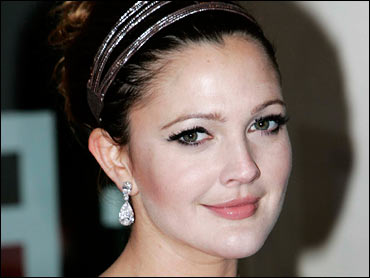 People Magazine Names 100 Most Beautiful
People magazine is about to reveal 2007's 100 most beautiful people. The issue hits stands Friday and The Early Show entertainment contributor and People magazine Assistant Managing Editor Jess Cagle talks about the list of celebrities who made the cut.
The Most Beautiful People issue began in 1990 but in 2006, the magazine expanded the list from 50 to 100 people. This year, Drew Barrymore graces the cover.
"It's a great time for Drew Barrymore," Cagle said. "It seemed to be her year. With each passing year, she is — I wrote it down — 32 years old now. She seems to get — she gets more beautiful every year. She's happy. She's in a great place. And she has a very deep connection with audiences because they've grown up with her."
Halle Berry and Julia Roberts dominate the category with 11 appearances each. George Clooney, Jennifer Lopez and Brad Pitt have all appeared in the issue eight times. This year is Patrick Dempsey's third time on the list.
"He seems to get sexier every year, you know," Cagle said. "In his 40s now. And he — when you're named McDreamy, you pretty much have to be on the world's most beautiful list. He told us he's getting some gray hairs now. But they're coming in a little slower than they used to … but one of the great heads of hair of all time. That's another reason he's always on the list."
This year, Oscar-winner Helen Mirren, 61, is the oldest person in the issue while 14-year-old Trey Smith is the youngest. The issue includes other Oscar-winners such as Nicole Kidman and Angelina Jolie; Grammy-winners Christina Aguilera and Fergie; and also athletes Laila Ali and Laird Hamilton. The issue also includes television stars such as Tyra Banks, Oprah Winfrey and Zac Efron of "High School Musical."
This year also features country singer and "American Idol" winner Carrie Underwood and Oscar-winning actress Reese Witherspoon.
"They have had great years," Cagle said. "Carrie Underwood, for example ... also has this incredible quality of being so accessible and yet stunning to look at, which makes her a perfect country singer. Reese Witherspoon has never looked better. She's not somebody who is all in to being sexy and glamorous."
The issue also features a coming of age list which includes "Heroes" star Hayden Panettiere and R&B singer Chris Brown.
"She had a real star quality, fresh face. It's going to be fascinating to watch her," Cagle said about Panettiere. Cagle said that Brown is an "amazing performer" who can not only sing, but also act.
"You look at him and you just see optimism," he said. "It will be fascinating to watch him."
But Hilary Duff, said Cagle, is the ultimate coming of age story because she grows more attractive and put together every year. The issue also features Victoria Secret models who don't hide their curves.
"They're all great," Cagle said. "Not frightfully skinny so we wanted to show them."
For many fascinating facts about this year's list, click here.
Thanks for reading CBS NEWS.
Create your free account or log in
for more features.