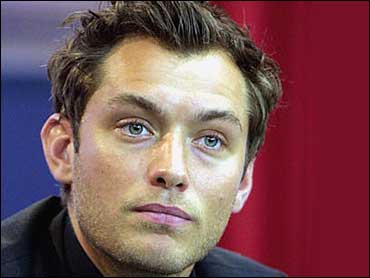 People: Jude Law Sexiest Man Alive
Jude Law, star of "Alfie" and "I (Heart) Huckabees," has been named this year's "Sexiest Man Alive" by People magazine.
"What's he all about? Supernatural good looks, supersize talent - and so nice, he might just kiss you if you have the nerve to ask," People says in its latest issue.
Besides "Alfie" and "I (Heart) Huckabees," Law has starred this year in "Sky Captain and the World of Tomorrow" and the upcoming "Closer," "The Aviator" and "Lemony Snicket's A Series of Unfortunate Events."
Naomi Watts, who starred with Law in "I (Heart) Huckabees," describes the 31-year-old actor as "the most beautiful man who ever walked the Earth."
Law, divorced from Sadie Frost and now dating his "Alfie" co-star Sienna Miller, told The Associated Press recently that despite his sex symbol status, he's no Lothario.
"I grew up, I suppose, always looking for commitment and looking for a relationship, and that's why I got married so young. ... And I'm in another relationship now," he said. "So that just seems to be my pattern."
People also picked nine "off the charts" sexy superstars: Orlando Bloom, Jake Gyllenhaal, Usher, Colin Farrell, Brad Pitt, Matt Damon, Ben Affleck, Bruce Willis and Johnny Depp.
Us Weekly named Jesse Metcalfe, who plays Eva Longoria's on-screen gardener on "Desperate Housewives," as the sexiest man on television.
Longoria describes Metcalfe as "a sweet young man" whose role calls for "a smoldering sexiness that justifies me having an affair -- and he definitely does that!"
The magazine's list of TV's 10 Hottest Men also includes Shane West of "ER," Josh Duhamel of "Las Vegas" and Matthew Fox of "Lost."
Thanks for reading CBS NEWS.
Create your free account or log in
for more features.