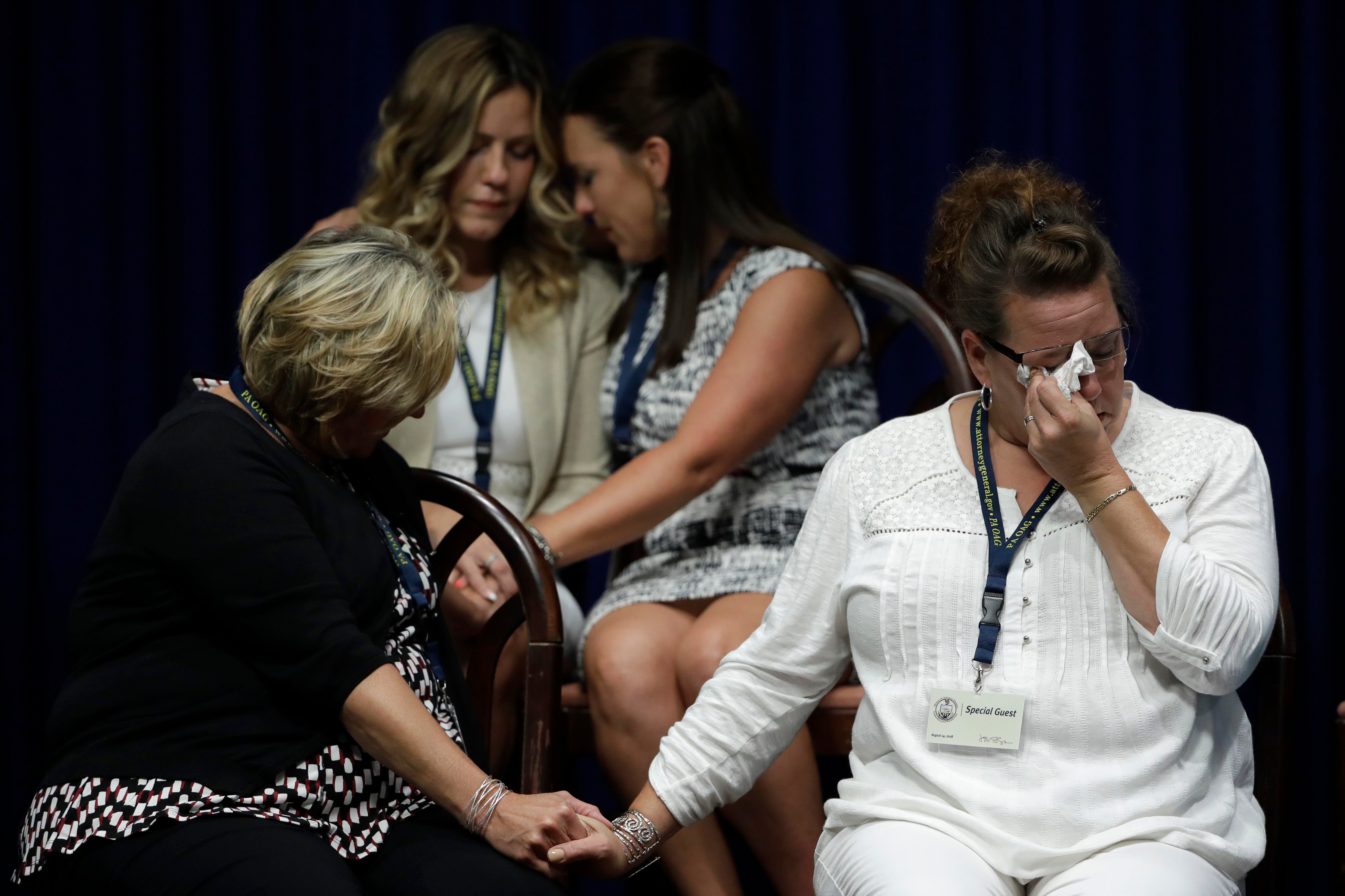 Pennsylvania priests hid sex abuse "for decades," attorney general says
HARRISBURG, Pa. — After a two-year investigation, a Pennsylvania grand jury Tuesday alleged decades of abuse of children by more than 300 men described as "predator priests." It relays the accounts of more than 1,000 children, but said there are likely thousands of other victims.
The report says church leaders protected the priests in a cover up that went all the way to the Vatican.
"Priests were raping little boys and girls and the men of god who were responsible for them not only did nothing, they hid it all for decades," said Attorney General Josh Shapiro.
Standing alongside survivors of abuse, Shapiro said the grand jury uncovered credible evidence against 301 priests.
"The time of telling these victims to keep their truth to themselves has ended," he said.
The grand jury investigation goes back 70 years and identified priests in six Catholic dioceses across Pennsylvania. Documents from the dioceses own secret archives formed the backbone of the investigation corroborating accounts of alleged sexual abuse and systemic church cover-up, mirroring a worldwide pattern where abusers are moved from parish to parish.
"We should emphasize that while the list of priests is long we don't think we got them all," Shapiro said. "We feel certain that many victims never came forward and that the diocese did not create written records every single time they heard something about abuse."
Nearly 100 of the accused clergy are from the Pittsburgh diocese alone, where Donald Wuerl, the current cardinal of Washington, D.C., was the bishop for 18 years.
CBS News asked if he thinks children are still being abused at the hands of priests in the Catholic Church.
"I'm not sure that there's any way to guarantee that there won't ever be a failure in the life of any priest going into the future," he said. "You can't do more than give your very best to try to eradicate a problem."
For the victims, Pennsylvania's statute of limitations make their cases too old to be prosecuted.
"There should be no statute of limitations to bring criminal charges in Pennsylvania when it comes to child sexual abuse," Shapiro said.
The majority of the named priests are dead. Still, as a result of the investigation, two priests have been criminally charged including one who has pled guilty.
Shaun Daughtery says he was molested by his family priest for two years beginning at age 10.
"This report is just the beginning battle of the overall war," he said.
CBS News reached out to the Vatican for comment but have not heard back. In the Pennsylvania state legislature, there is a bill on the table that could eliminate the statute of limitations for one year, so any victim could file a civil lawsuit regardless of their age.
Thanks for reading CBS NEWS.
Create your free account or log in
for more features.