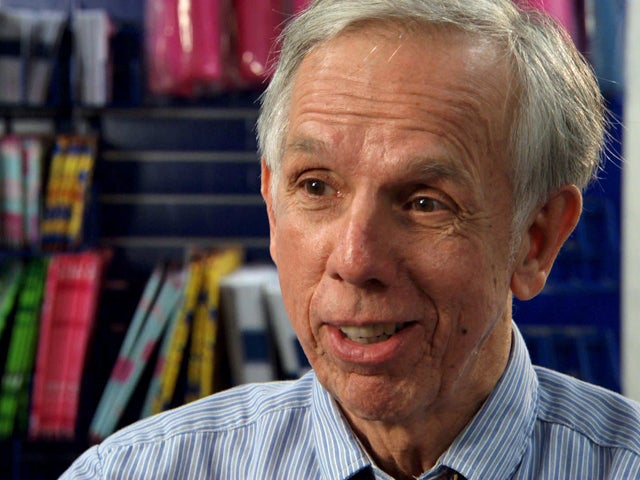 Penn State postman delivers lesson in happiness
STATE COLLEGE, Pa. -- Typically, post office lines breed anger and frustration. But at the head of this queue on the campus of Penn State University in State College, Pa., you'll find nothing but joy.
"My mission is to make them have a little bit of levity on the way out and say, 'Hey, it's not so bad after all,'" says Mike Herr.
To that end, Mike lives by a simple motto: if you can't say something nice about someone, you're just not looking hard enough.
Even if it's only how nicely they filled out their forms. And he's been like this with just about every customer, every day, for 38 years.
"This is what I do," he says. "I'm just myself, that's all I can do."
The man really is pure heart, which is part of the reason the lines are so long here.
Nicole Logan, a regular, says she comes in to buy stamps when she doesn't need stamps.
"Because he just makes your day so much better," she explains.
And because kindness begets kindness, Mike gets quite a few special deliveries himself. The kids have made him grand marshal of the homecoming parade. And once, in 2000, when the postmaster told Mike he had to take down all the posters and pictures decorating his office, the kids took to the streets.
"Mike the mailman is the greatest, most dedicated mailman I've ever met in my entire life," one student said at the time.
And to think Mike has earned this much loyalty and devotion just by talking to them at a counter.
"You really have no idea who you're going to influence and when you're going to influence them," says Michael Aitkenhead, who is now a high school teacher in Connecticut.
He got his master's at Penn State, and although he didn't know Mike the Mailman very well, years later, when he was awarded teacher of the year in his district, guess who he thanked for his success.
"The one person I'm always going to remember and probably taught me the most about life was actually Mike the Mailman," Michael said in his speech.
"It was honestly his example that kind of taught me it's not what you do in life, but it's how you do it," Michael says.
Now that's something to write home about.
To contact On the Road, or to send us a story idea, e-mail us.
Thanks for reading CBS NEWS.
Create your free account or log in
for more features.