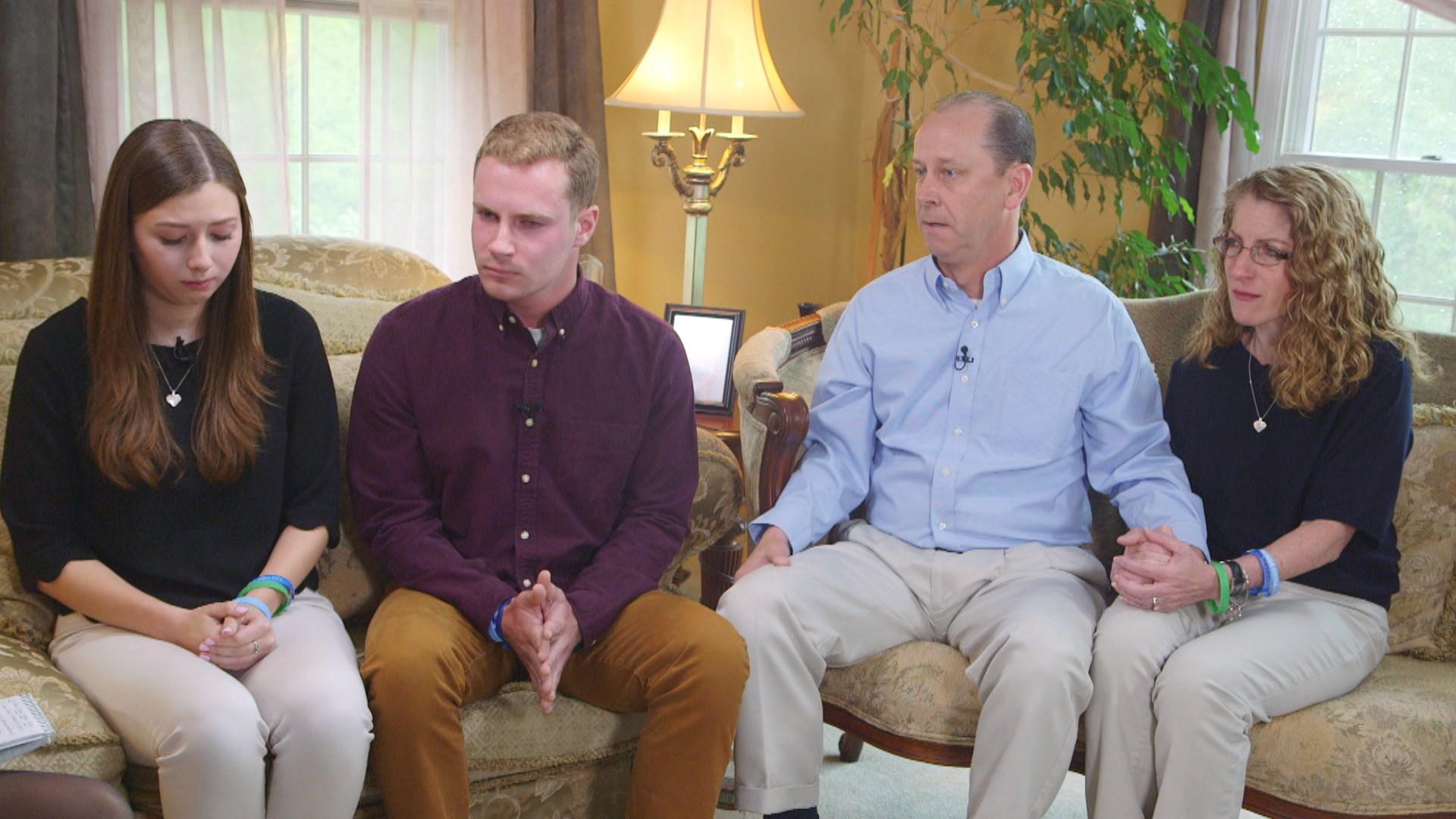 Penn State fraternity pledge's family calls hazing death "murder" and "torture"
The parents of Timothy Piazza, the 19-year-old Penn State student who died in February at a Beta Theta Pi fraternity house after an alleged hazing ritual, are trying to channel their grief into action.
"This wasn't boys being boys," father Jim Piazza told CBS News correspondent Jericka Duncan. "This was murder of our son. They tortured him for 12 hours. They let him suffer for 12 hours. He died a slow and painful death at the hands of these 'men of principal,' as they call it."
A grand jury report details how surveillance cameras inside captured the events leading to his death, and 18 fraternity members face charges. Piazza's family has not seen the video that, according to the grand jury report, shows fraternity members carrying Piazza's limp body upstairs, smacking him in the face, and pouring liquid on him as he goes in and out of consciousness for hours.
The Piazzas, their son Mike, and Timothy Piazza's girlfriend, Kaitlyn Tempalsky, are struggling to make sense of how Piazza died.
"To hit him and slap him and brutalize him, they should not have been trying to get a response. They should have been trying to get him help," Mike said.
"How do you pour liquid on someone, slap them in the face and hit them after you just watched them fall and they were unconscious?" Tempalsky asked.
According to the grand jury report, Beta Theta Pi pledges were forced to consume heavy amounts of alcohol in a short amount of time as part of a hazing ritual. Within three hours, prosecutors say Piazza fell down a flight of basement stairs.
"To know that he was lying at the bottom of the basement steps for any length of time all by himself -- it all is terrible," Evelyn said, choking up.
Jim said the Penn State president saying the fraternity will never return to the university doesn't give him solace.
"First of all, we told them that had to happen. That's not enough," Jim said.
"What are the top three things you would want to change in the next six months to a year?" Duncan asked.
"They need to eliminate alcohol provided to minors," Jim said. "They need to come down very hard on any situations where there's hazing."
"And I think fraternities and sororities maybe need an adult chaperone all the time," Evelyn added.
Eighteen members of Beta Theta Pi have been charged in connection to Piazza's death. Eight face felony charges that could result in up to 20 years in prison.
"I have a lifetime of absence for my son. I would be good with 20 years," Jim said.
He also had a warning for students entering college who are thinking about joining a fraternity or sorority.
"If anybody tries to make you do something that's illegal, don't do it," Jim said.
"Walk away," Evelyn said.
"Walk away, you don't want to be brothers with those guys," Jim said.
"Do you wish you would have had that conversation with your son?" Duncan asked.
"We did have some of those conversations," Jim said. "I think the alcohol came fast and furious, and he didn't know... I think it just got away. He got carried away."
Asked how they want Piazza to be remembered, his family and girlfriend had only positive things to say.
"He could always put a smile on everyone's face," Tempalsky said.
"Such a good heart. Kind, funny," Evelyn said.
"He was just an awesome individual and we're a little worse off as a world without him in it," Jim said.
The fraternity's national organization disbanded the chapter, saying it does not tolerate hazing or alcohol abuse in any form. That's a sentiment echoed by the university president. Since the release of the grand jury report, the university launched its own investigation. The president of the university said that could very well lead to expulsions.
Thanks for reading CBS NEWS.
Create your free account or log in
for more features.