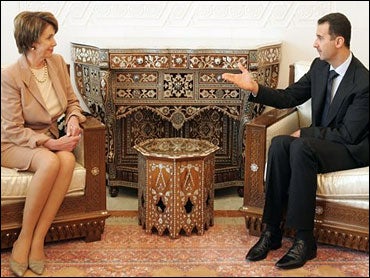 Pelosi Defies Bush, Meets Syrian Leader
House Speaker Nancy Pelosi challenged the White House on Mideast policy, meeting with Syria's leader Wednesday and insisting "the road to Damascus is a road to peace." The Bush administration criticized the visit, saying she was following a road lined with victims of terror.
Vice President Dick Cheney said Pelosi was rewarding a "bad actor" in the Mideast. The tough White House response highlighted the clash between the administration and congressional Democrats, who have stepped up their push for change in U.S. policy in the Mideast and the Iraq war.
Washington accuses Syria of supporting terror for its backing of the militant groups Hamas and Hezbollah. It also says Syria is fueling Iraq's violence by allowing Sunni insurgents to operate from its territory and is destabilizing the Lebanese government.
The Bush administration has rejected direct talks with Damascus until its changes its ways. But Democrats — and some Republicans — say the refusal of dialogue has closed doors to possible progress in resolving Mideast crises.
Pelosi and a delegation of five congressional Democrats and Ohio Republican Dave Hobson met for three hours with Assad, including a lunch with him in Damascus' historic Old City.
The meeting brought no immediate change in Syria's stances. Afterward, Pelosi said that despite differences over whether to talk with Syria, "there is absolutely no division between this delegation and the president of the United States on the issues of concern."
She said she expressed to Assad "our concern about Syria's connections to Hezbollah and Hamas" and militant fighters slipping across the Syrian border into Iraq.
Pelosi said she brought a message to Assad from Israeli Prime Minister Ehud Olmert that Israel was ready for peace talks with Syria. Assad gave assurances that "he's ready to engage in negotiations for peace with Israel," Pelosi said.
The Israeli government later underlined that its stance that it is "seeking peace with Syria, but that this would only be possible if Syria abandoned terror and stopped providing assistance to terror groups."
Assad has repeatedly said over the past year that Damascus is willing to negotiate with Israel, insisting the talks must lead to the return of the Golan Heights, seized by Israel in the 1967 Mideast War.
Despite the lack of breakthroughs, the high-profile meeting put new pressure on the White House. Rep. Tom Lantos, the head of the House Foreign Affairs Committee who was in Pelosi's delegation, said the meeting "reinforced very strongly" the potential benefits of talking to Syria.
"We came in friendship, hope, and determined that the road to Damascus is a road to peace," Pelosi told reporters.
That brought a sharp attack from Gordon Johndroe, a spokesman for President Bush's National Security Council.
"Unfortunately that road is lined with the victims of Hamas and Hezbollah, the victims of terrorists who cross from Syria into Iraq," he said. "It's unfortunate that she took this unilateral trip which we only see as counterproductive."
Syria hosts the exiled leadership of Hamas, as well as other Palestinian radical groups, and is a major patron of Hezbollah. Syria insists that Hamas is a legitimate resistance movement working for Palestinian freedom and Hezbollah is a regular Lebanese political party.
In an interview with ABC News, Cheney said Assad has "been isolated and cut off because of his bad behavior and the unfortunate thing about the speaker's visit is it sort of breaks down that barrier."
"It means without him having done any of those things he should do in order to be acceptable, if you will, from an international standpoint, he gets a visit from a high ranking American anyway," Cheney said.
In response, Nadeam Elshami, Pelosi's spokesman, underlined that Pelosi pressed Assad on issues of concern.
"The administration has rejected the bipartisan recommendations of the Iraq Study Group to engage Syria and instead continues to engage in a war of words with Republicans and Democrats on this issue," he said from the Saudi capital, Riyadh, where the delegation met Wednesday evening with Saudi King Abullah.
Last year, the Iraq Study Group — chaired by former Republican secretary of state James Baker II and former House Democrat Lee H. Hamilton — recommended Washington open talks with Iran and Syria to try to resolve the war in Iraq and other regional crises.
Bush rejected the recommendations. But in February, the U.S. joined a gathering of regional diplomats in Baghdad that included Iran and Syria for talks on Iraq.
Since 2005, Washington has succeeded in largely isolating Damascus, with its European and Arab allies shunning Assad. The last high-ranking U.S. official to visit Syria was then-Deputy Secretary of State Richard Armitage in January 2005.
But that isolation has weakened in recent months, with some European officials and a number of American lawmakers — Republicans and Democrats — visiting Damascus.
"These people in the United States who are opposing dialogue I tell them one thing: Dialogue is ... the only method to close the gap existing between two countries," Syrian Foreign Minister Walid al-Moallem told reporters after Wednesday's Assad-Pelosi meeting.

Thanks for reading CBS NEWS.
Create your free account or log in
for more features.