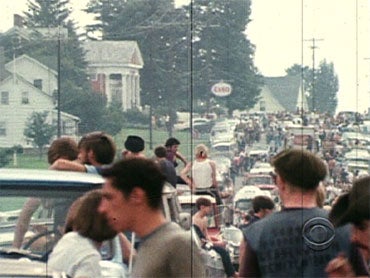 Peace, Love and Music - 40 Years Later
This story was written by CBS News' Jeff Glor and Phil Hirschkorn
---

Forty years ago this weekend, at the height of American involvement in the Vietnam War, one of the counter-cultural milestones of the 1960's - the Woodstock festival - happened in rural, upstate New York, a hundred miles from New York City.

Billed as "three days of music and peace," it became so much more, especially for the hundreds of thousands who were there.

For high school sweethearts Jeanne and Grant Genzlinger, the former hay field in Bethel, N.Y. where the concert actually occurred, is hallowed ground.

"For us, it was a very important time," Grant told CBS News, as he and Jeanne made only their second pilgrimage to the site since attending the in 1969. "Because we were very young, and we ended up staying in this region for the last 40 years."

They were 17, working summer jobs at a nearby hotel, when Grant bought tickets for Woodstock weekend. They sat right in front of the stage.

"Joan Baez was wonderful, I remember the night listening to her," Jeanne said.

"On the stage was absolute bedlam, because they didn't know who was going to play or whatever," Grant said.

One of the artists they most wanted to see was Richie Havens, the folk singer who ended up famously opening the festival.

"The turnout in and of itself was good enough for me," Havens told CBS News.

Organizers sold only 125,000 advance tickets and expected no more than 200,000 people to show up. More than double that number did, forcing organizers to declare the festival free. Around 450,000 attended - at the time, the largest concert gathering ever.

But the ensuing traffic jams prevented many musicians from getting there on time.

"They could not find anyone," said Havens, who like many artists, was airlifted to the site by helicopter.

Havens planned a 40-minute set. Told to stretch, he played two hours more, until he had no songs left. He improvised one more: "Freedom." His ad-lib became an anthem, and a career maker.

Woodstock launched other artists, too. Santana had yet to record an album. For Crosby, Stills and Nash, Woodstock was only their second live gig.
For local 19 year-olds Nick and Bobbi Ercoline, the Woodstock soundtrack offers a special view of the past. They are on the album cover, hugging, with a pink, flowery blanket.

"Picked it up on the way in," Bobbi told CBS News.

"Took it home. Used it for many years," said Nick , adding, they long ago disposed of the blanket.

Woodstock was marred by rainstorms and mud, but that didn't bother the Ercolines.

"It was about peace, love, harmony," Bobbi said. "There was not much food, not much water, no bathroom facilities, but yet no violence."

"We all got along. We all shared. We all helped each other," Nick said.
That spirit, along with the anti-Vietnam War vibe, is one of the legacies of Woodstock.

"This was an expression of youth, an expression of optimism, an expression that you don't have to do things the way your parents did it," said Wade Laurence, the director of the Museum at Bethel Woods, which opened adjacent to the concert site in 2008. "I think Woodstock was that flowering of that idea of the 60s - that young people have a voice."

Rock musicians would have plenty more to say, as protest and benefit concerts would become commonplace in the 1970s and 1980s.and beyond.

"We sort of set a precedent in a lot of those areas," said Michael Lang, at 24, one of the four original Woodstock co-promoters "It was the beginning of the idea of music and social change, I think."

And change within, for Woodstock concertgoers like the Genzlingers.

"It was my first experience of a large sense of community gathering for just a peaceful purpose," Grant said.

"I think it was the beginning of consciousness more for me "Jeanne said.

The couple now runs a hotel of their own in the Poconos, which includes a farm-to-table restaurant with locally grown food.

Jeanne said, "We never left the garden."
Thanks for reading CBS NEWS.
Create your free account or log in
for more features.