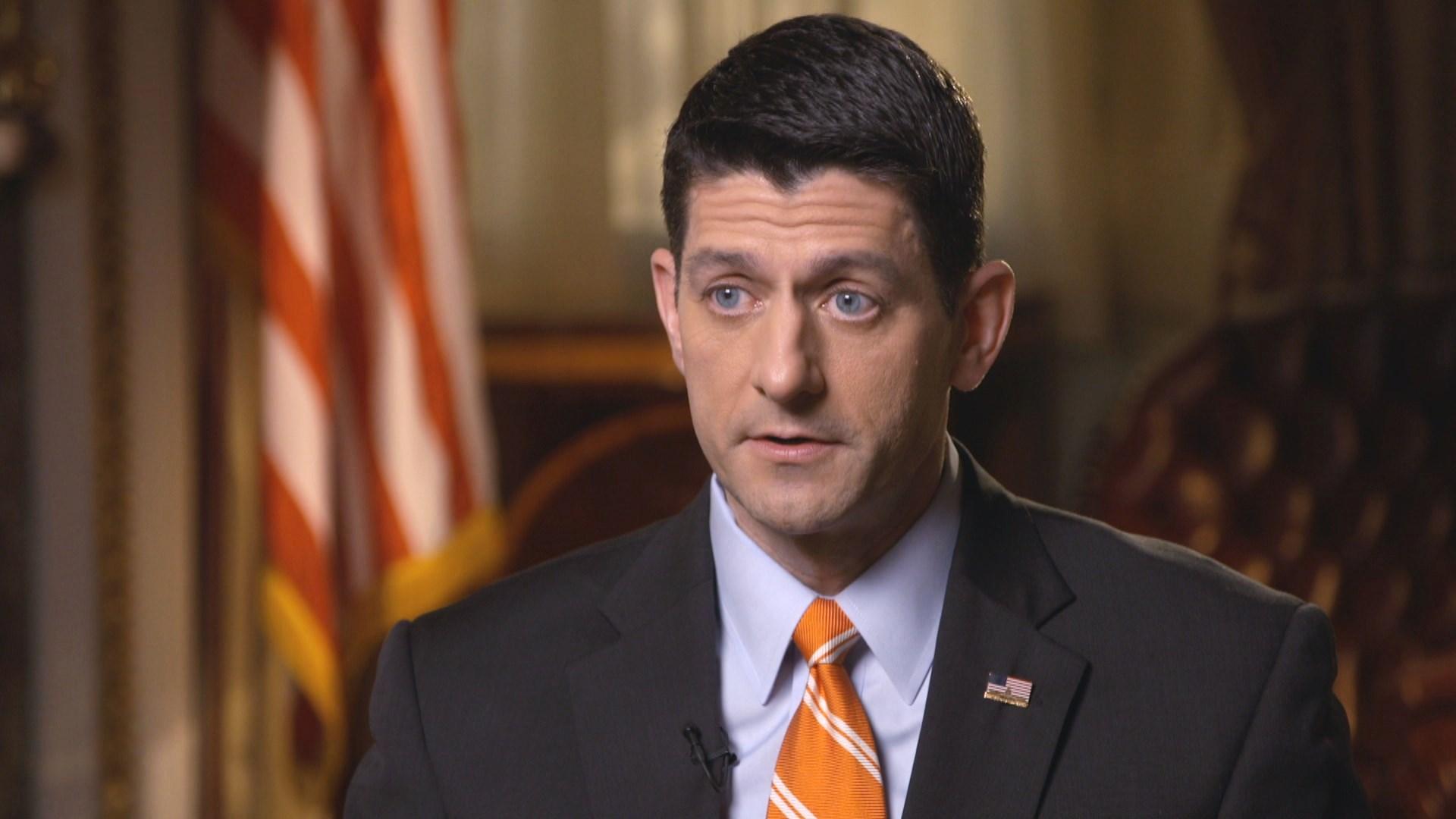 Paul Ryan on Russia probe, health care bill "growing pain"
Despite mounting calls for House Intelligence Chairman Devin Nunes to recuse himself from the investigation into the Trump campaign's ties to Russia, House Speaker Paul Ryan has thus far stood by the chairman.
"CBS This Morning" co-host Norah O'Donnell spoke with Ryan Wednesday in the speaker's ceremonial office in Washington, D.C., where she asked him what he knew about Nunes' source and what other evidence he's seen.
"You were among the first that [Nunes] briefed. What did he tell you?" O'Donnell asked.
"He had told me that — like, a whistleblower-type person had given him some information that was new that spoke to the last administration and part of this investigation," Ryan said. "He briefs me about it, didn't know the content of it, only knew the nature of it and that he was going to brief others."
"Did you ask to see the documents yourself?" O'Donnell asked.
"He didn't have the documents, so I didn't," Ryan responded.
"Did you encourage him to then go tell the president about it?"
"No, but I told him to just add it to his investigation," Ryan said.
"So you at no time said, 'Whatever you find out, you should probably go tell President Trump about it?'"
"Oh — he was gonna brief everybody. He — I already knew he was going to go and brief. So the — what Chairman Nunes said is he just came into possession of new information that he thought was valuable to this investigation, and that he was going to go and inform people about it," Ryan said.
"But he hasn't. I mean, he hasn't even informed the Republican committee," O'Donnell said.
"Yeah, I have seen the actual documents. I don't know that he's been in possession of them yet. Let me say this: It's very important that we allow and encourage whistleblowers to talk to Congress," Ryan said.
"Can you just help me understand that, though? Because if it's a whistleblower, why wouldn't that information then be shared with the Democrats on the committee, and even the other Republicans who haven't seen it?" O'Donnell asked.
"I don't know the answer to that question, you'd have to ask that person. I don't even know who this is," Ryan said.
"I mean, you're a member of the Gang of Eight. You can see the most classified intelligence that our government has, right? You could request this information," O'Donnell said.

"Yeah, we want this information to be provided to Congress and we're waiting for it to be provided to Congress," Ryan said.
The speaker also said he has no knowledge of whether President Trump is under investigation for ties to Russia.
"I do not believe that that's the case," Ryan said. "Well, I don't — I won't speak for the FBI, but I've never seen any suggestion or any evidence that that's the case."
"If we don't know if President Trump is under investigation, why would it then be appropriate for a member of an oversight committee to then go brief the president?" O'Donnell asked.
"Yeah, but I don't believe that he is. So I don't think that he is under investigation," Ryan said. "No one has suggested that he is, and not even in a vague way. I don't believe that he is."
Paul Ryan talks failed GOP health care plan
In his first extended interview since the unsuccessful effort to replace Obamacare, Ryan addressed the Republicans' failure to vote on their replacement plan for the Affordable Care Act.
"You promised to repeal Obamacare for seven years. Your bill didn't survive three weeks. What happened?" O'Donnell asked.
"Well, it hasn't survived yet. What happened is, we are going through, what I would call, a very painful growing pain. I'd like to see the growth at the end of that pain, which is we had been an opposition party for 10 years," Ryan said. "And I've been long saying, if we're going to be successful, deliver for the American people, improve people's lives, we've got to become a proposition governing party. … About 90 percent of our members are for this bill. We're not going to give up after seven years of dealing with this, after running on a plan all of last year, translating that plan into legislation, which is what this is."
So what's the Plan B?
"Plan B is we keep talking to each other and figure out how we get to yes, and how we get this bill passed," Ryan said.
"So you're not changing the policy, you're just putting more pressure?" O'Donnell asked.
"No, we're listening to people. If we can make improvements to this bill, all the better. So if improvements can be made to this legislation that get people to yes, that's great," Ryan said.
Asked whether he regrets tackling health care first among various other policy agendas, Ryan said "not at all."
"Because we could not have done tax reform first, for a whole host of reasons," Ryan said. He said another issue was that "we literally didn't have the time to write a tax bill yet."
"The House is the only one with a plan right now. The White House is still working on a plan, the Senate doesn't have a plan. So it is inconceivable that we would've been able to write a tax reform bill — and into law before summer," Ryan said.

Thanks for reading CBS NEWS.
Create your free account or log in
for more features.