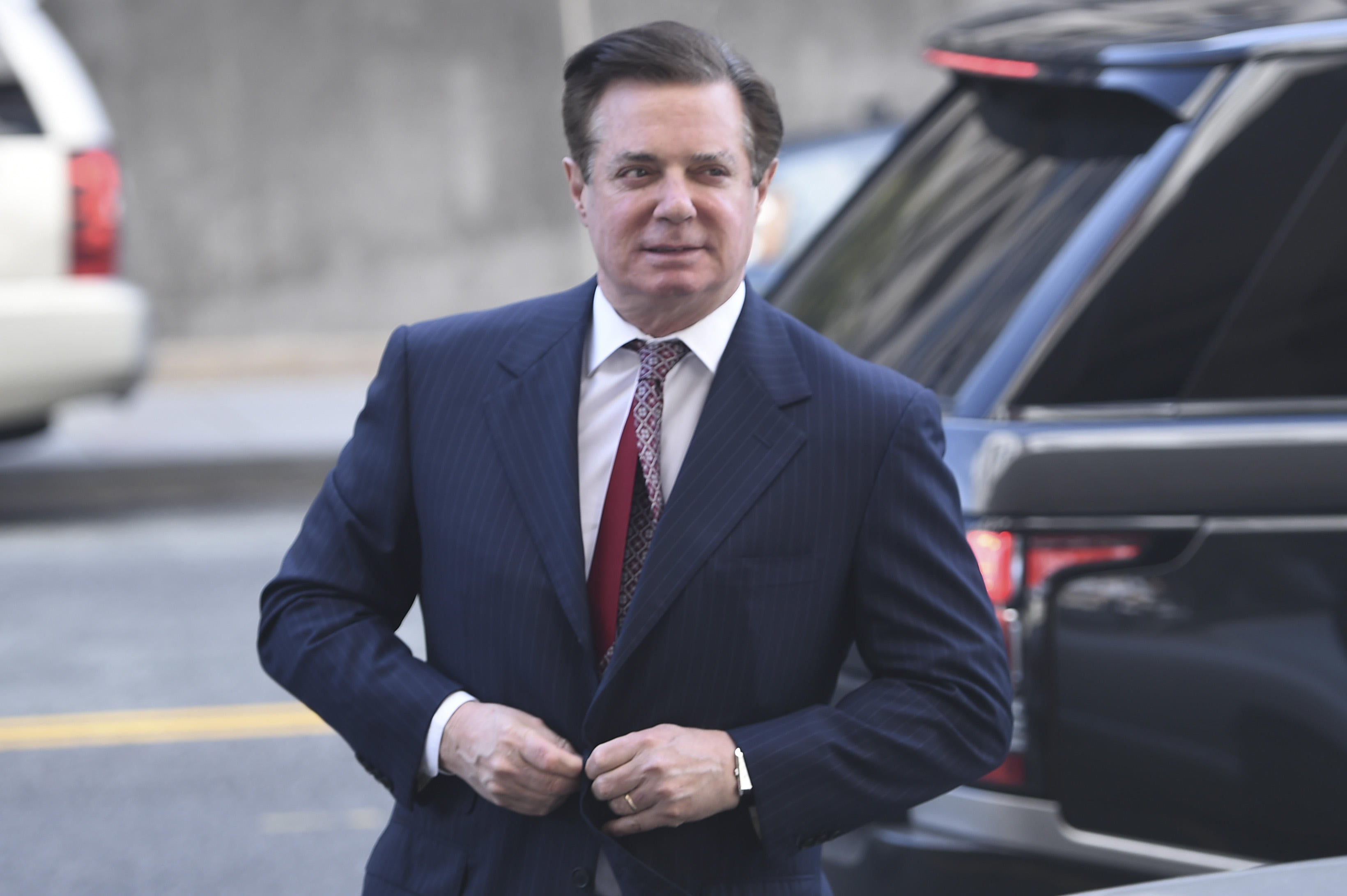 Paul Manafort trial verdict: Inside the courtroom
Just before 4:30 p.m. ET, the jury in the trial of former Trump campaign chairman Paul Manafort entered the courtroom. Judge T.S. Ellis informed the jurors that he had received their note informing the court that they had been unable to reach a consensus on 10 of the 18 counts against Manafort. One at a time, Ellis confirmed with jurors that they did not believe consensus could be reached, even with further deliberation.
The jury found Manafort guilty on counts 25 and 27 -- bank fraud that took place between December 2015 and March 2016 -- up until Manafort began working on the Trump campaign.
Manafort leaned back with his arms crossed in his seat as Ellis spoke.
Ellis said he would have to declare a mistrial on those ten counts. The deputy clerk then read the counts on which the jury did agree, as Manafort stood and faced the jury. Manafort did not react visibly as the counts were read, listening stonefaced with his shoulders back.
Two male jurors sat apart from the rest of the jury. While the verdict was being delivered, some jurors stared at Manafort, while others watched the public watching them from behind the bar. Others looked toward the bench, where the deputy was speaking.
Once the verdict was read Judge Ellis thanked the jury. "We are grateful to you," he told them, for their hard work in the case, saying they deliberated consciously. He said of the trial and the nearly four days of deliberations that "everyone knows it's been a long time."
Ellis also left the jury with a note of caution, telling them that while they are no longer prohibited from discussing the case, and they may do so with whomever they choose -- "it's entirely up to you" -- he strongly discouraged them not to, suggesting "that you have a duty of confidentiality to your fellow jurors." Ellis has already ruled that he is going to keep their names sealed, and when he asked them whether or not they would like it to stay that way, they unanimously responded, "Yes, your honor."
Once he excused the jurors, Judge Ellis called Manafort to the podium and said, "Mr. Manafort, you have been found guilty on a number of the counts...eleven of eighteen, right Mr. Andres?" Andres then responded that it was actually eight of eighteen counts.
Manafort ordered the preparation of a pre-sentencing investigation report. Manafort will be asked by a probation officer to supply information on things like his health, family, and criminal history. Manafort and his counsel will receive a copy of the report and the government will also have the opportunity to register objections. No sentencing date has been decided.
The government has until August 29 to say whether or not it will elect to retry the 10 counts declared a mistrial. Similarly the defense has asked for 30 days to file for a appeal.
With no other matters left at hand, Andres took a moment to "thank the court and counsel for their courtesy." Ellis said both the government and Mr. Manafort received "very effective and zealous representation from their counsel—both sides...that isn't a statement I can make as often as I'd like." He later said "I think you all did a very fine job for your clients."
Ellis then took a moment to address the verdict. He referenced one of his earlier comments during the trial about saying he was a Caesar in his own Rome. He said "be assured that I always knew my Rome was very small." He referred to a conversation he had with his grandson who said "are you really..." but Ellis stopped himself before continuing his thought.
Manafort walked to the side of the courtroom with his counsel. Mrs. Manafort stood looking toward the side where her husband had exited and was seen briefly speaking to her friend. Her face was blocked by a lawyer during the verdict.
Manafort's defense looked visibly disappointed, while the prosecution was all smiles and congratulatory handshakes. As they prepared to walk out, both teams shook hands and patted each other on the back, saying things like "good job" -- as if they were opposing teams after a baseball game. The paralegals also took part.
The court went into recess at about 4:50pm.
Dylan Wells, Hannah Knowles, Ellee Watson and Rob Legare contributed to this report
Thanks for reading CBS NEWS.
Create your free account or log in
for more features.