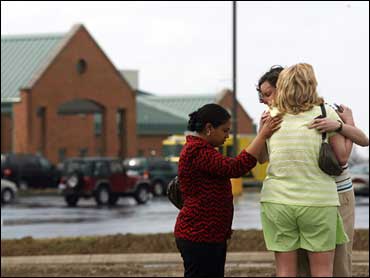 Pastor Killed In Illinois Church Shooting
The pastor of an Illinois church was shot and killed during a service Sunday morning, according to the Maryville Police Department.
CBS Affiliate KMOV reports that a gunman opened fire after 8:00 a.m. at the First Baptist Church in Maryville, Ill., fatally shooting Pastor Fred Winters, 45.
Illinois State Police spokesperson Ralph Timmens said that the gunman walked up one of the aisles at the church and exchanged words with Winters, who walked over towards him.
The suspect then pulled out a .45 caliber handgun and started shooting.
Police said the pastor used a Bible to deflect the first of four rounds fired.
Timmens said the gun then jammed, and the assailant pulled out a knife and started stabbing himself. When parishioners tried to subdue him, he stabbed two others in the process.
At a press briefing this afternoon, Illinois State Police Director Larry Trent said the Bible exploded, producing what appeared to be confetti, causing some in attendence to believe the episode was a skit being performed as part of the service.
Only one of the four rounds fired struck and killed Winters.
Officials don't know if Winters and the suspect knew each other.
"We don't know the relationship (between the gunman and pastor), why he's here or what the circumstances came about that caused him in the first place to be here," Timmins said.
Winters was taken to Anderson Hospital in Maryville, where he was pronounced dead on arrival, according to spokeswoman Natalie Head.
The gunman and one victim, 39-year-old Terry Bullard, were being treated at St. Louis University Hospital, said spokeswoman Laura Keller. Bullard underwent surgery for stab wounds and was in serious condition, she said. The second wounded congregation member was treated and released.
Keller said the gunman was undergoing surgery early Sunday afternoon but could not provide his name, condition, or type of injuries.
At a press briefing he was described as a 27-year-old white male from Troy, Ill.
The Rev. Mark Jones, another pastor at First Baptist, said he briefly saw the gunman but did not recognize him by name or face.
"We have no idea what this guy's motives were," Jones said outside the church. "We don't know if we'll ever know that."
Police said at the time there were approximately 150 people in the church for the first of three Sunday services. Many coming for the second service arrived to find emergency vehicles directing them away from the church, which reportedly has 1,500 members. Some parked at a nearby senior center where they were consoling one another.
First Baptist parishioner Sharla Dryden pulled into the church parking lot for a 9:30 a.m. service in time to see "just a lot of chaos, lot of police, fire, and people just devastated."
"They just said there had been a shooting," said Dryden, 62. "I would have been devastated if anyone had been shot, but to hear it was the pastor was terrible. You just never expect this to happen at a church."
(KMOV)

Winters (left), a father of two who had led First Baptist for nearly 22 years, was the former president of the Illinois Baptist State Association and an adjunct professor for Midwestern Baptist Theological Seminary, according to the church's Web site.

"Our great God is not surprised by this, or anything," Nate Adams, executive director of the Illinois Baptist State Association, said in a statement. "That He allows evil and free will to have their way in tragedies like this is a mystery in many ways. But we know we can trust Him no matter what, and draw close to Him in any circumstances."

A notice on the church's Web site announced a prayer service this evening at 6 p.m. at Metro Community Church in Edwardsville, Ill., and asked, "Please continue to pray."

Maryville is about 20 miles northeast of St. Louis.
Thanks for reading CBS NEWS.
Create your free account or log in
for more features.