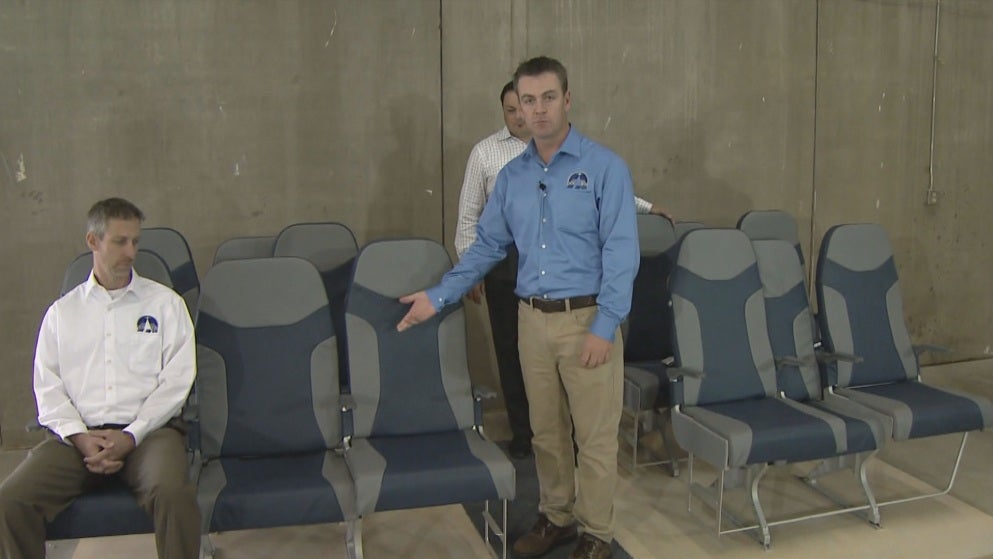 Passengers to FAA: Stop airlines from shrinking seats
Triple A predicts the number of people flying for Thanksgiving will climb to 3.6 million, but that's not the only reason you may discover planes feel more crowded.
Over the last few years, the airlines have reduced capacity. Fewer flights mean the planes fly fuller. At the same time, many American carriers have found ways to squeeze in even more seats, reports CBS News correspondent Kris Van Cleave.
In September, an engine that caught fire on a British Airways 777in Las Vegas caused an emergency evacuation. The FAA requires it happen in 90 seconds or less, even if half the exits are blocked.
Beyond that, the agency does not set limits on how close rows of seats can be, but much of its research is done with seats 31 inches apart - the spacing used by several of the country's biggest carriers. While Jet Blue, Southwest and Virgin America offer the most space between rows, Allegiant, Frontier and Spirit offer the least, with as little as just 28 inches of space and seats that don't even recline.
The amount of room you actually have to sit on has shrunk to as little as 16 inches wide on some airlines.
"It you crowd more and more people together, bad things happen," said Paul Hudson, president of FlyersRights.org.
In August, Hudson's group sent the FAA a petition with over 30,000 signatures supporting larger seats, asking the agency to stop carriers from making seats any smaller and to create minimum seat size standards.
"It is a safety concern, particularly with evacuation that hasn't really been tested for these small spaces,." said Hudson. "It is a health concern for blood clots. It is a safety concern when people are having disagreements and fight about space."
Hank Scott got frustrated with cramped flights, tiny seats and the time it took to board, so he helped invent a different kind of airline seat, currently being certified for use.
He's named such seats "side-slip seats" because the middle seat is set back just enough for the aisle seat to slide it over, making more room in the aisle.The staggered layout also enables the seats to be bigger while not taking up additional space on the plane.
The Trade Association representing the airlines tells "CBS This Morning" the seats are safe, and the FAA should let consumer decisions and competitions determine what is offered.
It's worth pointing out those super discount carriers that have the smallest space between seats are among the most profitable in the business.
Thanks for reading CBS NEWS.
Create your free account or log in
for more features.