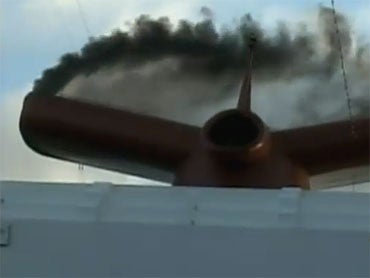 Passengers Describe Cruise Ship Fire at Sea
A string of investigations is already underway into the fire that crippled the Carnival cruise ship Splendor.
With its 4,500 passengers back on dry land, the ship is due to be moved to a dry dock for inspection today.
Meanwhile, passengers are sharing their stories of their nightmare voyage.
It was early Monday morning when the smell of smoke awoke many passengers. Chris Harlan had his video camera going as thick black smoke rose near the stern.
The passengers were told that in spite of the smoke, there was no fire. "They tried to calm us by saying it was 'flameless fire,'" Jackie Harlan said.
And did anyone believe that? "No!" she laughed.
Soon, there was no denying the fire - or the extent of the damage. The ship lost power, adrift about 44 miles off the coast of Mexico and 200 miles out of San Diego. There was no hot water, hot food or air conditioning. The swimming pool was shut because the pumps weren't working. Toilets was malfunctioning and backing up.
Carnival Cruise Ship Splendor Averted Disaster
Stricken Splendor Passengers Disembark
Carnival Splendor Passengers Recount "Nightmare"
Time Lapse Video of Carnival Splendor Docking
Spam, Slow Tow Home for 4,500 on Disabled Ship
Rescue Effort for Stranded Cruise Ship
Some passengers had nothing to do. "We were bored, we were hungry, we couldn't lay out because it wasn't sunny," said Amy Watts.
And no more fancy cruise ship dining. "You started seeing some peanut butter, which everybody was excited about," said Katie Sokulski. Dad Stan Allen agreed: "We didn't even know how much we loved peanut butter!"
Many on board were celebrating special occasions like birthdays and anniversaries. For Ashley and Josh Vest, it was a second honeymoon.
When asked what the first thing she wanted, Ashley Vest said, "I want a hot shower."
As the ship was pulled toward San Diego, the passengers had little idea what a big story their ill-fated cruise had become, reports CBS News correspondent John Blackstone.
Finally on solid ground they were greeted by a horde of cameras and reporters, as well as family and friends. The sentiment: Good to be home.
There is plenty of relief that this cruise had a happy ending, but investigators want to know what went wrong, because a ship this size - stranded and burning 40 miles out to sea - could have ended very badly.
Appearing exclusively on CBS' "The Early Show," Jinger and Mark Kalin and their 9-year-old daughter Parker - who were on board the stranded cruise ship - were all smiles this morning as they described their experience.
Jinger Kalin said their cabin was right above where the "incident" happened. "It woke us up, actually," she said. "It felt like a loud and rumbling vibration. I sincerely forgot where I was and I woke up and I thought, Oh, it's an earthquake! Then I realized we were on a boat!"
Mark Kalin said they lived by the announcements made over the emergency loudspeakers.
When asked by anchor Harry Smith if there were chaos or screaming in the hallways, Mark said no. "But it did feel, initially, like there was no system - when we realized we were dead in the water, first when we realized no toilets, no power. The first time they served food I think it surprised everybody, because it was barely a piece of bread, one piece of bread had a little hot dog weenie sliced up in it.
"We didn't see a lot of crew," he said.
Mark said the food that was served was very creative. "There was just this flat pan with chocolate, it looked like melted chocolate ice cream," he recalled. "I said, 'What is this?' The steward said, 'Milk shake, sir!'"
Food had to be air-lifted to the ship before it was towed back to port.
Jinger said the people on the ship were actually pretty well-behaved, considering he situation: "I think we all kind of made lemonade out of lemons - I mean, what are you going to do? It could have been worse, right? The ship could have, you know, could have been sinking!"
Mark Kalin said in their predicament the passengers bound together. "We were on the boat part of a group of 168 magicians - we were actually supposed to perform!" he said. "Towards the end of the cruise, when we knew that it was coming to the end . . . a lot of the magicians went out to perform for the passengers."
For young Parker Palin it was her very first cruise. "So I was kind of disappointed!" she laughed. "The first day I was so excited about getting on the cruise ship and everything, and it got terminated!"
Thanks for reading CBS NEWS.
Create your free account or log in
for more features.