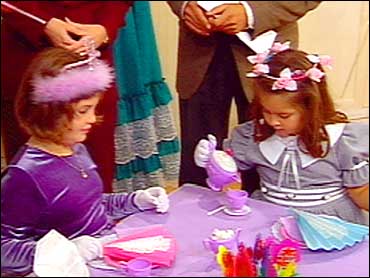 Party Time For The Little Ones
Some of the most memorable moments for children are birthday parties.
It's no mystery that for them, the day is a big deal, and they look forward to it with much anticipation.
On The Early Show, FamilyFun Magazine's contributing editor Deb Geigis Berry shares some creative party ideas and tips for parents who want to throw their childfren a memorable birthday bash.
Berry provides a checklist for parents when planning a party:

Start planning early

Pick a theme

Choose a location

Write the guest list

Send an invitation

Decorate the party place

Plan a menu

Welcome guests

Plan a mix of games and crafts

Don't forget favors and prizes

Go with the flow
He also provides some do's and don'ts for a children party:

Do make guests feel welcome; your child should greet each guest

Do expect guests under age 5 to bring a parent

Do choose party games that let every child win at least once

Do review gift-opening etiquette with your child before the party

Don't deliver invitations at school; mail them to the guest's home

Don't break the bank: keep costs down by making as many things as you can

Don't let a sibling upstage the birthday child

Don't forget to send thank you notes
The following are three birthday party ideas from Berry:

Tea Party:

For a younger child, a tea party is a fun opportunity to dress up in fancy clothes, pour and sip "tea" for friends and celebrate being a year older by pretending to be grown-up. There are a few bonuses for parents, too. A "formal" tea is a fitting occasion for kids to practice good table manners and get into the habit of sending post-party thank-you notes

Invitation: Create a Teapot Invitation. Cut out a colorful paper teapot and write the party greeting on the front and the date, time and other particulars on the back. Then cut out a tea bag "tag" on which to print "Bring a teddy bear, stuffed animal, or doll." Staple one end of a short string to the tag and the other to the teapot top.

Decoration: Provide a book with a feathered pen for guests to sign-in upon arrival. The table is the main focal point of this party, so go all out with a festive tablecloth, doilies, place cards, cups, saucers, and dessert dishes. Of course, you'll need a teapot, and perhaps a creamer and a bowl of sugar cubes with tongs. Also, make a lollipop flower center-piece for your party table. The petals and leaves are simply cut colored paper (affix the petals with tape and cut slits in the leaves)

Menu: Berry provides a menu that consists of: decaffeinated iced tea (with or without sugar cubes), tea sandwiches (with crusts removed), animal crackers, and tea cupcakes.

Games/Activities: Provide a dress up box with outfits including old party clothes, hats, gloves, costume jewelry, etc. and take group photos. Berry also suggests making fancy fans by using a glue stick to affix a paper doily onto a sheet of colored paper, then fold the sheet accordion style. For a handhold, pinch together one shorter end and secure it with a rubber band.

Party Favors: Berry says to turn white paper bags into giant tea bags party favors by filling with white gloves, costume jewelry, penny candy, and toy cup & saucer.

Race Car Party

These parties are best for children from 5- to 8 years 00old, says Berry. For kids who like to be on the go, this party plan puts you on the fast track to fun.

Invitation: Create a tire-shaped "Race on Over" invite. Draw a 5-inch circle on thin cardboard to use as a template. Then cut straight across the top and bottom to make a tire shape that's 4 1/4 inches tall. Next, fold an 8 1/2 by 11-inch sheet of black construction paper so that the longer edges match up. Place the template atop the paper so that the top lines up with the fold. Trace around the sides and bottom, then cut along the lines. Cut an oval hubcap (2 inches X 3 ½ inches) from yellow paper and glue it onto the tire slightly left of center. In marker, print "Race on Over!" on the hubcap. Use a white crayon to add zigzag tire threads and to print the part specifics.

Decoration: Berry says steer guests into your driveway with a checkered victory flag attached to your mailbox. Buy a checkered paper tablecloth or use crayons or markers to transform a plain paper tablecloth into a racetrack for matchbox cars. And shape fluorescent orange poster board into road cones and hot-glue to a square cardboard base.

Menu: Have some racetrack cake for the kids.

Games/Activities: Try some of the following various games to keep the party fun.


Pit Passes: Take an instant photo of each kid as he or she arrives. Punch a hole on the top of the picture and string a length of ball chain through it. With a permanent marker, print the word "Pit Crew" at the bottom. The birthday child's photo can say "Crew Chief."

Hot Rod Relay: To make a car for each team, trim off the top and bottom of a cardboard box (around 14 inches square), and cut a handle in each door panel. Paint the cars, adding your child's favorite racing numbers. Then tape on yellow paper headlights and front grills fashioned from 3/4-inch-wide strips of aluminum foil. At race time, the first kid from each team dons a helmet and goggles and steps into his team's car. On cue, the drivers race around a designated landmark, such as a tree or rock, and back to the start, where they quickly turn over the gear to the next person. The race continues in this manner until all the members of one team finish the course and win the game.

Pit Stop Race: For this tire-changing challenge, the aim is to be the fastest two-man team to unscrew a couple of bottle cap lug nuts and rotate two pie plate tires.

Party Favors: Speedway favors include matchbox cars, whistles, key chains, racing stickers or patches.

Spy Party:

Berry says the concept may seem suspect, but it holds a hidden lure. Kids can hide behind personas and act sneaky.

Invitation: Berry says the invitatins could be made into "Top Secret" folders. For each special agent, cut a manila folder to about 4 by 5 inches. On the inside, write the party details backwards, so invitees will need to use a mirror to read it. Pen the agent's name on the file tab, stamp the folder "confidential," and "top secret," and slip it into an envelope for mailing.

Decoration: Lead guests to the front door with footprints drawn in chalk. Hang a few fake "Police Line: Do Not Cross" banners. Also, to encourage a cloak-and-dagger scene, encourage kids to wear "spy" raincoats, hats, magnifying glasses and disguises.

Menu: Berry suggest having hot-on-the-trail mix, pizza with pepperoni arranged like a question mark and private-eye cake.

Games/Activities: A good game to play is "Who am I?". Before the party, cut out pictures of celebrities. Each guest gets an identity pinned to his back, so that everyone but him can see it. Then, by asking yes and no questions, each child must figure out who he is.

Party Favors: Fill manila envelopes stamped "Top Secret" and "Confidential" with goodies such as notebooks, pens, magnifying glasses, fingerprint cards made by guests and disguises such as mustaches, sunglasses, and fake noses.
In the end, your child's party should be fun and plans doesn't have to be rigid.
Thanks for reading CBS NEWS.
Create your free account or log in
for more features.