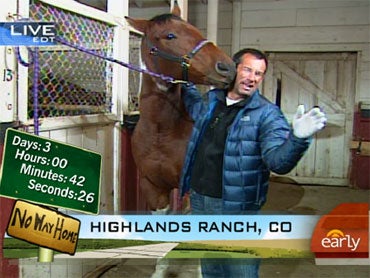 Part 2: A Witness Comes Forward
Everyone in Springfield, Ill., knew Mark Winger's story. An intruder named Roger Harrington bludgeoned his wife, Donnah, to death. Mark had interrupted the attack and killed Harrington.
Winger's story was heroic and heartbreaking, but Det. Doug Williamson didn't believe it.
At first, Williamson couldn't even persuade his own partner, Det. Charlie Cox, that Winger was a killer.
But Cox says he became suspicious when Winger kept showing up at the police station. Correspondent Richard Schlesinger reports on this unlikely turn.
---
It started a few months after the murder when Winger came by to ask for his gun back.

"I released the gun back to Mark and we sat and talked for about a half hour," Cox says. "He was wanting to know how the case was going. As far as I was concerned, he should have just accepted it was closed."

Winger denies it, but Cox remembers him dropping by a second time, to say he was getting remarried to his daughter's new nanny, whom he had hired just five months after Donnah died.

"He kept coming in. I kept feeling like he was trying to find out if we were checking into anything," says Cox. "I went back to Doug and said, 'Something's wrong here. Big time.'"

Cox was beginning to believe that his partner was right all along. And now, he wanted the case reopened.

For three years, their bosses prevented them from reopening the case. And during that time, Winger and his new wife, Rebecca, adopted Bailey and had two other children.

Then DeAnn Schultz, Donnah's best friend, came forward with new information.

For four years, Schultz had been keeping a secret that was making her sick.
What she was finally ready to say would change everything.

She told police she and Winger had been having an affair that began a month before Donnah's death and continued for several months after it. She also said Winger wanted out of his marriage so badly he even had talked about killing Donnah.

"He mentioned that it would be - easier if - if Donnah died," says Schultz.

She said that Winger suggested that she play a role in the murder, and that he talked about the van driver, Roger Harrington.

Winger admits having the affair but calls Schultz's other allegations "a horrible, horrible lie."

"I was a good husband to Donnah," says Winger. "I made a mistake, I'm human, it was stupid and it was wrong."
---
The case was finally reopened and detectives, going through the files, found yet another surprise - three Polaroids taken by Officer Barringer on the night of the murders, before Donnah Winger and Roger Harrington were moved to the hospital.

The photos showed the placement of the bodies, something that police say blew Winger's version of events out of the water.

"It was over," says Williamson. "Roger Harrington's head and feet were in the opposite way of what Mark told us had happened."

The three snapshots, which the detectives didn't see during the original investigation, were now the centerpiece of the case.

How did that happen?

"Got overlooked," says Cox. "And in a case that was closed as fast as this one was, it was never thought of again. This thing was closed by the 10:30 news that night, for all practical purposes."

After making the painful admission that they had botched the investigation in 1995, police set out to prove who the real killer was.

Police believe Mark Winger began methodically plotting the double murder immediately after Donnah's bizarre ride with Harrington on the way home from St. Louis.

"He's the perfect guy to seize on, to make it look like an intruder had come in and killed his wife," says Williamson.

In 2001, Winger was arrested and put in jail awaiting trial. And the detective who once called Mark Winger a hero was now intent on proving him a cold-blooded murderer - and vindicating Roger Harrington.

"I hurt the Harrington family a lot," says Cox. "They buried him as a murderer."
---
For years, Sarah Jane and Ira Drescher, Donnah's parents, had accepted the awful fact that Donnah Winger was stalked and killed by a madman named Roger Harrington.

Now, nearly seven years after Donnah's death, they've come to Winger's trial, knowing that the evidence against him is strong - but still clinging to the hope that something would exonerate him.

The prosecution team, led by John Schmidt, said Winger lied from the beginning, even during his 911 call in which he denied knowing who Harrington was.

Ray Duffy, owner of the airport van company, testified that Winger called to complain about Harrington's behavior during the ride and afterwards and "wanted to talk with the driver direct." This was a crucial link for the prosecution.

Duffy said that was unusual: "Usually, when people have a complaint, they just call the office," he said. He also testified that Harrington was eager to work things out and told Duffy to give Winger his phone number.

Police believe Winger planned for everything but couldn't anticipate that Harrington would have in his car a note with Mark Winger's name, his address, and 4:30 p.m. marked on it.

Williamson points out that Harrington also had in his car a tire iron fashioned as a weapon. "If he was going to bludgeon someone, he had a weapon in his car," the detective says. "Yet he chose a weapon from inside the house that he would have no idea was there?"
---
Untangling the evidence in the seven-year-old case was a huge job for jurors, three of whom sat down to talk to 48 Hours Mystery.

The defense told them that, unlike Winger, who was a successful and respected member of the community, Harrington had a troubled, violent past.

The defense also pointed out that at the time of the murder in 1995, detectives had the Polaroids, the note in the car -- in fact, they had all the same evidence that they now found so incriminating against Winger.

Schultz, who was given immunity, provided the only new evidence - testimony that Winger had talked about killing his wife. But she had attempted suicide four times and had undergone electroshock therapy - so the defense called her unreliable.

But the jurors, who heard nearly two weeks of testimony, knew what was at stake.

By now, Winger and his new wife had four children, including Bailey.
But Harrington's family wanted justice.

Next, did the murder happen the way Mark Winger said it did?
---
After nearly two weeks of testimony, three families anxiously wait for jurors to decide Mark Winger's fate.

Did he kill Roger Harrington in self defense, as he has said for seven years, or was Harrington an unlucky pawn in Winger's plot to murder his wife, Donnah?

Donnah's mother and stepfather are now convinced that Winger is a murderer.

However, Winger's mother, Sallie, and his family are still convinced that he is innocent. "What reason would he have for hurting Donnah?" says Sallie Winger.

After deliberating for 13 hours, the jury reaches its verdict. Winger's parents, who had spent a small fortune defending their son, were stunned by the verdict. Mark Winger was guilty.

Ultimately, the jurors say the case against Winger was clear. They were convinced that Harrington did not just show up at the Winger's house with murder on his mind.

"If you're going to go over to kill somebody," says Karen, a juror, "you don't bring a pack of cigarettes and something to drink. And just hope that the murder weapons going to be there."

And while the defense tried to play up Schultz's past psychological problems, the jurors thought her troubles made her more credible. "I think she was sincerely telling us the truth," says Karen, another juror.

But jurors say the state's best evidence was the first evidence police ever collected – the three Polaroids.

Mark Winger, who never took the stand at his trial, was sentenced to life in prison. He now says the paramedics had moved the bodies before the Polaroids were taken, something the paramedics had denied at the trial.

Yet Winger still can't explain the note: "I can't offer you any answers to why Roger Harrington had 4:30 written on a note."

When Winger was convicted, another man - Roger Harrington – was exonerated, and this has given his family a measure of comfort.

But knowing the truth is little comfort for Donnah's parents, Sarah Jane and Ira Drescher. They are left with only their memories of a happy daughter and happier times that ended violently.

"I have no idea why he did it," says Donnah's mother, Sarah Jane. "I will never understand why he did it. And I think it's a question that will never be answered in my mind."
---
Since 48 Hours last reported this story, an Illinois court rejected Mark Winger's appeal of his murder conviction. He's serving his life sentence at the state penitentiary in Pontiac, Ill.

Mark and Donnah's daughter, Bailey, now 9, is being raised by Mark's second wife, Rebecca, who has now filed for divorce.

Part I: Invitation To A Murder
Thanks for reading CBS NEWS.
Create your free account or log in
for more features.