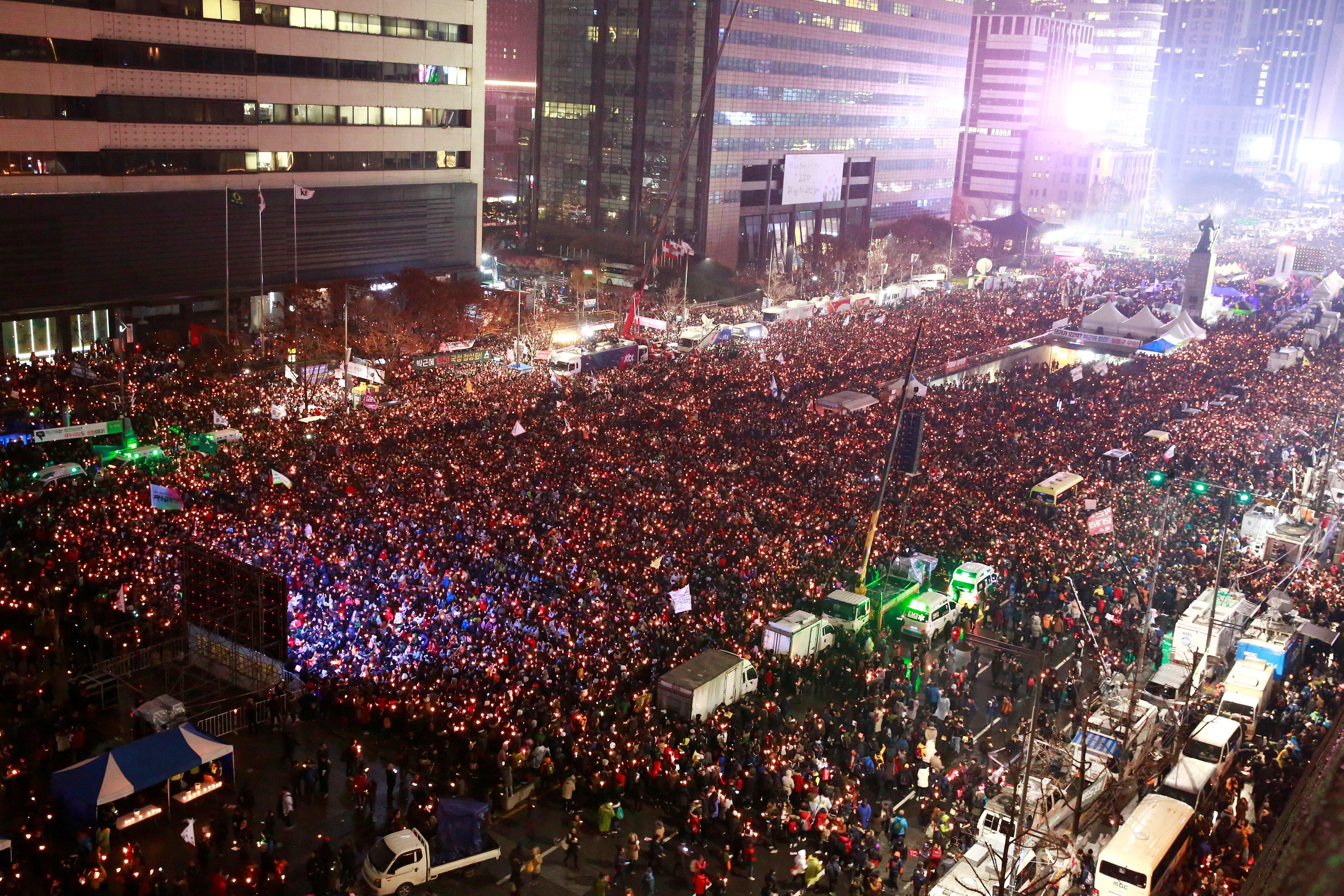 Hundreds of thousands march against S. Korean president
SEOUL, South Korea -- For South Korean farmer Lee Hyo-shin, demanding the ouster of President Park Geun-hye was a slow and grueling 10-day journey atop a vehicle unable to move faster than 12 miles per hour.
He was one of hundreds of thousands of South Koreans who marched on Saturday in streets near Seoul's presidential palace, where Park is bracing for what's likely to be a bitter and prolonged fight against lawmakers who may attempt to impeach her as early as next week.
Prosecutors accuse Park of assisting criminal activities of a secretive confidante who allegedly manipulated power from the shadows and extorted companies to build an illicit fortune.
Police said 270,000 people took part in the fifth straight weekend of massive protests against the unpopular president, making it the largest rally yet. Organizers put the turnout at 1.5 million.
"The fatigue is really starting to kick in," said Lee, 53, who, while leading a convoy of farmers, traveled nearly 186 miles from the seaside county of Haenam on his tractor before police on Friday stopped the vehicles near Seoul.
"Pulling Park down isn't going to be easy, but we farmers are good at injecting energy into demonstrations," Lee said.
Thousands of people marched in streets close to the presidential Blue House, areas police usually don't permit, carrying signs and flags. Protesters later turned a darkened boulevard in front of an old palace gate into a sea of light, waving candles and singing and shouting for Park's removal.
The country's largest opposition party said it will seek to propose an impeachment motion for vote as early as Friday and no later than Dec. 9. Some members of Park's conservative party have vowed to support an impeachment attempt, arguing it would serve the party's interests to distance itself from Park ahead of next year's presidential election.
The massive rallies in recent weeks have been mostly peaceful, but there was tension Friday night as police clashed with some of hundreds of anti-Park farmers who had planned to roll into the capital on tractors and trucks, injuring several farmers.
Lee and other members of the Korean Peasant League had departed from two towns in the country's southwest and southeast on Nov. 15 and 16, creating a duo of crawling motorcades that inspired Mad Max comparisons on the internet. Police blocked the vehicles after a court ruled that the farmers shouldn't be allowed to park or drive them in rally areas.
Thanks for reading CBS NEWS.
Create your free account or log in
for more features.