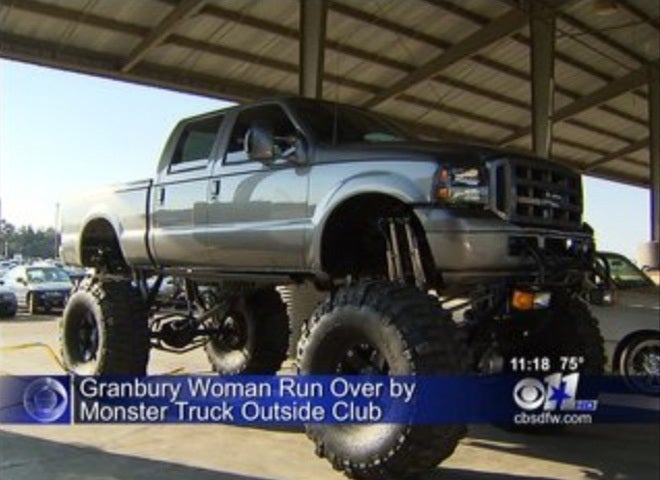 Parents win $10.5M verdict in monster truck death at strip club
Last Updated 1:01 p.m. ET
DALLAS The parents of a 23-year-old woman killed when she was struck by a "monster truck" in a gentlemen's club parking lot have won a $10.5 million civil verdict against the driver and the club.
A Dallas civil jury reached a verdict Tuesday in favor of Gary McKenzie and Karen McDonald, parents of Kasey McKenzie.
Kasey McKenzie, 23, of Granbury, died in March 2011 after she was run over by a pickup truck elevated on "monster" tires. The driver of the truck, Eric Crutchfield, was drunk.
CBS Station KTVT reports that McKenzie was talking to someone in the parking lot of the Spearmint Rhino club when she was struck by the truck's giant wheels.
Melinda Gutierrez of the Dallas Police Department said when the truck started to drive off several witnesses ran the truck down and stopped the driver, who claimed he didn't see the woman because his truck is so high off the ground. He was jailed on charges of intoxication manslaughter and driving with a suspended license.
McKenzie died at the scene from her injuries.
Attorneys for McKenzie's parents say workers at the Spearmint Rhino club gave Crutchfield alcohol even though it was clear he was already intoxicated.
Crutchfield pleaded guilty to manslaughter and got three years in prison.
Attorney Michael Schmidt, who represents the family, told KTVT the jury found that Crutchfield was 30 percent to blame and the Spearmint Rhino 70 percent responsible. He expects an appeal.
An attorney for the Spearmint Rhino did not immediately return a message seeking comment.
EDITOR'S NOTE: It was previously reported that McKenzie was an employee of the club. CBS News has learned that that was not the case, and has adjusted the text to reflect that information.
Thanks for reading CBS NEWS.
Create your free account or log in
for more features.