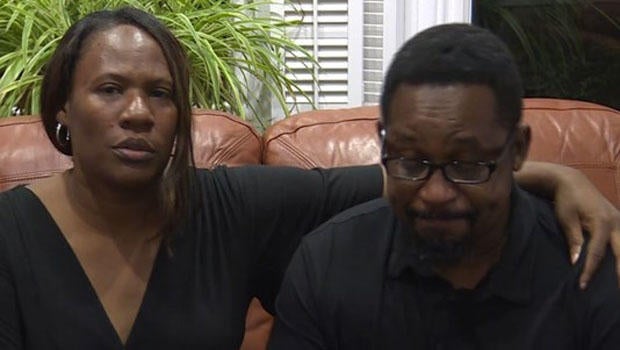 Parents of Tampa serial killings suspect refuse to answer questions
TAMPA, Fla. -- The parents of the 24-year-old man suspected in a string of fatal shootings that terrorized a Florida neighborhood will go before a judge Thursday after refusing to answer questions about their son.
The Tampa Bay Times reports investigators wanted to question Howell Donaldson Jr., and Rosita Donaldson on Tuesday about Howell Emanuel Donaldson III's background, developmental history, gun possession and state of mind. But they refused, revealing only the names, addresses and birth dates of family members.
"This is a rarity," said State Attorney Andrew Warren. "Because most people understand that they have a duty to answer questions. And when that duty is explained to them by a judge, they're willing to provide us answers."
The couple is scheduled to appear before Hillsborough County Judge Margaret Taylor during a 10 a.m. hearing to determine whether they should be held in contempt of court.
The younger Donaldson faces four counts of first-degree murder in the apparently random shooting spree in Tampa's Seminole Heights neighborhood that began in early October. He was arrested Nov. 28.
In motions filed Wednesday, the state attorney's office said the parents' refusal to testify despite having received a court-authorized subpoena constitutes indirect criminal contempt.
The newspaper reports that on Tuesday, Andrew Shafii, one of two attorneys who accompanied Rosita Donaldson, told prosecutors neither parent would testify.
Harmon began asking questions to establish a record.
Rosita Donaldson said she and her husband have a 28-year-old daughter and a 13-year-old son. She said her son had a good relationship with his two grandparents and that the family had frequent gatherings around the holidays.
"Thanksgiving everyone was at our house," she said.
Then her attorney interrupted, saying if she wanted to refuse to talk she needed to say no. Harmon then asked her if she would continue.
"No," she said. "With all due respect, I'm not answering any more questions."
Ralph Fernandez, who is representing the Donaldsons, said the parents are devastated, adding that their refusal to answer questions was intended to avoid further emotional pain.
"If you are a parent asked to testify against your child, what would you do? I still believe in an America that respects that great family value," Fernandez told CBS affiliate WTSP.
But Warren said they are only being questioned as part of the investigation.
"We're not only trying to build a case against the defendant, we're trying to ask the broader question of why - a question that the victims' families and the community deserves to have answered," Warren said.
The court filings note that the parents have been granted immunity "by operation of Florida law."
Unlike some states, Florida has no law establishing "parent-child privilege," which would keep communications between them confidential.
Wednesday, the families of victims Benjamin Mitchell, Monica Hoffa, Anthony Naiboa and Ronald Felton met with the state attorney to talk about whether the state should seek the death penalty, WTSP reports.
Casimar Naiboa told WTSP he wants the death penalty. Prosecutors have said they may pursue it if it's in accordance with the familes' wishes.
"The death penalty should be reserved for the worst of the worst," Warren told the Tampa Bay Times, "and, generally speaking, a serial killer would qualify."
Thanks for reading CBS NEWS.
Create your free account or log in
for more features.