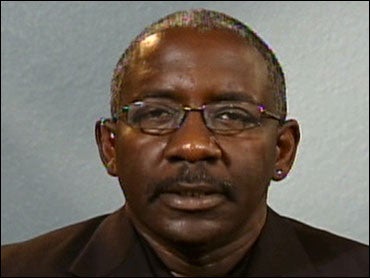 Paramedic: Officer Was In "State Of Rage"
Bothered that an ambulance driver failed to yield to him as he raced to provide backup on a call -- and angered further when he thought the driver flipped him an obscene gesture -- Oklahoma state trooper Daniel Martin decided to stop the ambulance and give the driver a piece of his mind.
What Martin didn't know then, his lawyer said Monday, was that there was a patient in the back of the ambulance.
"He's not this ogre, this depriver of people's rights," the trooper's attorney, Gary James, said. "He's a good man."
Since a cell phone video of the dispute taken by the patient's son hit YouTube last month -- garnering over a million hits -- Martin has faced criticism and placed on paid leave as the patrol chief reviews the case.
The patient, Stella Davis of Boley, Okla., was eventually treated and released from the hospital, but relatives and others have questioned why the ambulance driver was stopped and pushed for answers.
After Martin stopped the vehicle, paramedic Maurice White Jr. jumped from the back and demanded that Martin talk to him instead of the driver, according to a longer video, taken by the dashboard camerain Martin's cruiser, that authorities released over the weekend.
The video shows that, after the trooper stopped the vehicle, White, a paramedic for east central Oklahoma's Creek Nation Community Hospital, jumped from the back and addressed Martin.
"You get back in the ambulance, I'm talking to the driver," Martin said.
"I'm in charge of this unit, sir," the paramedic tells Martin, an Iraq War veteran who returned from the Middle East about a month before the May 24 incident in Paden, 40 miles east of Oklahoma City.
Martin tells the driver he's going to give him a ticket for failure to yield.
"I ain't going to be putting up with that (expletive)," Martin said. "You understand me?"
Then, White said: "And I won't put up with you talking to my driver like that."
The situation escalates, with White repeatedly telling Martin he has a patient he wants to take to the hospital, and Martin telling him to get back in the ambulance. They soon begin scuffling on the side of the road as Martin attempts to arrest White, at one point grabbing him by the throat, video shows.
White appeared with his attorney, Richard O'Carroll, on The Early Show Tuesday from Gore, Okla., to discuss the roadside incident.
White told Early Show co-anchor Maggie Rodriguez he got involved because the driver had an "emergency."
"But once confronted with the situation," White said, "there was no way with the patient and the unit, could I allow my driver to spend 20 minutes with the trooper discussing a possible ticket."
White told Rodriguez Martin was in "a state of rage from the beginning."
"And even after being informed that we had a patient," White said, "there was total disregard. So he started in a state of rage and simply escalated from that point."
White added he repeatedly told the trooper he had a patient in the ambulance, and the patient's family members also joined in, saying that their relative needed to get to the hospital.
White said he would like to see the trooper fired. White told Rodriguez that based on statements, Martin and his superiors don't think Martin did anything wrong.
"This trooper still doesn't understand he's not omnipotent," O'Carroll told CBS News. "He could no more tell Maurice to stop taking a woman to hospital than he could tell a pilot to run a jetliner into the ocean."
O'Carroll told CBS News they are awaiting the patrol chief's ruling before deciding whether to take legal action.
White said, "This gentleman needs to have his ability to carry a gun and a badge taken away so no other individual, and particularly a patient, has to go through this."
But Martin's attorney said the trooper -- whom he described as a decorated sailor and a 15-year law enforcement veteran -- didn't realize there was a patient in the ambulance until well after the situation had intensified. He either didn't hear it or it didn't register, he said.
Martin was trying to make a legitimate traffic stop, James said, when White became hostile, refused to comply with the patrolman's orders and caused the situation to spiral out of control.
James said the law allows an officer to pull over an ambulance if its emergency lights and sirens aren't running, as was the case in this incident.
But White said on The Early Show it was for the patien'ts benefit that the sirens weren't on.
"It's common practice," White told Rodriguez. " ... The patient actually had a fainting episode with chest pain. And it's common practice not to run lights and sirens with those type patients. It really exacerbates their situation."
O'Carroll said the veteran paramedic was trying to protect his patient and that the trooper had no reason to stop the ambulance, let alone try and arrest White. The trooper's arms were bruised when White resisted arrest, James said.
"If the guy was bruised, it didn't make any difference," O'Carroll said. "He ought not to stop ambulance drivers for hurting his feelings."
Thanks for reading CBS NEWS.
Create your free account or log in
for more features.