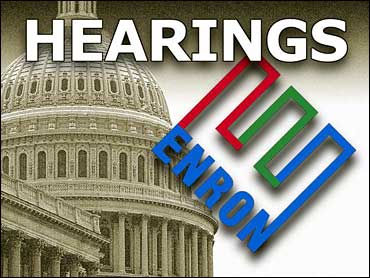 Panel: Banks Were In Bed With Enron
Multimillion-dollar loans to Enron Corp. by big investment banks helped the now-collapsed company conceal its true financial condition, and the banks were aware in some cases that Enron was using questionable accounting, a Senate investigator testified Tuesday.
After reviewing a million pages of documents and interviewing dozens of witnesses from Enron and its Wall Street investment banks, a Senate panel found that some banks actively aided Enron in its dodgy accounting in return for big fees and favors in other deals, Robert Roach told a hearing.
"The evidence indicates that Enron would not have been able to engage in the extent of the accounting deceptions it did, involving billions of dollars, were it not for the active participation of major financial institutions willing to go along with and even expand upon Enron's activities," Roach said at the hearing of the investigative panel of the Senate Governmental Affairs Committee.
There also is evidence that some of the banks "knowingly allowed investors" to rely on Enron financial statements they knew were misleading, Roach said.
The banks used complex financial schemes to boost Enron's anemic cash flow to match its profit growth on paper, according to lawmakers. The energy-trading company recorded the money from the bank loans as prepaid trades of natural gas and other commodities with an entity based in the Channel Islands off Britain.
Roach said that Citigroup Inc., the nation's largest financial institution, and J.P. Morgan Chase & Co., also pitched the schemes to other companies.
Citigroup "shopped" the Enron-style schemes to 14 companies, successfully selling it to at least three, Roach testified.
Houston-based Enron, which filed for bankruptcy in December, taking the investments of millions of people with it, used a web of thousands of off-balance-sheet partnerships to hide some $1 billion in debt from investors and federal regulators.
In a 1998 e-mail, a J.P. Morgan Chase executive in Houston wrote that "Enron loves these deals."
Enron officials "are able to hide ... debt" from Wall Street analysts, he wrote.
Before senators heard the testimony, they decried the wave of accounting scandals rocking investors' confidence and the markets. In the latest move, telecom giant WorldCom Inc. filed the biggest bankruptcy in U.S. history on Sunday, less than a month after it disclosed that it hid nearly $4 billion in expenses through deceptive accounting.
"It's clear that Enron was not alone in shady financial dealings," said Sen. Jim Bunning, R-Ky. "Americans across this country are watching their savings and their pensions dwindle."
Spokesmen for the two financial companies couldn't be reached for comment Monday night. They have previously denied any wrongdoing, saying lenders shouldn't be held responsible for how borrowers such as Enron recorded their loans.
Citigroup has called the transactions with Enron "entirely appropriate at the time based on what we knew and what we were told by Enron."
J.P. Morgan Chase has said they were "properly accounted for by our firm and Enron."
Enron's Washington attorney, Robert Bennett, told the Times that he didn't know about the secret oral agreement, but said he was "unaware that those financial institutions did anything wrong."
Bennett has said the company would continue to cooperate with investigations by Congress, the Justice Department and the Securities and Exchange Commission, and that people should not "rush to judgment."
In April, Enron shareholders who had sued the company for allegedly defrauding them added nine investment banks, including Citigroup and J.P. Morgan Chase, that financed the schemes to their suit in federal court in Houston. The shareholders said the banks' knowledge of Enron's questionable partnerships and other transactions gave them an inside view of the company's financial condition as they sold Enron securities to investors.
The other banks named in the suit were Credit Suisse First Boston USA Inc., Canadian Imperial Bank of Commerce, Bank of America Corp., Merrill Lynch & Co., Lehman Brothers Holding Inc., Britain's Barclays Bank PLC and Germany's Deutsche Bank AG.
The Justice Department last month charged three former British bankers with wire fraud in an alleged $7.3 million scheme involving Enron, in which they were said to have secretly invested in Enron entity Southampton LP through a series of financial transactions.

Thanks for reading CBS NEWS.
Create your free account or log in
for more features.