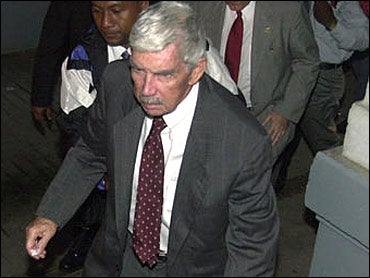 Panama Pardons Spur Cuban Outrage
By CBS News Producer Portia Siegelbaum

---
The Chilean Supreme Court on Thursday stripped former military dictator Augusto Pinochet of his immunity. That leaves the courts free to prosecute him for the deaths or disappearances of opposition figures in the 1970s.

Just a few hours earlier, Panamanian President Mireya Moscoso was pardoning four Cuban exiles, one of whom collaborated with Pinochet's secret police.

Guillermo Novo, along with three other Cuban exiles, were arrested in Panama in November 2000 on information provided by Cuban intelligence.

Fidel Castro's personal security detail had swept the Panamanian capital in advance of the Cuban president's arrival for an Ibero-American Summit. They provided Panamanian authorities with a surveillance video of four known anti-Castro extremists believed to be plotting to assassinate Castro. The plan, said Cuban security, was to plant explosives at a scheduled meeting between Castro and university students.

Panamanian courts, however, determined there was not enough evidence to sentence the men for attempted murder and instead sentenced Novo and Pedro Remón to seven years each for endangering public safety and Luis Posada Carriles and Gaspar Jiménez to eight years for endangering public safety and falsifying documents.

Cuba protested the court ruling, charging the men had gotten off too easy. Posada Carriles, the most notorious of the four, topped Cuba's most wanted list.

Peter Kornbluh, a specialist on U.S.–Cuban relations, agrees with Havana. This was not the first time Novo dabbled in violence, said Kornbluh. In 1978, he recalls, Novo was tried and convicted for his role in the assassination of former Chilean Foreign Minister, Orlando Letelier, and his American secretary Ronnie Moffitt. The men were killed in a car bombing in Washington D.C.

A U.S. Federal appeals court overturned the conviction on a technicality in 1981.

Kornbluh, author of "The Pinochet File: A Declassified Dossier on Atrocity and Accountability," considers Novo "one of the leading Cuban exiles who collaborated with the Chilean secret police, DINA, in the mid-1970s to conduct terrorist operations outside of Chile's borders.

"At a time when civilized nations are fighting a war against terrorism, Panama's release of recognized purveyors of violence such as Guillermo Novo and Luis Posada is not only a travesty of justice, it is a danger to future victims," Kornbluh stressed.

Not surprisingly, Letelier's son, Juan Pablo Letelier, today a deputy in the Chilean Congress, also reacted sharply to Moscoso's action. Letelier called the pardons "an imprudent decision" with "international repercussions" in Chile's "La Tercera".

The Cuban government broke relations with Panama just eight hours after the president pardoned "the Hemisphere's top terrorist", Posada Carriles, and the other three.

All day Thursday and into Friday morning, Cuba's state run media broadcast a lengthy government declaration detailing what it called Posada Carriles "terrorist" record in dossiers it has kept over the past four decades.

The declaration accused Moscoso of violating "international treaties against terrorism signed by Panama" and of becoming an "accomplice of terrorism".

Moscoso told the press that one reason for pardoning the men, just a week before leaving office, was to prevent their being extradited in the future. The President hands over power next Wednesday to Martin Torrijos, son of the late Omar Torrijos, a populist military general, who, like his father, is friendly with Castro.

Havana requested the extradition of the four men. Posada Carriles also faces criminal charges in Venezuela for a possible connection to the 1976 terrorist bombing of a Cuban commercial airliner off Barbados. All 73 persons on board were killed. The flight originated in Venezuela. Posada Carriles, who escaped from a Venezuelan jail while facing charges of planning that bombing, denies involvement.

Havana also charges that he paid a mercenary to bomb a series of Havana hotels and restaurants in 1997, in which an Italian businessman was killed.

In a 1997 interview with the New York Times, Posada Carriles took credit for the hotel explosions. He later retracted the claim, although the newspaper said it had his admission on tape.

The U.S. denies charges in the Cuban and Panamanian media that it brought pressure on Moscoso to grant the pardons.

"This was a decision made by the government of Panama. We never lobbied the Panamanian government to pardon anyone involved in this case," spokesman
Adam Ereli told reporters at a State Department briefing.

President Bush's new get-tough Cuba policy and the outgoing Panamanian President's close relations with the White House have fanned the rumors.

Three of the men, Pedro Remón, Guillermo Novo and Gaspar Jiménez were flown to Miami on a private plane Thursday morning, shortly after being released. They were greeted by family and well-wishers.

A second plane flew Posada Carriles, who is not a U.S. citizen, to an undisclosed location. There are unconfirmed reports that the plane made a stop in San Pedro Sula, Honduras and that immigration officials there are searching for Posada Carriles.
Thanks for reading CBS NEWS.
Create your free account or log in
for more features.